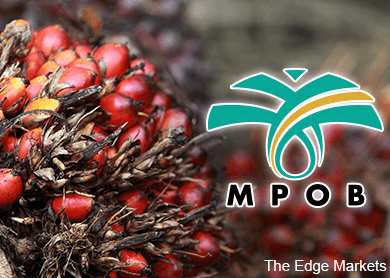 KUALA LUMPUR (March 10): Malaysian palm oil inventory, comprising crude palm oil (CPO) and processed palm oil, fell 6.05% to 2.17 million tonnes in February, from 2.31 million tonnes a month earlier, as CPO production declined.
The Malaysian Palm Oil Board (MPOB) said in a statement today that CPO production fell 7.7% to 1.04 million tonnes, from 1.13 million tonnes. MPOB said CPO output fell on lower production in Sabah and Sarawak.
According to MPOB, Malaysian palm oil exports dropped 15.16% to 1.09 million tonnes, from 1.28 million tonnes. In January, palm oil inventory fell 12.35% on month, while exports dropped 13.81%.
February's CPO output and total palm oil exports drop was sharper than market forecast, based on a Reuters survey.
Earlier, Reuters reported palm oil shipments from Malaysia, the world's second-biggest producer, was expected to drop 14% from January to 1.1 million tonnes, due to slowing demand from India and China, its lowest since February last year, when exports dropped below 1 million tonnes.
The poll forecasted Malaysia's February CPO production to fall 5% from a month ago to 1.07 million tonnes, its lowest output levels since January 2011. A sharp reduction in output, likely caused inventories to fall as lower seasonal production and dry weather as a result of the El Nino weather phenomenon, lowered fresh fruit bunch yields.