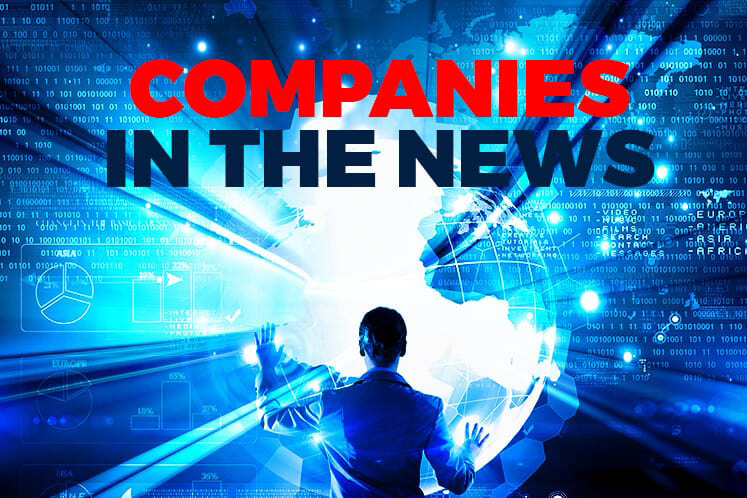 KUALA LUMPUR (Jan 2): Based on corporate announcements and news flow today, companies in focus on Wednesday (Jan 3) may include Malaysia Pacific Corp Bhd, T7 Global Bhd, MB World Group Bhd, Dagang NeXchange Bhd, Rhone Ma Holdings Bhd, MCT Bhd, D'Nonce Technology Bhd, Berjaya Media Bhd, Paramount Corp Bhd, Aluminium Co of Malaysia Bhd and Prestariang Bhd.
Malaysia Pacific Corp Bhd (MPCorp) said it is in the midst of negotiating with The 21st Metallurgical Development (M) Sdn Bhd (T21) for the re-development of Wisma MPL on Jalan Raja Chulan here.
"T21 and the company have agreed to incorporate a joint venture (JV) company to acquire the company's shop lot and office units in Wisma MPL," it said in a filing with Bursa Malaysia today.
MPCorp said it and T21 wish to subscribe to shares in the JV company and to regulate their rights as shareholders in accordance with the terms and conditions of the JV agreement. The negotiation is currently in the final stage and final JV agreement has been served to T21 for its execution," it added.
Wisma MPL is one of MPCorp's two core assets, besides the 490-acre (198ha) tract it owns in Johor. Completed in 1973, it was previously known as Wisma MPI and then as Wisma HLA.
T7 Global Bhd has bagged six contracts worth a combined RM260 million.
In a filing with Bursa Malaysia today, it said the contracts are expected to contribute positively towards the group's earnings and net assets per share for the financial years from 2018 onwards.
MB World Group Bhd (MBW) has secured the rights to develop an integrated waterfront in Johor that has an expected gross development value (GDV) of RM1.46 billion.
MBW's wholly-owned subsidiary, Danga Palm Sdn Bhd (DPSB), had on Dec 31 entered into a development right agreement with PIJ Property Development Sdn Bhd (PPDSB) for the mixed development.
Located within Teluk Jawa, Johor Bahru, the development will sit on approximately 49.62 acres of leasehold land, including 15 acres belonging to the government. It will comprise both commercial and residential components, including a service apartment, affordable houses, townhouses, shop offices and a shopping mall.
DPSB is expected to complete the project within 10 years from the date of the agreement, as well as obtain all relevant approvals at its own expense.
Dagang NeXchange Bhd (DNex) has acquired the exclusive rights to offer EC-Council Global Services (EGS) cyber security services in Malaysia through its wholly-owned subsidiary, DNeX Technology Sdn Bhd.
DNeX Technology had recently signed an exclusive brand license agreement with EC-Council International Ltd to provide consultancy and advisory services based on the delivery model, methodology and brand of EGS.
The agreement will give DNex access to EC-Council's methodologies, enabling it to learn from cyber security implementation in key global economies.
Rhone Ma Holdings Bhd has secured rights for the exclusive distribution of CEVA Sante Animale SA's swine-related animal health products listed in the agreement.
Rhone Ma Malaysia Sdn Bhd (RMM), a wholly-owned subsidiary of the animal healthcare provider, had signed a distribution agreement with CEVA Sante Animale S.A. and CEVA Animal Health Malaysia Sdn Bhd yesterday.
The agreement, which is valid until Dec 31, 2020, allows RMM to distribute, promote and sell CEVA's animal health products related to swine in Malaysia.
MCT Bhd's major shareholder Regent Wise Investment Ltd is raising its shareholding in the company to 50.19% from 32.95%, by acquiring a 17.24% stake from non-executive director Tan Sri Goh Ming Choon for RM202.5 million.
Regent Wise is a wholly-owned subsidiary of Philippine Stock Exchange-listed Ayala Land Inc.
MCT said upon fulfilment of the condition, Regent Wise will be obliged to extend a mandatory take-over offer to acquire all remaining shares it does not own, for a cash consideration of 88 sen per share.
D'Nonce Technology Bhd is proposing to undertake a private placement of up to 10% of its issued share base to raise as much as RM6.08 million, which will be used to repay bank borrowings.
D'Nonce said the repayment is expected to result in an annual interest savings of about RM450,000, based on the group's outstanding borrowings of RM78.22 million as at Dec 29 last year.
At an indicative price of 33 sen per share, D'Nonce said the issuance can raise up to RM6.08 million, of which RM5.98 million will be used to repay bank borrowings.
It expects the placement to be completed by the first quarter of this year.
Berjaya Media Bhd (BMedia) said it is still looking into formulating a plan to regularise its financial condition, after being classified as an affected listed company issued under Practice Note 17 (PN17) last June.
BMedia now has about five and a half months left to submit its regularisation plan to the authorities for approval.
The company will make the necessary announcement on its feasible regularisation plan in accordance with the requirements under the PN17 in due course.
BMedia slipped into PN17 status in June 2017, after its shareholders' equity fell short of listing requirements.
Paramount Corp Bhd is disposing of two parcels of industrial land in Kota Damansara to an indirect wholly-owned subsidiary of Aluminium Company of Malaysia Bhd (Alcom) for RM92.13 million.
Paramount's wholly-owned unit Seleksi Megah Sdn Bhd is selling the two lots measuring a total of 9.4 acres to EM Hub Sdn Bhd, a property and construction firm.
The proposed disposal provides an opportunity for Paramount to unlock the value of the land, and to utilise the cash proceeds to acquire new land bank that are able to generate higher returns within a shorter turnaround time, to improve cash liquidity for the group's integrated developments and to reduce bank borrowings.
Prestariang Bhd said its Memorandum of Understanding (MoU) with Kumpulan Modal Perdana Sdn Bhd (KMP) to help develop a tertiary education facility has lapsed.
"The company wishes to inform that the MoU had lapsed on Dec 31, 2017," the information and communications technology firm said.
In January 2013, KMP entered into the MoU with Universiti Malaysia of Computer Science and Engineering (UniMY), a tertiary education facility established under Prestariang Education Sdn Bhd, a wholly-owned subsidiary of Prestariang.
However, there had been no material development with regards to the proposed collaboration under the MoU.