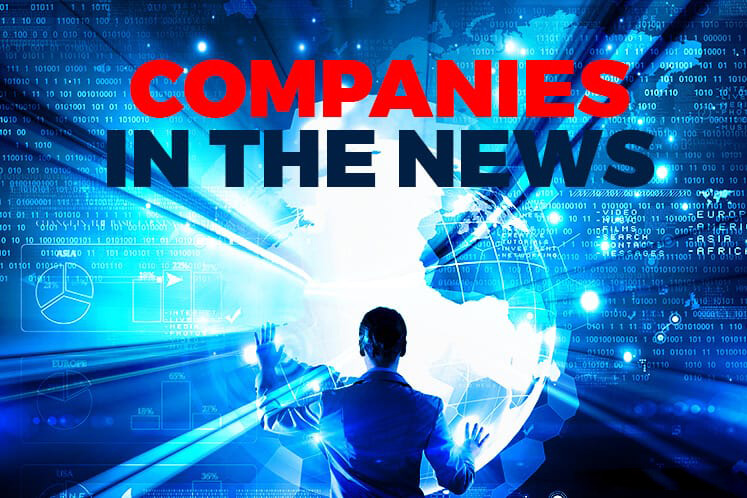 KUALA LUMPUR (Jan 22): Based on corporate announcements and news flow today, stocks in focus for Tuesday (Jan 23) may include the following: ManagePay Systems Bhd, Seacera Group Bhd, Sumatec Resources Bhd, Pasukhas Group Bhd, UCrest Bhd, MSM Malaysia Holdings Bhd, GHL Systems Bhd, UEM Sunrise Bhd and Bright Packaging Industry Bhd.
ManagePay Systems Bhd (MPay) will launch its money-lending business in April this year, after receiving approval from the moneylenders and pawnbrokers division of the Ministry of Urban Wellbeing, Housing And Local Government.
MPay said its wholly-owned subsidiary ManagePay Services Sdn Bhd had on Jan 19 received a letter of approval from the Ministry on the application for money-lending licence pursuant to the Moneylenders Act 1951 [Act 400].
MPay said these new added lending capabilities will contribute to both revenue and bottom line of the group in 2018.
Seacera Group Bhd has bagged an RM202.8 million contract from Fire Global Development Sdn Bhd to build a residential development with expected gross development value of RM242 million, in Kampung Air Sejuk, Setiu, Terengganu.
Covering 110.87 acres, the piece of government land is registered under Lembaga Tabung Amanah Warisan Negeri Terengganu.
The tenure of the contract is 60 months from the building plan approval of the project.
"The project is planned for 989 units of landed houses and is targeted for government staff," Seacera said.
Sumatec Resources Bhd's business partner CaspiOilGas LLP has signed a presale gas agreement with Kazakhstan-based NIPIneftegas Consortium (NIPI). The deal includes the sale of 6.2 billion cubic metres of gas to NIPI over 15 years at market price.
Sumatec said the NIPI-led consortium will convert the gas into petroleum products through proprietary gas-to-liquid technology.
Sumatec said the proposed capital expenditure (capex) for the gas utilisation plan which is tied to the gas development production agreement between SRB (Sumatec) and COG (CaspiOilGas) will start at US$60 million (RM236.46 million) and the total capex of the plant over the period to bring it to full capacity will be US$360 million. The first phase of the plant operation is expected to start in 2019.
Pasukhas Group Bhd has sold a steam coal shipment to a Taiwanese company for US$6.35 million on a free-on-board basis at the anchorage point of South Kalimantan, Indonesia.
Pasukhas' wholly-owned subsidiary Pasukhas Products Sdn Bhd had on Jan 19 entered into a sale and purchase contract with the Taiwanese company for the sale.
"The contract is expected to contribute positively towards Pasukhas' future earnings and net assets per share for the financial year ending Dec 31, 2018," it said.
Thanks to higher revenue from its Russian venture, UCrest Bhd reported a record profit of RM3.59 million for the second quarter ended Nov 30, 2017 (2QFY18), compared with a loss of RM550,000 a year earlier.
The medical technology and network solutions firm's earnings per share stood at 1.06 sen, from losses of 0.17 sen in 2QFY17
Similarly, quarterly revenue was also the highest ever achieved by the group at RM11.24 million, from RM61,000 last year.
The Russian business was central to UCrest achieving a net profit of RM6.62 million for the first six months of FY18, as against a loss of RM1.07 million in the first half of FY17. Revenue rose over 66 times to RM19.08 million from RM283,000.
Over 90% of UCrest's revenue during the six months was driven by its Russian operations, including cloud network contract for hospitals, which first contributed to its books in the first half of 2017.
MSM Malaysia Holdings Bhd's president and group chief executive officer (CEO) Datuk Mohamad Amri Sahari @ Khuzari vacated his role today, claiming he had been "constructively dismissed".
The country's leading sugar producer, however, denied Mohamad Amri's claim and requested him to return to work in accordance with the terms and conditions of service to discharge his role and responsibilities as the president and group CEO.
"Following the affirmative by Datuk Mohamad Amri Sahari @ Khuzari that he will not return to work, the board of MSM has appointed Mohd Shaffie Said as acting CEO of MSM, effective today," MSM said.
Mohd Shaffie is the chief technical officer at MSM and the project director of MSM Sugar Refinery (Johor) Sdn Bhd. He will also now assume the responsibilities of the president and group CEO of MSM, and will report directly to the executive director of the group.
GHL Systems Bhd will commence offering Alipay payment acceptance services to Philippine in-store and online merchants this month.
GHL said the roll out will start with physical merchants this month and eventually extend to e-commerce merchants.
The Philippines marks the third Asean country after Malaysia and Thailand, where GHL has tied-up with Alipay to offer a next generation payment option to merchants.
UEM Sunrise Bhd has awarded London-based project management consultant Atkins, a member of the SNC-Lavalin Group, as the winner of the International Land Use Master Planning Competition for Gerbang Nusajaya's Transit-Oriented Development (TOD) plot.
Gerbang Nusajaya is the second phase development of Iskandar Puteri, which is one of seven stations in Malaysia for the Kuala Lumpur-Singapore High Speed Rail (KL-SG HSR) project.
It is the gateway to Iskandar Malaysia, which is set to be the commercial and business engine of Iskandar Puteri, which commands an estimated gross development value (GDV) of RM42 billion.
The Gerbang Nusajaya TOD will be developed in parallel with the Iskandar Puteri HSR station. UEM Sunrise has committed to complete the TOD in time for the station to receive its first passengers once the KL-SG HSR becomes operational in 2026.
Bright Packaging Industry Bhd's net loss for the first financial quarter ended Nov 30, 2017 (1QFY18) widened to RM2.1 million from RM243,000, mainly due to lower sales volume, and realised and unrealised foreign exchange losses.
Revenue slipped 0.3% to RM9.73 million in 1QFY18 from RM9.76 million a year ago.
The turnover, the group said, was consistent with minor fluctuations due to seasonal trends in customers' orders in the tobacco industry.