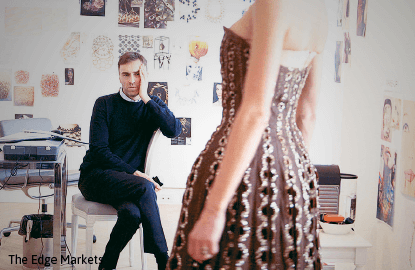 This article first appeared in The Edge Financial Daily, on October 1, 2015.
WHEN Belgian designer Raf Simons was announced as the new creative head at the venerable house of Dior, the general reaction was one of surprise. Could this quiet and reserved 47-year-old, known for a minimalist aesthetic from his time at Jil Sander, be the right person to accurately express the vibrancy and gregarious nature of Dior?
With several couture and ready-to-wear collections under his belt by now, the answer to that is clear — parent company Moët Hennessy Louis Vuitton (LVMH) have certainly chosen Dior's new creative steward well. A new documentary-style film entitled Dior and I beautifully describes Simons' early days at Dior, and the eight weeks it took him and the team to present his critically acclaimed autumn/winter couture collection in 2012. 
Simons is notoriously private, and it was only after a week's worth of trial recording did he allow director Frédéric Tcheng unimpeded access to what is possibly the most intense time of his career. Simons' approval also came because of Tcheng's focus, which was just as much on Dior's veteran seamstresses and many people who work in the ateliers as it was on him. That angle makes a very important point — that haute couture is a collaborative art form, and not just the one man show that it is often perceived to be.
Inspired by an autobiography of Christian Dior that Tcheng had found while he was researching the film, Dior and I includes a starring role for the legendary coutourier from beyond the grave. Old footage set against excerpts read from this autobiography provides an unexpected narrative for the film, which also draws many parallels between Simons's debut and what Dior himself would have faced when at the age of 41, he first allowed the Parisian fashion press access to his creations. 
A combination of a distinctly art-house cinematography style and the very direct nature of documentaries, Dior and I manages to be both emotional and informative. As the behind-the-scenes footage unveil what things are really like ahead of a couture show, it also trains the spotlight on the people who maketh the brand — veteran seamstresses and atelier staff who have spent their entire careers at Dior, honing their craft to a fine art. It also gives some well-deserved attention to Pieter Mulier, Simons' utterly charming right hand man and the atelier's unofficial boss.  
Within the ateliers, it is a wondrous world of cloth, Coke Zero and candy bars — as seamstresses and designers tirelessly work, fuelled by adrenaline, soda and candy, Simons ensures that the resulting creations are part of his vision for the maison. In his first collection, he focused on the roots of the brand and is seen in the film searching for inspiration as he wanders through art galleries in Paris, online archives of artists and in the lush gardens of Monseiur Dior's home in Granville. 
What sets Dior and I apart from other films in this genre is Tcheng's willingness to use footage that ordinarily may not make the cut. For example, Simons is seen losing his cool when the dresses do not arrive for the fitting at the scheduled time, as the atelier heads have to tend to a customer. Simons emerges as a strict boss, almost unforgiving in some instances — despite being new he has no problems with cracking the whip on quality or punctuality.
In the scenes where the focus is on him, Simons unveils a charming vulnerability. The pressure to create a couture collection in just eight weeks is a gargantuan task, especially since many of the traditional crafts that the couture industry relies on is notably time-consuming. He also needs to align his own creative inclinations to that of the brand, whose DNA is already so notable — and do it while he adjusts to working with a completely new team, new setting and while learning a new language.
Dior and I is a deeply intimate film, even showing how Simons becomes emotional ahead of the start of the show — the stage is set, and there are more press present than at previous Dior shows. His unabashed tears of joy as the show draws to a close is an emotional climax, making this film a truly moving tribute to both haute couture and Simons' successful debut at the House of Dior. 
---
Dior and I is available for download on iTunes for $14.99, or purchase the DVD on Amazon.com for $7.99. You can also watch the trailer on Youtube.com.