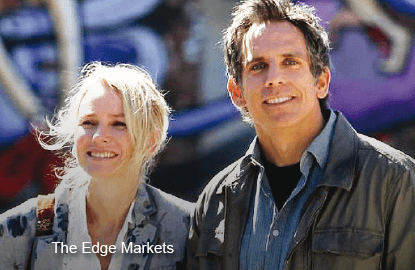 SET in New York, the stomping ground of director and writer Noah Baumbach and an indisputable stimulus for his films, While We're Young is a plot-driven, acerbic, new comedy that is germane to the social nuances of the Big Apple.
To say that it is a dig at the Gen X versus hipster culture is only part of the picture, though it serves a great comic premise for what is essentially about coming to terms and staying true to oneself. The humour of the film itself is entrenched in Baumbach's sharply observant play out of the psyche and behaviour of the two different generations and the resultant envy.
Working with Ben Stiller once again after 2011's Greenberg, where he also played a dissatisfied middle-aged man, Baumbach casts Stiller and Naomi Watts as Josh and Cornelia, a childless couple in their early 40s, who are happily married but also stuck in the typical rut of routine. Josh in particular is a documentary filmmaker who spent the last 10 years working on one project.
They meet a young filmmaker, Jamie (Adam Driver) and his wife Darby (Amanda Seyfried), who open up a new, refreshing world. From fedora hats to vinyl records and typewriters, an "ayahuasca" ritual and hip-hop dance classes, Josh and Cornelia begin to ditch their parenting friends and dive into the youthful and "energising" world of Bohemian hipsters. In one scene, Cornelia exclaims to her peers: "It's like their apartment is filled with things we once threw out, but it looks so good the way they have it!"
The film spends a lot of time seeing Josh fall more than just a little in love with the free-spirited Jamie, drawn to his laid-back vigour that holds the promise to achieve what has passed himself by. He painfully (to watch) and often funnily emulates his younger friend in a vain attempt to recover his "mojo", vicariously trying to find that sense of satisfaction that had eluded him. Stiller delivers a convincingly subtle and vulnerable performance of a middle-aged man you cringe watching but can't help feeling sorry for, his frustrated weariness reminiscent of a petulant man-child. This is contrasted well by Driver's wide-eyed louche Jamie, who for every reason should be likeable, but successfully comes across annoying at best and downright hateable at worst.
Seyfried's Darby and Watts' Cornelia serve as the competent second fiddles in this film, the latter proving a delightful watch as the worn-down 43-year old that finds her second spark. Watts' strength in emotional roles brings a realistic dimension to Cornelia's hip-hop dancing, hallucinogen-taking spiral in trying to escape her own childless rut.
Baumbach excels in taking us along Josh's gradual undoing, building up to a cringe-worthy yet sadistically satisfying watch as this couple surrender themselves to the fantasy and rush of their new world, then realises all is not what it seems.
It is that ability that elevates Baumbach's newest work beyond just witty sound bites and at times trite comparisons of the tech-loving Gen X to the hipsters' love for all things retro, tongue-in-cheek as it may be.
The story itself is engaging to the end, as it is revealed that Jamie and Darby are not who they seem to be. However, there are at times too many things going on in the film, some of which are unnecessary and distracting from the main story. The ayahuasca ritual scene, for example, ventures into a rather over-the-top territory, where the mixed-up identity and accidental kissing also come across as contrived.
But the ending of While We're Young is what pulls it all together, a sublime scene that sees Josh and Cornelia have a quiet moment with a bottle of Jim Beam. There is no grand redemption, or even the satisfaction of justice, but in the quiet revelation of his characters, as Josh says, "for the first time in my life, I have stopped thinking of myself as a child pretending to be an adult", Baumbach ends on an authentic note.  
While We're Young is now screening in cinemas nationwide. For more information, visit www.tgv.com.my.
This article first appeared in The Edge Financial Daily, on July 3, 2015.