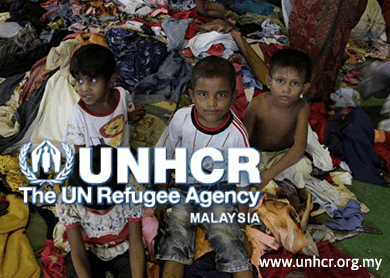 KUALA LUMPUR: A motion to debate in Parliament the plight of Rohingya and Bangladeshi migrants stranded in boats off Malaysia's western coast was rejected yesterday, after Dewan Rakyat Deputy Speaker Datuk Ismail Mohd Said said Malaysia is already in the process of dealing with the matter.
Sungai Siput Member of Parliament (MP) Dr M Jeyakumar Devaraj, who filed the motion, expressed disappointment at the rejection, adding that the house had missed an opportunity to discuss ideas that could help Putrajaya deal with the crisis.
The motion also carried suggestions by Pakatan Rakyat MPs for the government to consider, including discussions with other Asean countries on ways to address the refugee crisis responsibly.
The Parti Sosialis Malaysia MP said Asean countries could no longer continue brushing off the plight of Rohingya refugees as an internal, domestic problem of Myanmar that cannot be touched. The refugee crisis is intertwined with human trafficking, the Pakatan MPs said in the motion.
Opposition leader Datuk Seri Dr Wan Azizah Wan Ismail told the Dewan Rakyat that in refusing to take in the refugees dying at sea, Malaysia has failed its own "syariah index" before it is even implemented.
She said the "protection of life" is the second aspect outlined in the Malaysian Syariah Index that Putrajaya launched in February.
Prime Minister Datuk Seri Najib Razak has promised action on the boat refugee crisis and against human trafficking syndicates, saying that the Foreign Affairs Ministry and the National Security Council would be taking the necessary steps.
Government officials of Malaysia, Thailand and Indonesia are to meet on the matter tomorrow. But all three are members of Asean, which has a principle of non-interference in the domestic issues of member countries.
A Barisan Nasional (BN) lawmaker said Malaysia will be no better than Myanmar if no action is taken against its fellow Asean member over its treatment of the Rohingya.
Padang Besar MP Datuk Zahidi Zainul Abidin told the Dewan Rakyat that Asean could not allow Myanmar to continue persecuting the Rohingya, and that Malaysia, as the chair of Asean, must give up its policy of non-interference.
The Malaysian Bar Council said Putrajaya must allow the boat people to land in Malaysia to prevent a human catastrophe. President Steven Thiru said in the 1970s, after the fall of Saigon, the Malaysian authorities sheltered the Vietnamese boat people to prevent further suffering and loss of human lives.
"We must allow these boats to land, set up reception centres to receive the people on board, document them and provide them with basic amenities," he said in a statement yesterday.
"Blessed with relative peace and prosperity, we have reached out in the past and organised flotillas to assist the Palestinians, and have taken in Acehnese and Bosnian refugees fleeing persecution in their homeland," he said. — The Malaysian Insider
This article first appeared in The Edge Financial Daily, on May 20, 2015.