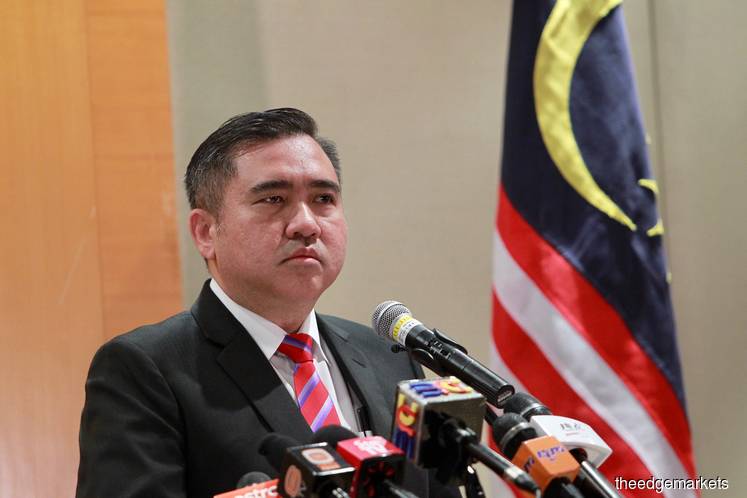 KUALA LUMPUR (Aug 19): The Ministry of Transport is looking at reducing bureaucracy to make ports in Malaysia more competitive as transshipment hubs in the region.
Transport Minister Anthony Loke Siew Fook said the ministry has an important role to facilitate further private investments into Malaysian ports for multinational corporations to set up their regional distribution centres here.
As such, he said the ministry has initiated engagements with potential foreign investors to understand their needs in order to facilitate their investments into Malaysia as much as possible.
"The Ministry of Transport have identified many issues that we need to deal with, particularly in terms of regulations, [such as] cutting down red tape.
"We are currently reviewing the ongoing processes to make our ports more competitive, and I would make further announcements in the next couple of weeks," he told reporters on the sidelines of the 4th Annual China-Malaysia Port Alliance (CMPA) Meeting here today.
"I think the problem with the investors is not so much with the incentives; they are happy with the incentives. I think a lot of factors are very positive for them but sometimes it is because of the red tape and bureaucracy that have not attracted them to come here.
"That is why it is important that there is intervention from the ministries in terms of facilitation, so if they (investors) have issues with any regulations, we will try to help," he added.
Loke said the ministry is currently focusing on attracting car manufacturing companies to set up their distribution hubs here in Malaysia in order to increase the volume at Malaysian ports.
"This is a good business that Malaysia is very interested in because we have the availability in terms of land. The moment we turn our available land near the ports into free zones, it will be attractive to foreign companies which will enhance the volume in our ports, and that will make more shipping lines coming into Malaysia," he said.
"So this is all our part of our strategy to develop Malaysian ports and we are happy to work with China as we have an alliance with China. That is why we hope that there are more collaboration and partnership between Malaysia and China ports," Loke added.
On the deferred Johor Bahru-Singapore Rapid Transit System (RTS), Loke said Malaysia has reached "some sort of an understanding" with Singapore and that both governments are currently working "behind the scenes" to iron out the details of the arrangement.
"We know that the RTS is important and we are currently working behind the scenes. In fact, I met with Singapore Transport Minister Khaw Boon Wan last month, and we have some sort of an understanding.
"But we need to work out the details, and once we work out the details we will make an announcement soon," he said.
The CMPA was established in 2015 with membership comprising 13 major ports in China and nine major Malaysian ports. The objective is to establish a port alliance between both countries to promote mutual assistance and joint cooperation, particularly in the field of port studies, communications, and collaboration between member ports.
This year, the scope of the discussion covers joint cooperation in the areas of e-port community exchange platform, human resource training and development, best practices in port and logistics, mutual promotion efforts, port terminal investment, operations and development.
Other areas of cooperation include ports studies, training and apprenticeship, exchange of information, technical assistance and traffic development and promotion of the respective member ports.
"We will have more collaborations with China, working together in terms of sharing of knowledge and sharing of expertise. One area I was told that the participants are looking forward to is the adoption of Information Technology (IT) system at the ports, which we can collaborate to enhance port operations efficiency," Loke added.