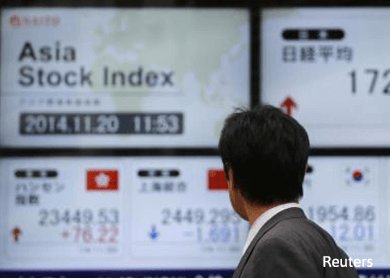 (Sept 1): Most Southeast Asian stock markets slipped on Tuesday, led by Indonesia after surveys showed China's manufacturing sector was in the grip of its worst slump in several years, raising fresh fears about the health of the country's economy.
Speculation over a possible rate hike by the U.S. Federal Reserve also weighed on sentiment after comments by Fed ViceChairman Stanley Fischer heightened fears of a potential interest rate hike this month.
The Jakarta Composite Index (JCI) fell from Monday's near-two-week closing high and was trading down 1.5% by 0711 GMT, with financials leading the decline.
Muhammad Wafi, an analyst with Jakarta-based Bahana Securities, said the JCI was also influenced by higher-than-expected core inflation, leading to a drop in
finance and consumer-related stocks.
"Uncertainties remain, causing continued market overhang for investors, while the slower-than-expected manufacturing data in China provides a negative sentiment for JCI's commodity-related sectors," Wafi said.
An official survey on Tuesday showed activity in China's manufacturing sector contracted at its fastest pace in three years in August, reinforcing fears of a sharper slowdown in the world's second-largest economy despite a flurry of government support measures.
"Interest rate hike concerns are again at the forefront, after news over the weekend that a possible hike this month is still not ruled out," Singapore-based Net Research Asia said in a note to investors.
"September has traditionally been a weak month for equities as well, which makes investors that much more nervous, though some may say it cannot be any worse than the August just past."
Shares in Thailand, the Philippines and Vietnam were down, while Malaysia bucked the trend, with a marginal 0.1% gain.      
        
SOUTHEAST ASIAN STOCK MARKETS
        
 Change at 0708 GMT
 Market             Current     Prev Close    Pct Move
 Singapore          2916.02       2921.44       -0.19
 Kuala Lumpur       1613.68       1612.74       +0.06
 Bangkok            1375.98       1382.41       -0.47
 Jakarta            4441.38       4509.61       -1.41
 Manila             7079.92       7098.81       -0.27
 Ho Chi Minh         562.88        564.75       -0.33