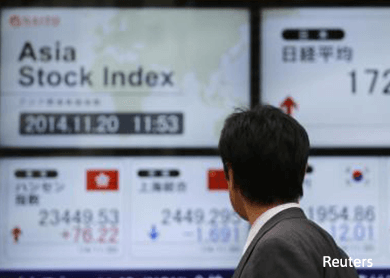 (Sept 29): Most Southeast Asian stock markets ended weaker on Tuesday, as investors looked for cues on global economic health from key economic data later this week, while Indonesian shares recovered strongly on fresh government stimulus measures.
The Jakarta Composite Index fell more than 2% to a two-year low earlier in the session, but recovered strongly to close 1.4% higher.
Harry Su, head of research at Bahana Securities in Jakarta, said expectation over a second stimulus package helped stocks recover.
Indonesia on Tuesday announced its second package of economic stimulus measures in three weeks, increasing efforts to lure investment, prop up the battered rupiah and revive growth in Southeast Asia's largest economy.
Other markets traded mostly down, ahead of key global economic data. Japan's industrial production data is scheduled for Wednesday, China Caixin Purchasing Managers' Index (PMI) on Thursday and U.S. non-farm payrolls on Friday.
Malaysia saw net foreign outflow of US$48.50 million, Indonesia US$35.62 million, and Thailand saw US$75.89 million in outflows.
Shares in Singapore, Malaysia and Thailand edged down.
Vietnam's benchmark VN Index, the best performer in the region so far this year, fell 0.7% to the lowest level in over three weeks, with most shares losing ground
despite upbeat economic data.
Asian shares skidded to 3-1/2-year lows and the dollar sagged on Tuesday, pulled down by sharp losses on Wall Street, after weak Chinese data rekindled worries about its fragile economy.
The Philippine stock index, bucking the trend, was up 0.6%.
    
SOUTHEAST ASIAN STOCK MARKETS
Change on day
Market
Current
Prev Close
Pct Move
Singapore
2787.94
2791.92
-0.14
Kuala Lumpur
1603.32
1608.43
-0.32
Bangkok
1348.84
1352.13
-0.24
Jakarta
4178.41
4120.50
-1.41
Manila
6859.29
6815.59
+0.64
Ho Chi Minh
561.19
564.88
-0.96
Change on year
Market
Current
End 2014
Pct Move
Singapore
2787.94
3365.15
-17.15
Kuala Lumpur
1603.32
1761.25
-8.97
Bangkok
1348.84
1497.67
-9.94
Jakarta
4178.41
5226.95
-20.06
Manila
6859.29
7230.57
-5.13
Ho Chi Minh
561.19
545.63
+2.85
(US$1 = 4.4560 ringgit)
(US$1 = 14,680.0000 rupiah)
(US$1 = 36.4400 baht)