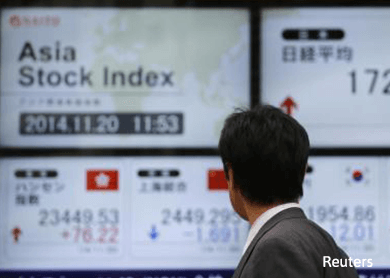 (Nov 13): Most Southeast Asian stock markets fell on Friday, weighed down by foreign selling after US Federal Reserve officials' comments on a likely December interest rate hike dented sentiment.
Singapore's Straits Times Index dropped 1.1% to its lowest close since Oct 6, dragged down by financial and industrial shares.
Oversea-Chinese Banking Corp fell 0.9% while Noble Group, Asia's biggest commodity trader, plunged 11% after its third-quarter net profit fell to US$24.7 million from US$153.9 million a year earlier.
Malaysia suffered a net foreign outflow of US$73.57 million, Thailand witnessed US$69.02 million net foreign selling, and Philippines saw US$24.77 million outflow.
US Fed officials lined up behind a likely December interest rate hike with one key central banker saying the risk of waiting too long was now roughly in balance with the risk of moving too soon to normalize rates after seven years near zero.
Other Fed policymakers argued that inflation should rebound, allowing the Fed to soon lift rates from near zero though probably proceed gradually after that.
Investor sentiment was also dented due to a plunge in commodity prices to multi-year lows on worries that slower global growth may worsen a supply glut.
Malaysia fell 0.3% to a near six-week low and Thailand edged down 0.1% to its lowest close since Oct 6.
Bucking the trend, the Jakarta Composite Index closed 0.2% firmer, while Vietnam recovered to close 0.9% higher.
SOUTHEAST ASIAN STOCK MARKETS
Change on day
Market
Current
Prev Close
% Move
Singapore
2925.68
2959.01
-1.13
Kuala Lumpur
1658.91
1663.20
-0.26
Bangkok
1382.46
1384.29
-0.13
Jakarta
4472.84
4462.23
+0.24
Manila
6851.88
6909.82
-0.17
Ho Chi Minh
611.27
605.58
+0.94
Change on year
Market
Current
End 2014
% Move
Singapore
2925.68
3365.15
-12.83
Kuala Lumpur
1658.91
1761.25
-5.81
Bangkok
1382.46
1497.67
-7.69
Jakarta
4472.84
5226.95
-14.43
Manila
6897.77
7230.57
-5.24
Ho Chi Minh
611.27
545.63
+12.03
(US$1 = 4.3700 ringgit)
(US$1 = 35.9000 baht)
(US$1 = 47.0690 Philippine pesos)
(US$1 = 13,660.0000 rupiah)