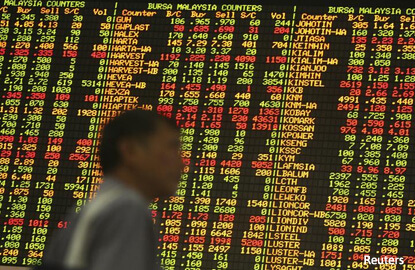 (Feb 8): Most Southeast Asian stock markets traded lower on Wednesday on a sharp drop in oil prices, while Thai shares edged up ahead of a central bank meeting on interest rates.
Asian shares also fell from four-month highs as investor confidence was hurt by ongoing political and economic uncertainty in the United States and Europe.
"The yen recovered and bounced back while crude oil continued to weaken and regional equities took their cue from those two movements of the commodities," said Manny Cruz, chief strategist at Asiasec Equities Inc.
Oil prices fell to a two-week low on Wednesday, extending losses, as a massive increase in US fuel inventories and a slump in Chinese demand implied that global crude markets remain oversupplied despite OPEC-led efforts to cut output.
"The weakness in crude oil can also be an indication that the global economy may not be doing well under the Trump administration, considering his protectionist approach," Cruz added.
However, the Thai index managed a slight rise, with gains spread across sectors, as investors awaited the central bank's rate decision later in the day.
Thailand's central bank is expected to leave its already-low benchmark interest rate unchanged, after it last cut rates in April 2015, a Reuters poll indicated.
Philippine shares headed for a second consecutive session of losses, slipping 0.4%, with real estate, consumer staples and financials pulling the index down.
SM Prime Holdings, Metropolitan Bank and Universal Robina Corp were among the worst performers on the index.
A Reuters poll showed that inflation in January, seen at its highest in over two years, is not expected to impact the central bank's policy decision due on Thursday.
Singapore shares, which gained in the last two sessions, fell 0.3%, dragged down by telecoms, financials and real estate stocks.
Singapore Telecommunications, the biggest loser on the index, lost over 1% while City Development fell as much as 1.8%, its biggest percentage loss in two weeks.
Indonesian shares were set for their biggest percentage loss in over two weeks, down as much as 0.4%.
Vietnam and Malaysia were largely flat.
SOUTHEAST ASIAN STOCK MARKETS
Change at 0425 GMT
| | | | |
| --- | --- | --- | --- |
| Market          | Current       | Previous close  | % move |
| Singapore       | 3060.14       | 3071.64         | -0.37 |
| Bangkok         | 1588.27       | 1582.52         | 0.36 |
| Manila          | 7230.25       | 7262.64         | -0.45 |
| Jakarta         | 5357.593      | 5381.475        | -0.44 |
| Kuala Lumpur    | 1688.12       | 1688.84         | -0.04 |
| Ho Chi Minh     | 702.03        | 701.91          | 0.02 |
Change on year
| | | | |
| --- | --- | --- | --- |
| Market          | Current       | End 2016        | % move |
| Singapore       | 3060.14       | 2880.76         | 6.23 |
| Bangkok         | 1588.27       | 1542.94         | 2.94 |
| Manila          | 7230.25       | 6840.64         | 5.70 |
| Jakarta         | 5357.593      | 5296.711        | 1.15 |
| Kuala Lumpur    | 1688.12       | 1641.73         | 2.83 |
| Ho Chi Minh     | 702.03        | 664.87          | 5.59 |