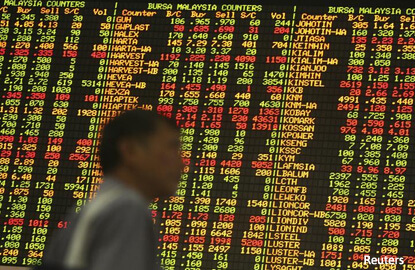 (Feb 27): Most Southeast Asian stock markets ended down in dull trading on Monday as investors took a cautious stance ahead of US President Donald Trump's speech to a joint session Congress on Tuesday, when he is expected to shed light on proposed tax cuts among other policy proposals.
Trump is expected to unveil plans to cut and simplify the tax system and make American companies more globally competitive with lower rates and changes to encourage US manufacturing.
Analysts warned that if Trump's plans lacked details on execution, it may end Wall Street's record-setting run.
"What is affecting the market is how Trump will address the Congress and I guess Fed Chairman Janet Yellen will also speak in the Congress," said Manny Cruz, chief strategist at Asiasec Equities Inc.
"So, there is a lot of tension in the market at this point. If you look at the broad regional market, it is simply moving sideways."
The regional markets were in line with their Asian peers as MSCI's broadest index of Asia-Pacific shares outside Japan fell 0.3%.
Philippine shares pared its gains earlier in the session, closing down 0.4%, with consumer stocks JG Summit Holdings and Universal Robina Corp declining more than 1.5%.
Malaysia also gave up earlier gains to close down 0.3%, as basic material shares lost ground with Petronas Chemicals Group Bhd losing 1.5%.
Thai shares closed at their lowest in more than a month, down 0.4% as steel stocks Asia Metals and Permsin Steel plummeted 18%.
Singapore shares fell 0.3%, while Indonesia edged down marginally, snapping three straight sessions of gains.
Bucking the trend, Vietnam Shares gained 0.4%, after two losing sessions, buoyed by the financial sector, with Joint Stock Commercial Bank for Foreign Trade of Viet Nam gaining 2%.
SOUTHEAST ASIAN STOCK MARKETS
Change on day
| | | | |
| --- | --- | --- | --- |
| Market            | Current      | Previous close   | % move |
| Singapore         | 3108.62      | 3117.03          | -0.27 |
| Bangkok           | 1558.03      | 1564.59          | -0.42 |
| Manila            | 7232.47      | 7258.99          | -0.37 |
| Jakarta           | 5382.874     | 5385.906         | -0.06 |
| Kuala Lumpur      | 1693.84      | 1698.35          | -0.27 |
| Ho Chi Minh        | 717.44       | 714.47           | 0.42 |
Change on year
| | | | |
| --- | --- | --- | --- |
| Market            | Current      | End 2016         | % move |
| Singapore         | 3108.62      | 2880.76          | 7.91 |
| Bangkok           | 1558.03      | 1542.94          | 0.98 |
| Manila            | 7232.47      | 6840.64          | 5.7 |
| Jakarta           | 5382.874     | 5296.711         | 1.63 |
| Kuala Lumpur      | 1693.84      | 1641.73          | 3.17 |
| Ho Chi Minh        | 717.44       | 664.87           | 7.9 |