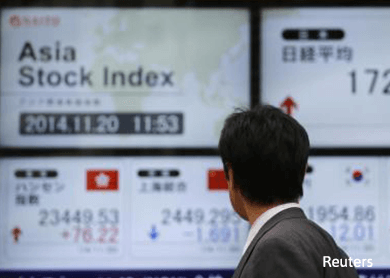 (Sept 3): Most Southeast Asian stock markets recovered from recent losses on Thursday in cautious buying, following overnight gains on Wall Street and positive U.S.
economic data, with concerns about slowing economic growth in China capping gains.
Singapore traded 0.7% firmer after posting a one-week closing low on Wednesday, while Malaysia rose 0.8%. Indonesia's Jakarta Composite Index recovered from a one-week low hit in the previous session and was trading 0.5% higher.
Thailand rose as much as 1% to its highest since Aug 18, while the Philippine index gained 0.4%.
"Wall Street had a positive day overnight but the jury is still out, whether this is sustainable given the recent swings.
The Fed's fairly positive Beige Book report and ADP's firm payroll numbers added to the sentiment," Singapore-based Net Research Asia said in an investor note.
On Wednesday, U.S payroll processor ADP reported that private payrolls increased 190,000 last month. While that was below economists' expectations for a gain of 201,000 jobs, it was a step up from the 177,000 positions created in July.
 
The U.S. Federal Reserve said on Wednesday labour markets were tight enough to fuel small wage gains in some professions in recent weeks, though some companies already were feeling a chill from an economic slowdown in China.
Chinese markets were closed for a holiday, which also calmed the markets.
Bucking the trend, Vietnam's benchmark VN Index fell 1.4%, on track for its third straight decline, with most blue chips losing ground.
       
SOUTHEAST ASIAN STOCK MARKETS
        
 Change at 0642 GMT
 Market             Current     Prev Close    Pct Move
 Singapore          2897.36       2878.13       +0.67
 Kuala Lumpur       1602.64       1590.19       +0.78
 Bangkok            1382.06       1372.45       +0.70
 Jakarta            4423.33       4401.29       +0.50
 Manila             7097.28       7072.46       +0.35
 Ho Chi Minh         554.73        562.31       -1.35