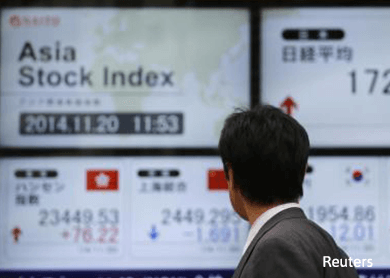 (Sept 3): Southeast Asian stock markets, barring Vietnam, recovered from recent lows on Thursday on cautious buying following positive US economic data and overnight gains on Wall Street, but concern over slowing growth in China dented sentiment.
Singapore closed 1% higher after posting a one-week closing low on Wednesday, Malaysia rose 0.8%, and Indonesia's Jakarta Composite Index recovered from a one-week low hit in the previous session to close 0.7% higher.
Thailand ended up 0.8% to its highest closing level since Aug 17, while the Philippine index gained 0.4%.
Malaysia saw $48.09 million in net foreign fund outflow, while Indonesia and the Philippines witnessed $21.23 million and $19.29 million in net selling by foreign investors. Thailand also saw net foreign outflow of $45.95 million.
On Wednesday, US payrolls processor ADP reported that private payrolls increased 190,000 last month. While that was below economists' expectations for a gain of 201,000 jobs, it was a step up from the 177,000 positions created in July.
The US Federal Reserve said on Wednesday labour markets were tight enough to fuel small wage gains in some professions in recent weeks, though some companies already were feeling the chill from an economic slowdown in China.
Chinese markets were closed for a holiday, which also calmed the markets.
Bucking the trend, Vietnam's benchmark VN Index closed down 1.4%, the third fall this week, dragged down by losses in banking and energy sector stocks, due in part to lower global oil prices.
SOUTHEAST ASIAN STOCK MARKETS
Change on day
Market
Current
Prev Close
% Move
Singapore
2906.43
2878.13
+0.98
Kuala Lumpur
1602.75
1590.19
+0.79
Bangkok
1383.48
1372.45
+0.80
Jakarta
4433.11
4401.29
+0.72
Manila
7098.76
7072.46
+0.37
Ho Chi Minh
554.30
562.31
-1.42
Change on year
Market
Current
End 2014
% Move
Singapore
2906.43
3365.15
-13.63
Kuala Lumpur
1602.75
1761.25
-9.00
Bangkok
1383.48
1497.67
-7.62
Jakarta
4433.11
5226.95
-15.19
Manila
7098.76
7230.57
-1.82
Ho Chi Minh
554.30
545.63
+1.59
($1 = 14,110.0000 rupiah)
($1 = 4.2160 ringgit)
($1 = 46.6900 Philippine pesos)
($1 = 35.8700 baht)