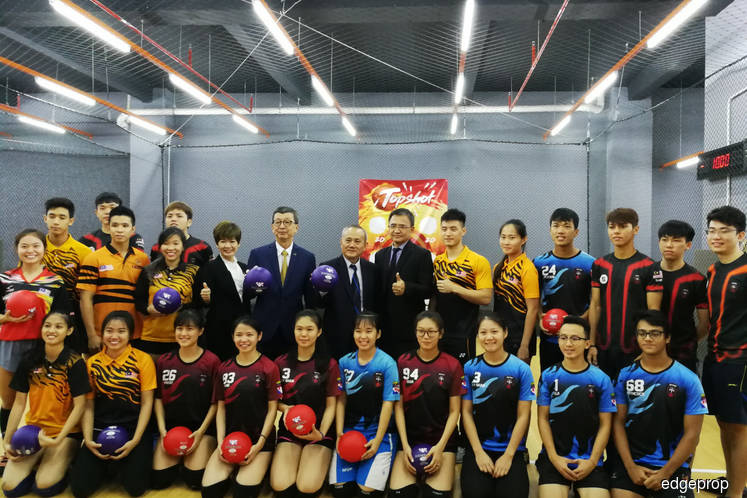 GOMBAK (July 18): Contrary to popular belief, most developers would love to build affordable homes – with the right support and guidance from the government, said LBS Bina Group Bhd group managing director Tan Sri Lim Hock San.
When asked about the suggestion of letting the government take over the building of affordable homes in the country, Lim said the government should let private developers to do it.
"In my opinion, it is not nice for the government to compete with local developers. The government can back us and give us the discounts in terms of land premium, development charges, compliance cost and even give some tax incentives to developers who build affordable houses. I think most of the developers would love to do it if the government does this," he told reporters after a memorandum of understanding (MoU) signing ceremony between the developer and Tunku Abdul Rahman University College (TARUC) at M3 Mall today.
"There are so many affordable housing schemes, such as PR1MA (1Malaysia People's Housing project) and PPA1M (1Malaysia Housing Projects for Civil Servants) that compete with private developers.
"The government should spend more time to look into the needs of the people," he added.
At the signing ceremony today, LBS has announced that the developer will be unveiling a co-working and study space named Lepak in M3 Mall in mid-August.
The space is aimed at catering for the public, especially the 20,000 TARUC students.
LBS executive director Datuk Cynthia Lim Mooi Pang said the 2,000 sq ft-Lepak has a maximum capacity of 80 people and will be open from 10am to 10pm.
The three-year MoU between LBS and TARUC aims to forge a partnership focused on providing TARUC students with a holistic learning environment and explore opportunities for collaborations, which could include internship opportunities, joint-campus events and CSR activities.
In his speech, Lim said the developer is very happy to provide a platform for TARUC students to experience a real working environment before they graduate.
"Education is something I hold very close to my heart. I believe a key part of a good education is giving students the opportunity to apply what they learn in the classroom. Today's MoU signing will kick-start efforts to explore how we can further combine our resources, be it talent or facilities, to support a more fruitful and holistic learning experience for TARUC students," he said.
TARUC president Datuk Dr Tan Chik Heok said M3 Mall, which is located only 1.6km away from the TARUC campus, offers great opportunities for the two organisations to work together to run meaningful new projects and programmes with the aim of cultivating a more vibrant learning experience for TARUC students.
"With this collaboration in place, LBS can now play a part in complementing various activities and programmes organised by TARUC students. This includes enabling students to run an event in M3 Mall and enjoy discounted rate to use the facilities in the mall," he said.
The MoU was signed by Hock San and Tan and witnessed by Mooi Pang and TARUC vice-president Dr Chook Ka Joo.
In celebration of the signing ceremony, the National Dodgeball and TAR UC Dodgeball teams played a friendly exhibition match.
Members of the public also had the opportunity to learn more about this emerging sport at a Digital Dodgeball booth.
Click on this link to go to the original story on EdgeProp.my