Click / Tap image to enlarge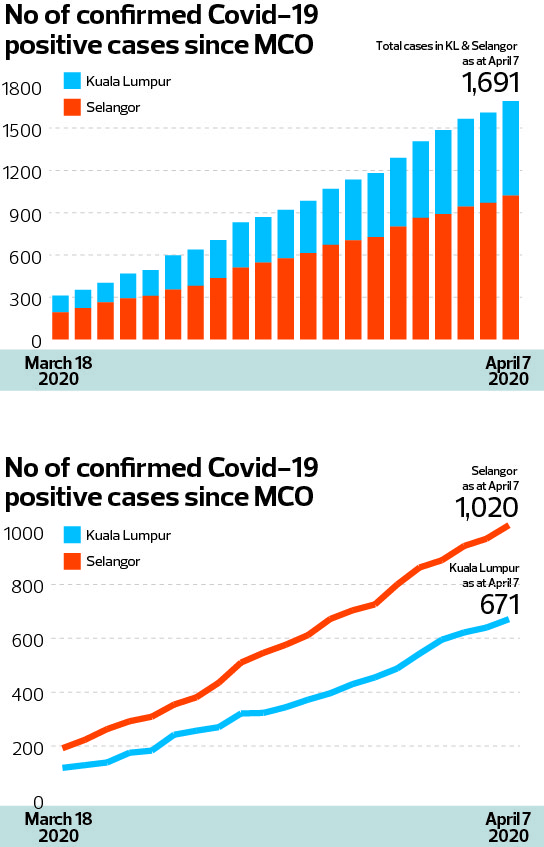 Click / Tap image to enlarge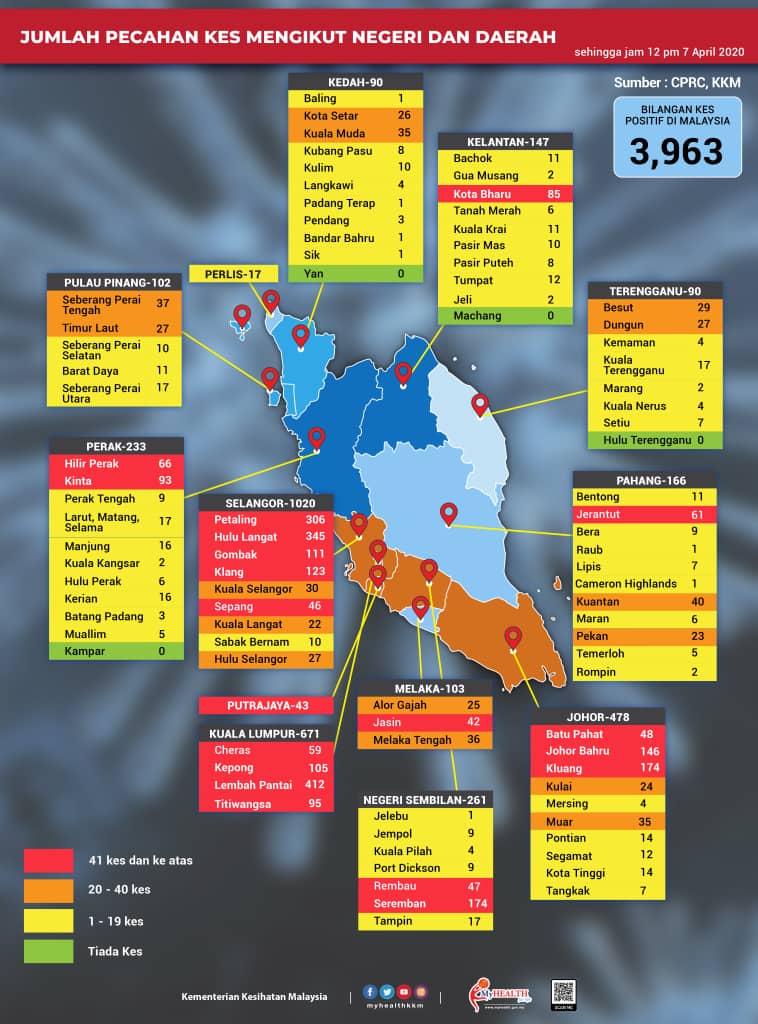 Click / Tap image to enlarge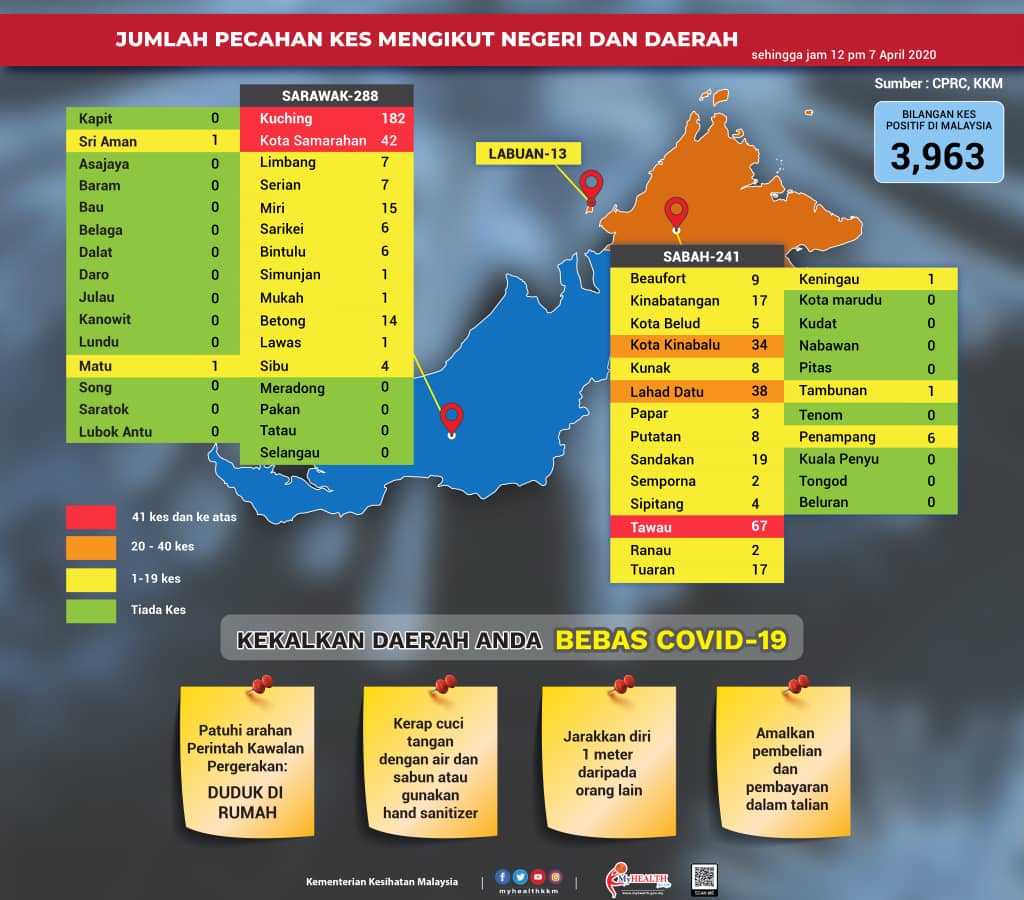 KUALA LUMPUR (April 8): Sepang and Kota Samarahan are now categorised as red zone areas, as the number of confirmed  Covid-19 cases there breached 40, according to the Ministry of Health, bringing the total number of red zone areas to 23 as of yesterday. 
As of yesterday, there were 46 infections confirmed in Sepang, Selangor, and 42 in Kota Samarahan, Sarawak. 
The Klang Valley (Selangor, Kuala Lumpur and Putrajaya) recorded 1,417 new cases since the movement control order (MCO) started, representing about 42% of the 3,290 new cases.
Since the MCO was enforced on March 18, Malaysia's Covid-19 cases have risen more than five-fold to 3,963 yesterday from 673.
Of the 23 red zones, 10 are in the Klang Valley, where there are 14 health districts. All the four districts in KL are categorised as red zones, with the total number of infections at 671 — up from 114 on March 17, the day before MCO was imposed.
There are currently three high-rise residential buildings in the city centre under enhanced MCO with about 9,200 residents. The three buildings are Menara City One condominium at Jalan Munshi as well as Selangor Mansion and Malayan Mansion at Jalan Masjid India.
Selangor is the state with the highest number of positive cases. As of noon yesterday, there were 1,020 cases. The infections have gone up by more than six-fold or 859 cases, from 161 cases on March 17. [see chart]
Lembah Pantai, which covers Pantai Dalam, Kampung Kerinchi and Bangsar, remains the red zone with the highest number of Covid-19 cases at 412 cases, followed by Hulu Langat (345), where several villages in the district are currently under enhanced MCO, and Petaling (306). 
The red zone areas with more than 100 positive cases are Kluang (174), Seremban (174), Johor Bharu (146), Klang (123), Gombak (111) and Kepong (105).
Others are Titiwangsa (95), Kinta (93), Kota Bharu (85), Hilir Perak (66), Jerantut (61), Batu Pahat (48), Rembau (47), Putrajaya (43) and Jasin (42).
At the state level, Johor is the state with the highest number of infections, 478 cases, outside Klang Valley, followed by Negeri Sembilan (261) and Sarawak (241). Sarawak's Kuching continues to have the most cases in East Malaysia, with 182 cases, followed by Tawau in Sabah with 67 cases.
Malaysia is currently the eighth Asian country with the highest confirmed infections, after China (81,740), Iran (62,589), Turkey (30,217), South Korea (10,331), Israel (9,006), India (4,858) and Pakistan (4,004).
Malaysia recorded 170 new confirmed Covid-19 cases yesterday, pushing the country's total to 3,963. Meanwhile, 80 people recovered and were discharged yesterday, raising total recoveries to 1,321 or 33.33% of total cases to date. The death toll has reached 63, with one more fatality recorded.
Today's statistics will be released at 5pm.
#dudukrumahdiamdiam. We will deliver the news to you at theedgemarkets.com.