This article first appeared in Capital, The Edge Malaysia Weekly, on December 23, 2019 - December 29, 2019.
The price of crude palm oil futures reached its highest level since February 2017 at RM2,903 per tonne on Dec 10. Photo by Abdul Ghani Ismail/The Edge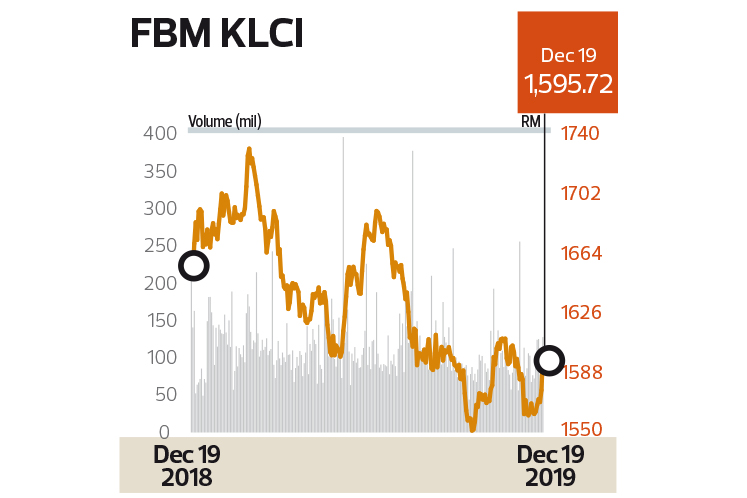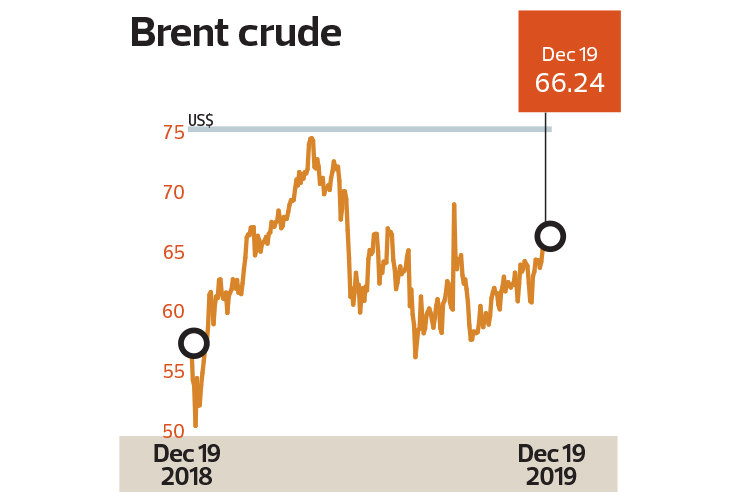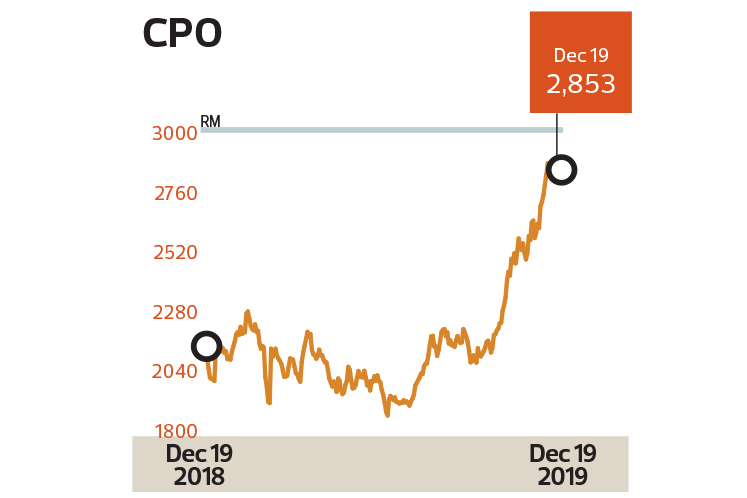 UNLOVED for most of this year, 2020 could bring more pain for Malaysian equities, say analysts. The benchmark FBM KLCI is down 6% year to date, closing at 1,595.72 points last Thursday. It is one of the laggards among its regional peers this year.
In a Dec 2 report, MIDF Research says Bursa Malaysia recorded the highest YTD foreign fund outflow among the seven Asian countries it tracks, at US$2.39 billion (RM9.93 billion).
Save for some potential year-end window-dressing activities, this does not paint a pretty picture for what could lie ahead, and most research firms have been conservative with their expectations for Malaysian equities in 2020.
Oanda senior market analyst for Asia-Pacific Jeffrey Halley says Bursa is in for more pain ahead, adding that it is likely to continue underperforming its regional peers in the first quarter of the new year.
"The domestic economy continues to underwhelm and the political situation continues to get more cloudy with the prime minister backtracking, it seems, on his pledge to hand over power after two years," he tells The Edge.
In a recent forum in Doha, Prime Minister Tun Dr Mahathir Mohamad was quoted as saying that he will step down once he has resolved some of the major problems that have been left by the previous government — but did not specifically indicate a timeframe for the transition of power.
However, not everyone is of the view that political leadership is what investors should be focusing on.
AxiTrader chief Asia market strategist Stephen Innes says investors have been too fixated on who will become the next prime minister. "This type of fodder is good for slow news days, but it is unlikely there will be a total policy regime shift regardless of who gets the nod.
"Ultimately, [it is] the central bank [that] needs to move in. Compared with other central banks in the region, Bank Negara Malaysia has eased the least in recent years, with policy rates only 25 basis points below post-crisis peaks, and so it needs to relax policy to stimulate the economy."
Innes is of the view that corporate earnings are a function of the trade war and the reluctance of investors and CEOs to ramp up investment given the unknown. "[With] the trade risk abating, export and equity inflow currencies like the ringgit should benefit. This will help as the FBM KLCI valuations are low, so, from that low point, Malaysian markets will eventually look attractive. But until we clear the hurdles above, there are better opportunities in the rest of Asia."
Oanda's Halley says the interim trade deal between the US and China is not a "panacea" to the global slowdown seen this year. "It merely patches things up and keeps global growth on an even keel. It will not spur a renewed spurt of growth on its own. Although Malaysia may benefit from an uptick in Chinese activity, so will most of the rest of the region, meaning Malaysia will not stand out from the crowd as an investment destination."
A silver lining to the poor Malaysian market performance in 2019 has been its dividend yields, says Bharat Joshi, an investment director at Aberdeen Standard Investments. "Dividend yields in Malaysia have been rising as companies have been returning capital to shareholders in the light of declining investments. Thus, unless investors are willing to stick it for the long haul, the dividends might help compensate for the short-term pain the country is experiencing."
Bloomberg data shows that companies that are currently commanding gross indicated dividend yields of more than 5% include real estate investment trusts, such as Tower REIT (dividend yield: 9.5%); Hektar REIT (8.2%); Amanahraya REIT (8%); property developers I-Bhd (7.6%) and Land & General Bhd (7.1%); and pharmaceutical company Pharmaniaga Bhd (7.3%).
Maybank Kim Eng, in a Dec 16 note to investors, says for a sustained market upward trend, investors will need to see traction on structural issues such as reforms of government-linked companies (GLCs).
"Given that GLCs collectively account for more than a third of the FBM KLCI's market capitalisation, their poor performance is a key drag on market performance.
"We would advocate a second and more aggressive GLC Transformation programme — the first having run from 2004 to 2015 — that focuses on the matching of capable, performance-linked and empowered management teams with these asset-rich but efficiency-lacking entities.
"Given their outsized weightage in not only the equity market but also the broader economy, such GLC reforms, if properly executed, represent the most tangible opportunity to reinvigorate Malaysia's broad economic dynamism," the research firm says.
Maybank expects a cyclically-led earnings recovery next year, with an end-2020 FBM KLCI target of 1,700 points.
PublicInvest Research has a more conservative end-2020 target of 1,680 points, which corresponds to 16.5 times one-year forward earnings.
In a Dec 16 note, the firm says Malaysia's investment proposition for 2020 appears to be better than that of 2019, with clear growth initiatives unveiled in Budget 2020 with its positive overtones.
"The government has stepped up (albeit in a targeted manner), with consumers seemingly lacking confidence to spend and businesses appearing reluctant to invest. On the external front, we are now likely to have some semblance of calm following the signing of the Phase 1 [trade] deal," it says.
However, PublicInvest Research does not suggest that investors go all "gung-ho" on Malaysian equities yet, even as all indications point toward upsides in the market.
"The Phase 1 US-China trade deal may still unravel, with US President Donald Trump being the unpredictable person he is. There is also the issue of his tiffs with the other half of the developed world, so to speak," it says.
AmInvestment Bank is forecasting the FBM KLCI to end 2020 at 1,670 points, saying a catalyst for a market rerating next year would come from, among others, a play on the ringgit driven by events such as FTSE Russell retaining Malaysia in the World Government Bond Index (with the next review in March 2020); a steep rise in crude oil prices given that Malaysia is a net exporter of oil and gas (O&G); and an end to the easing cycle with only another 25bps cut in the overnight policy rate by Bank Negara in 2020.
"In terms of sector, we are 'overweight' on banks, consumer, O&G and utilities. Our top picks are Malayan Banking Bhd, Tenaga Nasional Bhd, RHB Bank Bhd, Westports Holdings Bhd, Kossan Rubber Industries Bhd, Serba Dinamik Holdings Bhd, DRB-Hicom Bhd, MMC Corp Bhd, MBM Resources Bhd and Guan Chong Bhd," the firm says in a Dec 12 note.
A better year for commodities in 2020?
This year has been more favourable to commodities, with the price of crude palm oil futures reaching its highest level since February 2017 at RM2,903 per tonne on Dec 10. Brent crude oil futures also improved 23% YTD to close at US$66 per barrel last Thursday.
Palm Oil Analytics owner and co-founder Dr Sathia Varqa says the drawn-out US-China trade war will benefit palm oil exports to China. "Although the US and China have an agreement in principle on Phase 1 of the deal, the devil is in the details. [It would be] no surprise if the deal fizzles out. As of now, any deal will be supportive of the US soy complex and this will spill over to support higher [CPO] prices.
"[We expect] 2019 average benchmark CPO Futures to trade between RM2,210 and RM2,250 per tonne and the 2020 average benchmark CPO Futures to trade within the range of RM2,500 to RM2,650 per tonne."
UOB Kay Hian, in a Dec 11 note, has an "overweight" call on the plantation sector.
"The sector's performance is being driven by the recovery of CPO prices. The next rerating catalyst will come when companies start to report a significant improvement in profit, which is expected to start from 1Q2020. We like IJM Plantations Bhd for its potentially high fresh fruit bunch production growth in 2020 and its earnings sensitivity to CPO prices. For large-caps, we prefer IOI Corp Bhd.
"With the least exposure to Indonesia in the sector, IOI will still be able to deliver small production growth and downstream contributions will be supported by higher contribution from Bunge Loders [Croklaan Group], which is expected to grow by about 30% year on year in FY2020," the research firm says.
AmInvestment Bank, in a Dec 2 note, has an "overweight" call on the O&G sector. "We maintain our 'overweight' call on the sector as prospects have radically brightened with rising asset utilisation globally, which supported service providers' improving results. While we have 'buy' calls for MISC Bhd, Sapura Energy Bhd and Velesto Energy Bhd, our top picks are still companies with stable and recurring earnings such as Serba Dinamik Bhd and Dialog Group Bhd.
"We like the recurring income business model of Dialog and Serba Dinamik, which are involved in operation and maintenance services, while Dialog's earnings visibility is further secured by the Pengerang Deepwater Terminal project in Johor with its enlarged buffer zone."
On the whole, UOB Kay Hian says the Malaysian stock market's fundamentals are reasonably progressive stepping into 2020.
"Our assessment factors in high visibility for a moderate corporate earnings recovery after a four-year earnings lull; a healthy current account and growing momentum of foreign direct investment formation that help support the ringgit; and ample bankable investment themes such as trade diversion, despite the government lacking the will to expedite business-friendly policies [and] projects. The FBM KLCI is expected to claw back much of 2019's disappointing losses, driven by high visibility for a moderate earnings recovery," it says.
Should the earnings of Corporate Malaysia get a much needed boost next year, it could very well play Cupid for investors to fall in love with Malaysian equities again.