This article first appeared in The Edge Malaysia Weekly, on October 26, 2020 - November 01, 2020.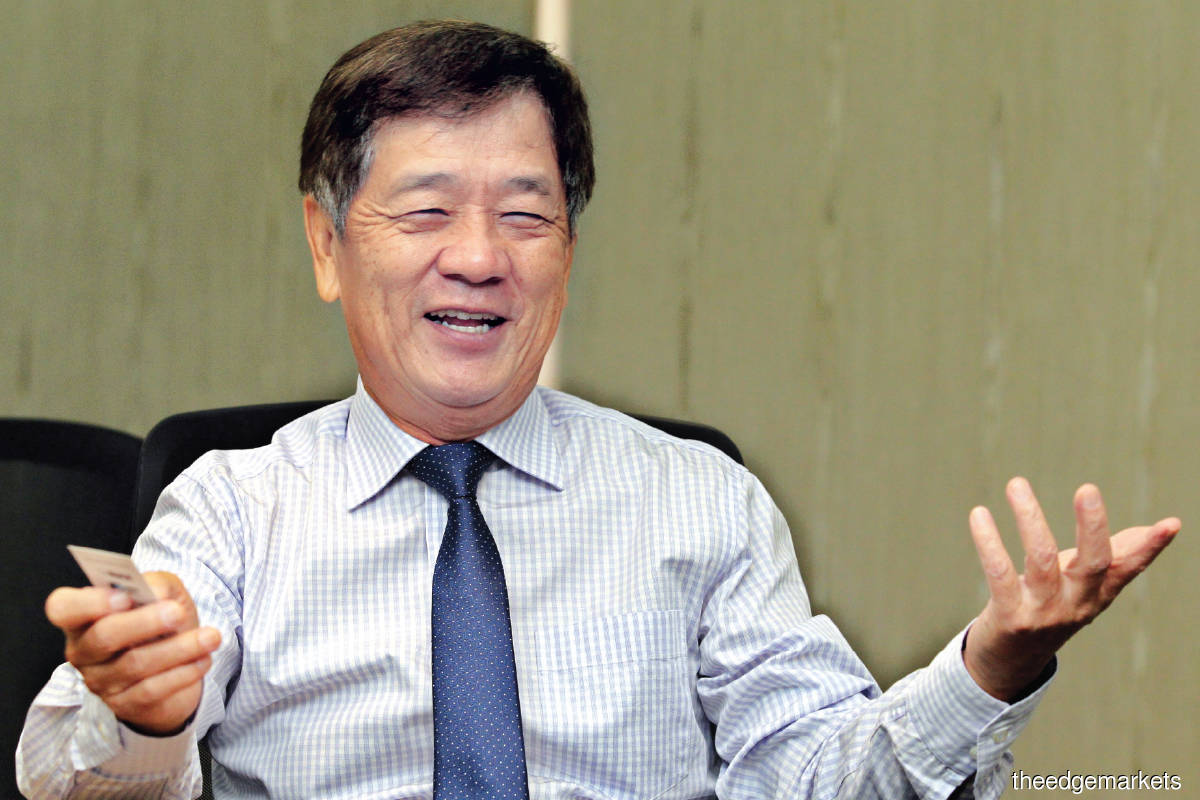 WHILE Oceancash Pacific Bhd's stock did well during the mid-year market rally as it makes nonwoven materials used for disposable hygiene products such as face masks, its co-founder, CEO and executive chairman Tan Siew Chin says there is more to the company than that.
"I think it is important to stress that Oceancash does not rely on the pandemic factor alone. Our existing core businesses are good enough. Covid-19 is just a plus factor as we can now sell more nonwoven materials to PPE (personal protective equipment) and face mask makers," he tells The Edge in an interview.
Established in 1996, Oceancash listed on the ACE Market in 2004 and transferred to the Main Market in 2018. In addition to being the second largest nonwoven fabric manufacturer in Southeast Asia, it is also the largest felt producer in the region. At home, the group is the largest player in both these businesses.
Oceancash's hygiene segment produces air-through bonded nonwoven and thermal bonded nonwoven materials. Its applications include top-sheet, second layer, acquisition distribution layer and back-sheet for baby diapers, sanitary napkins, wet wipes and surgical apparel including caps, masks, and gowns.
The group's insulation segment manufactures resinated felts and thermoplastic felts for heat and sound insulation for interior and exterior trims in automobiles, noise damper for compressors of split-unit air conditioners, as well as insulation in buildings including roofs, walls, partitions and carpet underlay.
Oceancash generated net profit of RM7.1 million on revenue of RM89.34 million in the financial year ended Dec 31, 2019 (FY2019). The hygiene segment contributed about a third of the group's earnings in FY2019, with the remaining coming from the insulation segment.
According to Tan, Oceancash's felt business was established in 1997. It diversified into the nonwoven business in 2000.
"In Malaysia, we have a small competitor in the felt business, but their local market share is only 10% to 15%, as Oceancash Felts Sdn Bhd dominates about 80% to 90% of the market share. Meanwhile, our Indonesian subsidiary PT Oceancash Felts has two major competitors in Jakarta, one of which is owned by a Japanese firm," he says.
Tan highlights that Indonesia is a promising market for Oceancash's felt business, owing to the size of its population and car sales volume, which is double the size of Malaysia's.
"Overall, we have four production lines in Indonesia and Malaysia [two in each country]. In comparison, most of our competitors in the region only have one production line. At present, our regional market share is about 40%. That's how big we are today," he says.
Oceancash's main customers for its felt business are Tier-1 suppliers, which are mostly automotive component makers, while the second largest group are air-conditioner manufacturers.
Expanding production capacity
In 2000, Oceancash started its nonwoven business from scratch with the setting up of two production lines at its Bangi plant. Currently, its Malaysian subsidiary Oceancash Nonwoven Sdn Bhd commands a local market share of about 70%. Regionally, the group's biggest competitor is a Taiwanese-owned company in Thailand.
Tan points out that the nonwoven business uses virgin materials whereas the felt business uses recycled materials. The prices of virgin materials, which are by-products of petroleum, fluctuate based on global oil prices.
"We import these raw materials from Taiwan, Thailand, South Korea, Japan and China," he says.
As Oceancash sees stronger demand from hygiene product manufacturers, the group is now investing RM40 million to double its nonwoven production capacity from 8,000 tonnes a year currently to 16,000 tonnes a year within 18 months.
"The additional new capacity will mainly cater for face mask and PPE manufacturers, which are our new clients, followed by napkin and diaper makers, which are our existing clients. Currently, most of them source nonwoven from China. But the Chinese suppliers are selling nonwoven at higher prices now, so they have to find alternative suppliers," Tan explains.
He says Oceancash currently has only minimal exposure to the face mask and PPE markets, which generally use less-premium nonwoven materials.
"The nonwoven materials that we are producing now are considered quite premium and hence more suitable for napkins and diapers. That is why we are now increasing our capacity to produce nonwoven materials that are more suitable for PPE and face masks," he explains.
The 68-year-old was appointed to the board of Oceancash in 2004. His work experience ranges from finance and property development to plantation and manufacturing.
Interestingly, in 1988, Tan founded Paragon Union Bhd, a commercial wall-to-wall and automotive carpet manufacturer that is still listed on Bursa Malaysia today. In fact, Oceancash's existing factory in Bandar Baru Bangi used to be owned by Paragon Union.
"At that time, Paragon Union was competing with Carpets International Malaysia. Eventually, I sold my stake in Paragon Union in 1997. In hindsight, it was a good move because I exited a few months before the market crashed," he recalls.
With the disposal proceeds, Tan started Oceancash and the rest is history. As at Aug 4, Tan and his wife Chen Lee Chew collectively controlled 55.74% of the company.
It is worth noting that the couple divested Oceancash shares between May and August. According to its 2019 annual report, they still owned an equity interest of 59.02% as at May 29, 2020.
Hit by MCO
While many investors deem Oceancash a beneficiary of the pandemic, Tan concedes that the group was not immune to the difficulties brought on by the Movement Control Order (MCO).
"Our businesses were also impacted during the MCO period. Despite stronger orders, we were not able to deliver the products as we were facing some labour problems," he says.
Eighty per cent of Oceancash's workforce is made up of foreign workers, and it operates two production facilities at the same site in Bangi — one nonwoven, which is considered essential, the other being felt, which is non-essential.
"These factory workers are staying together and the nonwoven workers did not understand why they needed to work because the felt workers did not need to work but still got paid. It was a difficult situation for us to manage.
"We received a lot of orders for nonwoven but we just could not deliver in time due to the shortage of workers. If we ran overtime, that meant higher costs for us. In fact, some of our nonwoven workers would rather not work and not get paid because they were afraid of the [virus]," he adds.
Tan says that Oceancash's financial performance in the first half ended June 30, 2020 (1HFY2020) was below expectations because its felt business had no sales for two months, while its nonwoven business experienced high production costs.
"We should see a recovery from 3QFY2020 onwards. But overall, we may still see a slight year-on-year decline in FY2020. We are looking forward to a strong rebound in FY2021. Next year will be a good year. Conservatively, our target is to achieve a profit of RM12 million.
"We started a felt factory in Thailand, which should be up and running by 1Q next year. This should be able to lift our financial performance next year. In FY2022, our profit should grow further when the new nonwoven capacity comes on full steam," Tan concludes.