This article first appeared in The Edge Financial Daily, on October 18, 2019.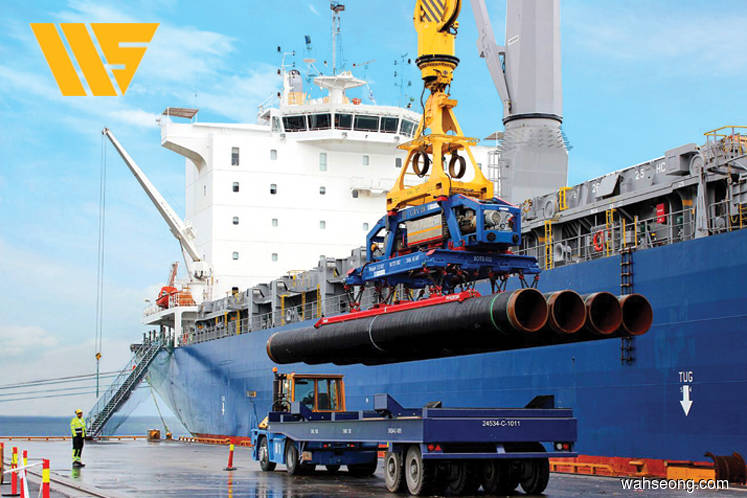 Wah Seong Corp Bhd
(Oct 17, 97 sen)
Maintain hold with a higher target price (TP) of RM1: Wah Seong Corp Bhd has announced that its wholly-owned subsidiary Wasco Coatings Ltd (WCL) had entered into a shareholders' agreement with Medgulf Construction Company WLL (Medgulf) to combine its capabilities and expertise in the provision of anti-corrosion and concrete weight coating pipelines in Qatar.
Wah Seong was selected by Qatar Petroleum (QP) to set up coating plants in Qatar. QP is pressing ahead with its major liquefied natural gas (LNG) expansion, bringing its liquefaction capacity to 100 metric tonnes per year from about 70 tonnes per year, including further development of new and existing gas fields by 2023.
This would require the construction of numerous offshore and onshore pipelines, which we estimate to be slightly north of 1,000km in length. We believe that the new company will have an advantage in capturing coating work and associated logistics of these pipelines.
The new company is required to build three pipe-coating plants with a cost of US$50 million (RM209.5 million). This is expected to be funded by 70% debt and 30% equity. The new company could be in strong contention for a significant chunk of the required coating for the 1,000km pipeline in QP's LNG expansion project.
We also expect Wah Seong to be the favourite in securing the process module engineering, procurement, and construction packages for the Marlim 2 floating production, storage and offloading (FPSO) unit which was officially won by Yinson on Dec 16. WCL will also be bidding for process module packages from future FPSO projects. The contract value for process module packages typically ranges from 10-15% of the total estimated capital expenditure (capex) for the FPSO. Capex for Marlim 2 is estimated at US$1 billion.
We expect more FPSO contract awards over the next 36 months, which will improve WCL's prospects. The total FPSO capex over the aforementioned period is approximately US$17 billion according to the Floating Production Systems quarterly report by WGE Analysis & Energy Maritime Associates. We also expect WCL to secure the Barossa project by the end of financial year 2019 (FY19). This project comprises 300km (265km export pipelines and 40km flow lines) of pipes to be coated.
Based on the aforementioned tailwinds, we increase our FY19 order book assumption by RM300 million for FY19 and RM1 billion for FY20 to take into account the potential wins from its FPSO bids with Yinson, North Field Expansion Project (NFPS) pipelines and other smaller pipe coating contracts globally. Our additional replenishment assumption of RM1.3 billion order book wins is approximately half of Nord Stream 2 (NS2)'s contract value of RM2.7 billion.
Therefore, we upgrade our FY20/21 earnings forecasts by 24% and 52% respectively, leaving our FY19 earnings unchanged. However, we expect second half of financial year 2019 earnings to remain weak as the NS2 project nears completion. We believe that Wah Seong's prospects have improved significantly. However, most of its potential upside has already been priced in with the recent spike in share price leading to the award of Marlim 2 and the announcement of the NFPS.
We reiterate our "hold" call with a higher TP of RM1 based on a higher price-to-earnings multiple of 13 times (previously 10 times) to account for potentially higher order book wins. Despite Wah Seong's improved prospects, most of its potential upside has already been priced in, with Wah Seong's share price increasing by 36% in the last five days. More contract wins of significant size are needed to warrant an upgrade to a "buy" call. — AllianceDBS Research, Oct 17