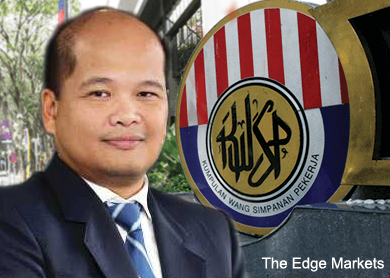 KUALA LUMPUR (May 25): The Employees Provident Fund (EPF) saw the amount withdrawn under its Flexible Age 55 Withdrawal facility jump 42.55% to RM2.68 billion in the first quarter of this year (1Q15) from RM1.88 billion a year ago.
In a statement today, the country's largest pension fund said this stemmed from the 77,865 applications approved in 1Q15, a 37.37% increase from 56,681 applications in 1Q14.
Under the Flexible Age 55 Withdrawal scheme, members can vary the frequency and withdrawal amount according to their needs as opposed to a lump-sum withdrawal.
"The increasing number of applications for flexible withdrawals reflects more members at age 55 opting to stretch their savings longer with the EPF," said its chief executive offer Datuk Shahril Ridza Ridzuan.
He added that this showed the growing awareness among its members that lump sum withdrawals will likely result in insufficient income to support their retirement life.
In 1Q15, the pension fund also approved 133,351 applications for members participating in the EPF Members' Investment Scheme (EPF-MIS), a 56.65% increase from 85,129 applications in 1Q14.
The scheme allows its members to transfer part of their savings in Account 1 for investments in approved unit trust funds through fund management institutions, and offering them the option to enhance their retirement savings.
As at Dec 31, 2014, the total number of trust funds approved under the EPF-MIS was 336, of which 230 funds were qualified to be offered.
EPF members, meanwhile, also rose 2.45% to 14.29 million in 1Q15 from 13.95 million in 1Q14.
"Out of the total, 6.69 million are active members who continue to contribute to their retirement savings. During 1Q15, a total of 20,463 new employers were registered, increasing the total number of employers to 535,380," it added.
According to the EPF, the usage of its online portal i-Akaun in 1Q15 has grown by 102.65% to 2.91 million from 1.43 million a year ago.
"The significant increase in i-Akaun usage shows that more members are aware of the importance of monitoring their EPF savings and contributions from their employers. This is important as they can also ensure that their employers contribute on their behalf accurately and on time," added Shahril.