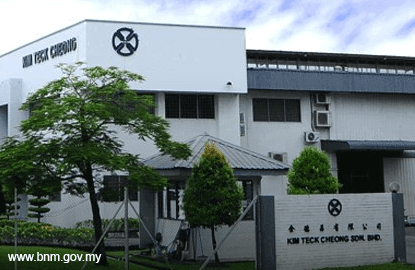 This article first appeared in The Edge Financial Daily, on March 14, 2016.
KUALA LUMPUR: Consumer packaged goods distributor Kim Teck Cheong Consolidated Bhd (KTC) expects to seal at least four distribution contracts this year in addition to the distributorship from SCGM Bhd and Anakku Sdn Bhd that it has bagged recently.
In an interview, its executive director Dexter Lau revealed that KTC is currently in talks to secure at least four new distribution contracts this year.
Should things pan out well, Lau estimates that the new contracts, including those from SCGM and Anakku, would help fuel 20% revenue growth in the financial year ending June 30, 2017 (FY17). "And this, will in turn, translate into a double-digit growth in net profit," he told The Edge Financial Daily.
He revealed that the four new contracts that are in negotiation now are mainly on consumer products, including a well-known consumer brand.
To recap, KTC has recently been appointed by SCGM to undertake the distribution and sale of finished products manufactured and sold by Lee Soon Seng Plastic Industries Sdn Bhd, a wholly-owned subsidiary of SCGM in Sabah and Sarawak.
KTC in January entered into a memorandum of understanding to acquire the entire equity stake in the Sarawak-based Popular Trading (Borneo) Corp Sdn Bhd, a distributor, wholesale trader and food manufacturer.
Despite KTC's growth potential, some analysts opine that the company's share price, which has more than doubled since it was listed in November last year, might have already factored in good future growth.
The stock has soared 140% based on its initial public offering price of 15 sen per share since it made its debut on Bursa Malaysia.
This has translated to a price-earnings ratio (PER) of 18.32 times based on historical earnings per share of 1.91 sen for FY15. For comparison, its bigger peers, such as Yee Lee Corp Bhd, Harrisons Holdings Malaysia Bhd and DKSH Holdings Malaysia Bhd, are traded between 13 and 17 times.
"It is a bit overvalued when compared with peers, which are a lot bigger than KTC, I don't see why KTC [is] traded [in] such a high valuation, unless they have some good news, like its financial performance is exceptionally well," said Mercury Securities Sdn Bhd's analyst Denny Oh.
He has pegged the fair value of KTC at 18 sen — almost half of last Friday's closing of 35 sen.
Oh noted the reasonable PER for the industry should be around 10 to 15 times, adding that he would only revise his target price if KTC's results exceed the research house's forecasts.
"Moreover, the industry outlook is challenging, it is not a high-margin sector. They (KTC) try to create their own products. But so far, the products are only available in East Malaysia, and their margins are quite low as well," Oh explained.
For the second quarter ended Dec 31, 2015 (2QFY16), KTC registered a net profit of RM81,000, bringing its half-year net profit to RM2.56 million, or 0.5 sen per share. Its quarterly revenue was at RM84.27 million while accumulative revenue for six months ended Dec 31, 2015 stood at RM162.91 million.
The company's profit-after-tax margin was at 3.17% in 1QFY16, Lau opined that it will improve to about 4% to 5% going forward.
Lau explained that KTC's 2QFY16 earnings were dragged down by the company's listing expenses. As this was a one-off expense, he highlighted that the group's next-quarter results should be stabilised.
"I am very optimistic and positive on FY17, and I believe it will be our bullish year, following our acquisition of competitor, which is hopefully to be completed within current financial year [ending June 30, 2016], new distributorships that we have secured," Lau said.
Lau also stressed that the company is not facing tough competition from the "big boys", as KTC is different from other trading houses, in which it has its own manufacturing arm to distribute products under its own brand name, and this will in turn, improve profit margin.
"We are also looking for products that offer better margin, such as bakery products that we are launching," he added.