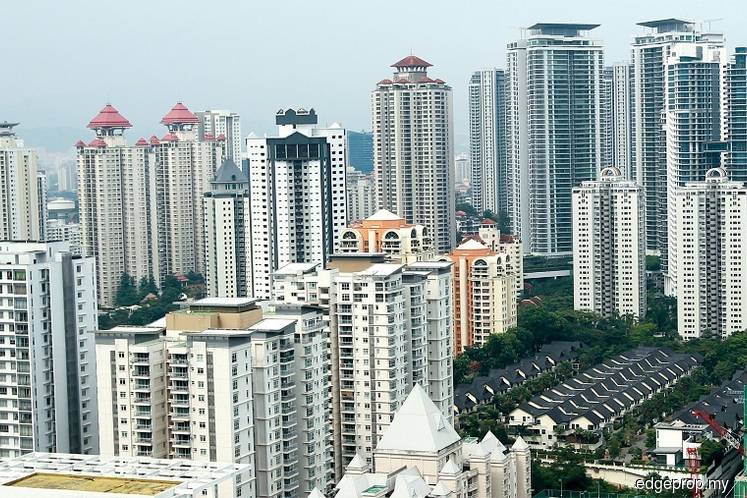 PETALING JAYA (Jan 29): While several new phases of high-end condominiums and serviced apartments were launched with higher prices psf, more discounts on these properties were also offered amid a slow market, said Knight Frank Malaysia in a report.
This segment of the market remained tepid due to a mismatch in supply and demand, as well as in product and pricing, according to Knight Frank Malaysia's "Real Estate Highlights for 2nd Half 2017" report.
In certain locations, asking prices and rentals remained depressed.
Kuala Lumpur's (KL) total supply of high-end condominiums or residences stood at 49,678 units following the completion of 2,298 units in the second half of 2017 (2H17).
KL chalked up the most completions over the period, with 1,243 units (54.1%) from projects such as The Mews (256 units), The Manhattan (129 units), Tribeca Bukit Bintang (318 units), Dorsett Residences Bukit Bintang (252 units) and The Ritz-Carlton Residences (288 units).
A further three schemes offering a total 1,216 units will be slated for completion by 1H18, namely The Residences by Tropicana (353 units), Four Seasons Place (242 units) and Pavilion Hilltop (621 units).
"The freeze on approvals for four categories of developments including condominiums and serviced apartments priced from RM1 million as of Nov 1, 2017 is causing market uncertainties as to its implementation. Although on a positive note, it may provide a breather to the oversupplied market," said the report.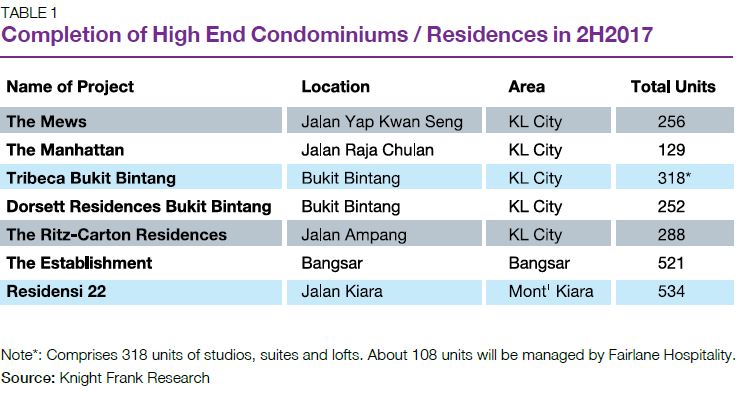 The report noted that the market has been self-correcting towards equilibrium even before the freeze was announced, as demonstrated by the lower volume and value of transactions.
This self-correction is expected to continue, the report added.
Developers have also been postponing launches as they review their plans to address the shifting needs of buyers, with the most notable trend being more developers switching to affordable housing.
"More developers are expected to shift their focus to established fringe locations as well as upcoming hot spots along the rail transportation routes targeting the middle and mid-upper income groups with niche and affordable housing products," it said.
On the flipside, developers with high-end projects will continue to market their units abroad aggressively.
However, their reliance on China has reduced, given the republic's cooling measures such as its restrictions on capital outflows which has prompted them to target other markets such has Indonesia, Singapore, Taiwan and Hong Kong to boost sales.
Nonetheless, the recent announcement to retain the current stamp duty at 3% for million-ringgit homes will cause the market to maintain its current level of transactions, said the report.
Moreover, the Budget 2018 announcement to impose a 50% tax exemption on rental income of up to RM2,000 a month on residential properties may boost demand for investment properties that generate yields in this range, it said.