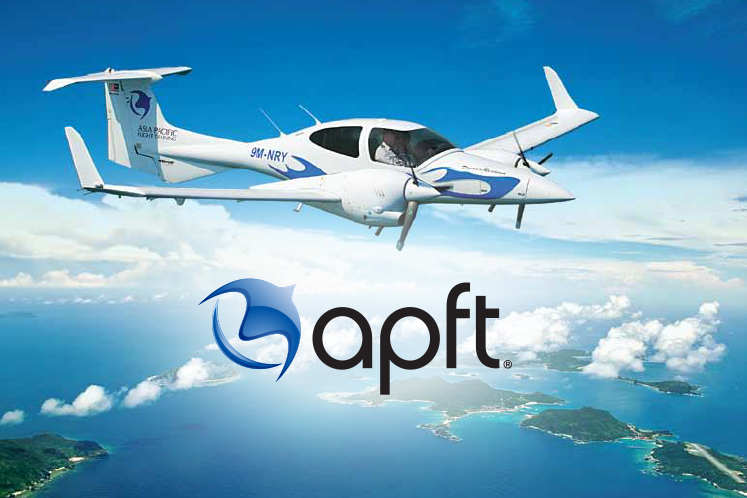 KUALA LUMPUR (May 3): APFT Bhd chief operating officer Siva Kumar Kalugasalam has been promoted to chief executive officer (CEO) of the group from April 24.
According to APFT's Annual Report 2018, Siva Kumar, 49, joined the group on Sept 19, 2016 and was appointed as the head of finance and administration on Dec 1, 2017.
"He has more than 10 years of experience in financial and human resources management and another 12 years of experience in senior management roles in small and medium enterprises and fast-moving consumer goods companies," it added.
At the same time, the Practice Note 17 (PN17) flight training operator's independent director Michael Heng Chun Hong, 50, has been redesignated as executive director.
The group also saw the resignation of two independent and non-executive directors namely Datuk Tan Choon Hwa, 62, and Lee Eng Soon, 56, citing "other business commitment" as reason.
Replacing them are Datuk Zaidi Mat [email protected], 50, and Lee Chong Leng, 38.
In a filing with Bursa Malaysia today, APFT said Zaidi's corporate and entrepreneurial experience spans over two decades in private and listed entities. In recent years, he was appointed as chairman of Metronic Global Bhd, Key Alliance Bhd, as well as several private companies such as MBB Global Bhd and Pasadana Sdn Bhd. 
"The most recent corporate achievement of Zaidi was his 2016 corporate entry as executive director of Bursa-listed INIX Technologies Holdings Bhd overseeing governmental relations, public and private sector markets, while at the same time being appointed as director of NWP Holdings Bhd, which has interests in property development and forest management with sawmills in Sabah and Laos," it added.
Lee, meanwhile, is managing director of Lee & Lim Tax Consultants Sdn Bhd and Lee & Lim GST Consultants Sdn Bhd.
On April 23, APFT announced that its independent and non-executive chairman Datuk Md Ismail Hamdan had resigned from his post, along with two other directors, amid a longstanding boardroom tussle.
On March 11, four APFT shareholders holding a collective 11.26% stake in the company, had called for an extraordinary general meeting (EGM) to remove all three directors. It was the third EGM requisition by the company's shareholders to remove directors of the company.
Earlier on July 18 last year, APFT had also filed a lawsuit against its former executive chairman Datuk Faruk Othman for alleged  misappropriation of funds, claiming that Farouk had misappropriated APFT's funds. This caused the group to trigger the PN17 status and breach Bursa's Main Market listing requirements.
On Jan 30, however, the group said it had dropped the lawsuit.
APFT shares closed unchanged at 2 sen today, with 6.78 million shares done, bringing a market capitalisation of RM26.85 million.