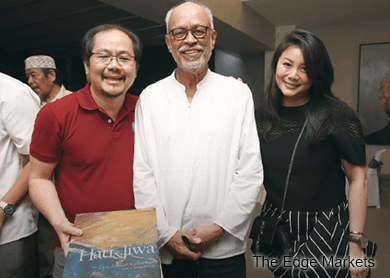 KUALA LUMPUR: "The quality of the works is excellent and the layout of the space is very well done, especially for a private gallery," said leading Malaysian artist Ahmad Zakii Anwar at the opening of Galeri Z in Taman Melawati, Kuala Lumpur.
Ahmad Zakii was one of the many top local artists who attended Galeri Z's launch over the weekend. Other big names included Latiff Mohidin, Jalaini Abu Hassan, Kow Leong Kiang, Chong Ai Lei, Datuk Sharifah Fatimah Zubir, Awang Damit, Choong Kam Kow, Chong Siew Ying, Hoe Say Yong, Cheng Thak Lui, Chang Fee Ming and Johan Marjonid. Among the corporate guests who attended were Ambank Group chairman Tan Sri Azman Hashim, Willowglen MSC Bhd executive director Simon Wong, and hotel manager Joshua Lim.
Boasting more than 500 paintings, drawings, sculptures and prints, Galeri Z marks the unveiling of The Zain Azahari Collection. Consisting of mainly Malaysian and Indonesian art, Zain's private collection owes its beginnings to a small watercolour painting, given to him as a wedding gift by the late Datuk Syed Ahmad Jamal. The collection may be reflective of Zain's personal tastes and interests, but it is also a valuable asset to the preservation of predominantly Malaysian and Indonesian art.
Works by Khalil Ibrahim, Latiff Mohidin, Jolly Koh, Patrick Ng and Ibrahim Hussein among those by Indonesian artists, like Popo Iskandar, Affandi, Srihadi Soedarsono and Gunawan are on display at Zain's home and the homes of his immediate family. He has also loaned his collection to national institutions and public galleries.
The opening of Galeri Z was also celebrated in conjunction with the launch of the publication of Hati & Jiwa: The Zain Azahari Collection Volume I & II, which documents the works in his collection.
The event was opened by the past president of the Malaysian Physicians for Social Responsibility and past co-president of the International Physicians for the Prevention of Nuclear War, Datuk Dr Ronald McCoy. While highlighting the importance and quality of Zain's collection, he also noted the importance for artists to be responsive to social and local issues.
Leading art collectors who attended the event include Tan Sri Kamarul Ariffin, Datuk Noor Azman Mohd Nurdin, Dr Steve Wong, Dr Abang Askandar Kamel and wife Dr Hanizah Aman Hashim, lawyer Yoong Sin Min, retired legal consultant Billy Too Hing Yeap, Pakhruddin Sulaiman and wife Fatimah Sulaiman, and Shaik Rizal Sulaiman.
The Edge Media Group chairman Datuk Tong Kooi Ong and Dawn Cheong, together with The Edge managing director Au Foong Yee and deputy managing director Lim Shiew Yuin, also attended the event.
This article first appeared in The Edge Financial Daily, on May 19, 2015.