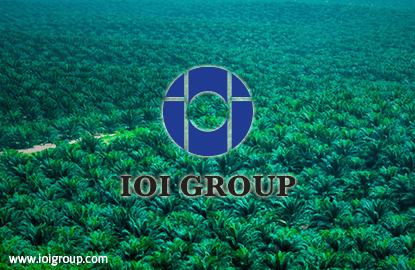 KUALA LUMPUR (May 10): Moody's Investors Services has placed IOI Corp Bhd's Baa2 issuer rating on review for a downgrade.
In a statement today, the ratings agency has also placed the Baa2 senior unsecured bond rating of IOI Investment (L) Bhd, and the Baa2 senior unsecured bank credit facility rating of IOI Ventures (L) Bhd on review.
"The (P)Baa2 senior unsecured medium-term note (MTN) program rating of IOI Investment has also been placed on review for downgrade," it said.
As such, it has changed IOI Corp's outlook to 'rating under review' from negative. The same has also been done for IOI Investment and IOI Ventures.
"The review for downgrade was driven by uncertainty regarding IOI Corp's operating performance, particularly on its downstream business, after its entire oil palm production was suspended by the Roundtable on Sustainable Palm Oil (RSPO), and the resultant announcement by several of its customers to cease cooperation with the company," said Moody's vice president and senior analyst Jacintha Poh.
Since April 4, RSPO has suspended the certification for all of IOI Corp's oil palm production after receiving complaints by a non-governmental organisation on the non-compliance of IOI Corp's Indonesia plantation, which produced about 2% of the company's annual crude palm oil (CPO) production, with various RSPO Principles and Criteria and requirements.
"IOI Corp has submitted an action plan to RSPO, which it believes will help resolve the complaints. However, the time frame for the resolution remains uncertain and Moody's notes that some plantation companies have required more than a year to satisfy RSPO's complaints," said Poh.
"While potential sales losses from IOI Corp's inability to supply certified palm oil are not quantifiable at this point due to ongoing developments with RSPO and its customers, we note that the company's earnings could deteriorate significantly, which could in turn pressure its financial metrics, if the suspension is not resolved within a year," she added.
As such, Moody's expects IOI Corp's downstream business to be severely impacted, particularly by customers in Europe and the US who might switch to other suppliers to comply with their policies on environmental sustainability.
Moody's also expects IOI Corp to suffer reputational damage, as the suspension is the second in five years, which may result in a further loss of customers.
Nonetheless, Moody's expects IOI Corp's operating profit for its fiscal year ending June 30, 2016 (FY2016) to remain broadly stable, supported by an expectation that the company will benefit from a higher average CPO price in 2H FY2016. There is also the assumption that it had accumulated a sufficient amount of inventory before the suspension to continue producing RSPO-certified products in 4Q FY2016 for its existing customers.
The review will focus on IOI Corp's measures to resolve its suspension by RSPO on a timely basis, its strategy to manage its business with the ability to retain its customers during the suspension period, its continued maintenance of a sizeable liquid assets base, and pro-active refinancing of its short-term debt maturities.