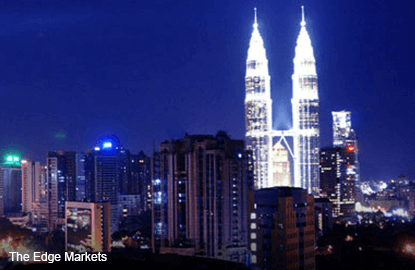 KUALA LUMPUR (Sept 1): Continued political uncertainty could dampen business sentiment and Malaysia's gross domestic product (GDP) growth, said Moody's Investors Service Inc.
The international rating agency is expecting GDP to slow to 4.8% this year from 6% in 2014. 
In a report today, Moody's said ongoing political uncertainty could further undermine market sentiment and capital inflows.
"This, in turn, is likely to chip away at reserves and the growth outlook, both of which have been buffers against market volatility but have trended downwards this year, a credit negative," it said.
Moody's had reaffirmed Malaysia's sovereign rating at A3 with a positive outlook, in January.
"Malaysia's large reserves and robust growth outlook relative to similarly rated peers have, along with exchange rate flexibility and fiscal consolidation efforts, offset the negative impact of market volatility on the sovereign credit profile.
"However, if business confidence and capital inflows continue to weaken, they would gradually erode the support that reserves and growth have offered thus far," it warned.
Moody's expects the pace of economic expansion to moderate as the GST and lackluster sentiment curb consumption and investment, and lower oil prices push down liquefied natural gas (LNG) prices with a lag.
"Between April and June (2015), growth in private gross fixed capital formation decelerated to 3.9% year-on-year, its lowest since 2011. By contrast, private investment registered double-digit rates of growth in 12 of 14 quarters prior to April-June 2015," it added.
Moody's also said it is still unclear whether the Bersih 4 protests over the weekend – which were reported as largely peaceful – will have broader policy implications.
"The policy impact of rising political risk has thus far been limited," it noted.
The report follows a 34-hour-long Bersih 4 rally that saw 500,000 of Malaysians took to the street to demand for clean election, clean government, rights to protest, save the economy and improve parliamentary democracy.