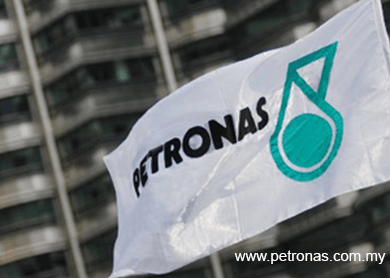 KUALA LUMPUR (Mar 12): Moody's Investors Services said Petroliam Nasional Bhd's (Petronas) financial metrics are still strong, due to higher profitability stemming from a lower cost of production and its conservative financial profile.
Petronas is rated A1 Stable by the rating agency. 
"We expect the company's credit metrics to remain well within the parameters of its A1 ratings owing to its net cash position and low leverage. Even with the expected decline in earnings this year, Petronas will still map to an Aa3 rating on Moody's methodology for integrated oil and gas companies," it said in a note today.
Moody's expects the national oil and gas company's earnings before interest, tax, depreciation and amortisation (EBITDA) to fall by around 30% this year, before rebounding in 2016 on an improvement in oil prices.
"We expect Petronas' net borrowings to increase by about RM35 billion to RM40 billion annually over the next two years as it funds its cashflow shortfall with a mix of cash and fresh borrowings," it said. 
On dividends, Moody's said it is likely to remain high as Petronas does not have the flexibility to reduce dividends to the government, since its dividend payments are subject to annual negotiations with the government, while its tax payments are based on profits.
As for capital expenditure (capex), the rating agency expects that to average about RM60 billion annually over the next five years. 
"We expect the company to reduce its overseas capex in this low oil price environment, particularly on projects with long lead times and uncertain commercial viability.
"We also anticipate the company will remain prudent in managing its finances and maintain a conservative capital structure as it funds its capex plan," said Moody's. 
Petronas spent RM64.6 billion on capex last year compared with RM56.6 billion in 2013.