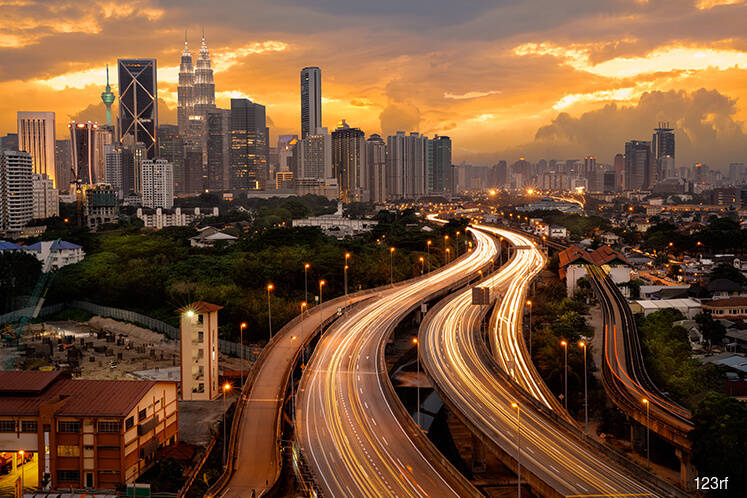 KUALA LUMPUR (Dec 8): The outlook for Malaysia's local and foreign currency issuer and senior unsecured bond ratings is stable, according to Moody's Investors Service.
In a statement today, Moody's said the stable outlook and A3 rating were affirmed based on expectations of a high but stable government debt burden, the relatively high exposure of the economy and financial system to a tightening in availability and cost of external financing, as well as Malaysia's healthy and resilient growth prospects.
"At 50.9% of GDP as of June 2017, Malaysia's general government debt is significantly higher than the A-rated peer median (40.5% of GDP at end-2016). While we expect the debt ratio to remain stable in the next few years, it is also likely to stay above the median for A-rated sovereigns," read the statement.
Moody's expects fiscal deficits to narrow slightly further to 2.8% in GDP in 2018, in line with the budget projections. It, however, noted that a balanced budget is not expected to be achieved by the government's original target of 2020.
It also views Malaysia's debt affordability to be weak relative to peers, with interest payments accounting for 12.5% of revenues in 2016, much higher than the A-rated median of 5.6%, due to the continued trend of declining revenues as a proportion of GDP.
Meanwhile, Moody's forecasts ratio of annual external liabilities due to reserves at 139.7% for 2018 and does not expect it to change significantly in the next few years.
It noted that the active non-resident investor presence in Malaysia's financial markets has made it vulnerable to sudden swings in capital flows. Foreign currency reserves have climbed steadily from a recent trough, but remain lower than economy-wide cross-border debt due over the next year.
"However, once currently maturing medium- and long-term debt is added, the ratio of annual external liabilities due to reserves — as measured by our external vulnerability indicator (EVI) — has been significantly above the 100% threshold for many years," Moody's said.
On growth prospects, Moody's foresees Malaysia's GDP growth to average 5.1%, surpassed only by China and Ireland, and on par with Malta.
It said that Malaysia's economy showed shock absorption capacity and resilience in the decline of commodity and oil prices, and a tumultuous political climate.
Moody's highlighted material domestic imbalances as a risk to growth and the financial system. Household debt has moderated to 84.6% of GDP at the end of September 2017, down from 88.3% of GDP as of end 2016 but is still among the highest in the region.
"Such debt could slow growth in the medium term if it constrains households' capacity and willingness to spend. It could also amplify the negative effects of a shock to the economy," it explained.
However, Moody's said given the relatively well-diversified nature of the economy and its ability to withstand shocks in the past, growth performance can be expected to remain robust relative to similarly-rated peers, which is a key factor underpinning the stability of the debt burden.