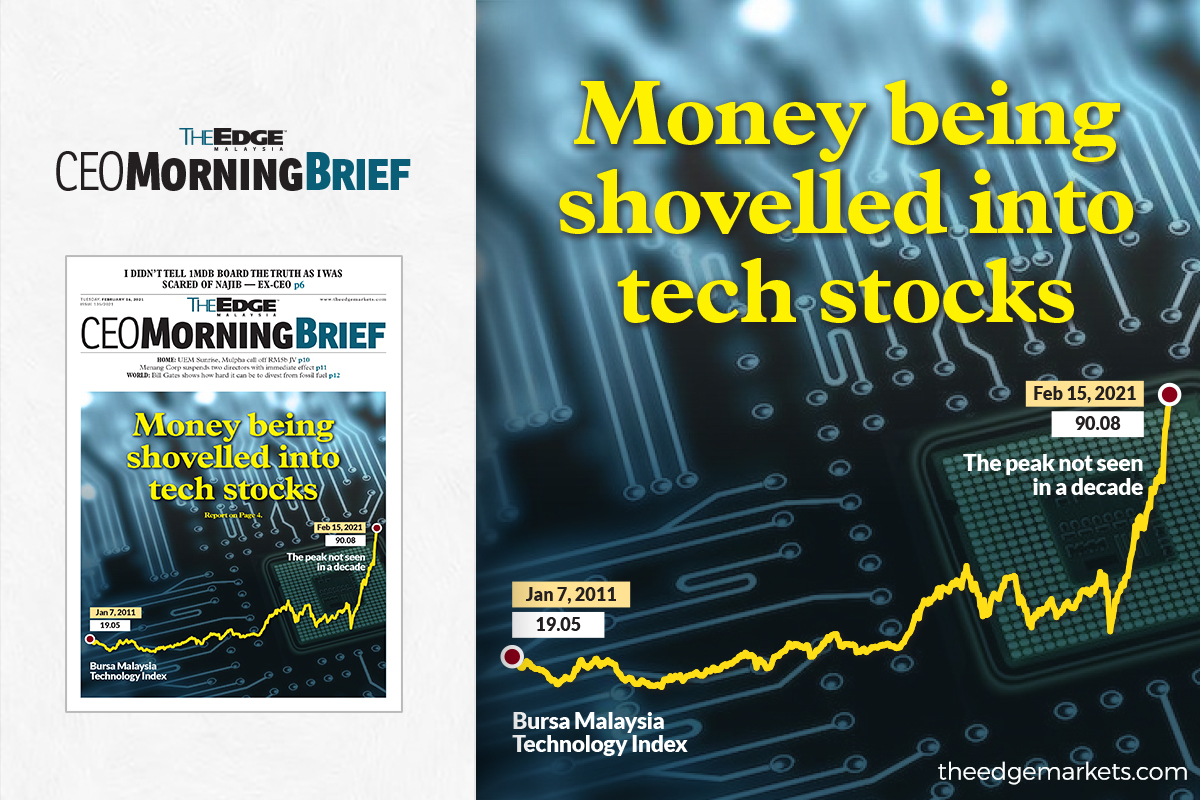 KUALA LUMPUR (Feb 16): While the glove stocks are trying hard to regain lost ground after falling off the peaks, the technology stocks on Bursa Malaysia, which are primarily involved in semiconductor-related business, however, continue their hike to record fresh highs.
Reaching fresh peaks has become a daily affair among some tech stocks in recent months amid news that the semiconductor industry is facing a happy problem — supply growth could not keep pace with the strong surge in demand. The auto industry is one of them currently suffering from severe semiconductor chip shortage.
Tech stocks that have gained less than 30% year to date would have been considered laggards among their peers. The best performers which have chalked up at least 40% gain since the start of the year are UWC Bhd, Malaysian Pacific Industries Bhd (MPI), Unisem (M) Bhd, and Greatech Technology Bhd.
Over a longer horizon, all of their share prices have at least doubled since March 18 last year when the global equity rout, which was triggered by the panic selling amid pandemic fears, rocked the global markets. UWC tops the winner list with gain of over 1,000% since March 18, followed by Greatech, whose share price has leapt 631%.
The surge in share prices lifted Bursa Malaysia's Technology index to a more than two-decade high of 90.08 points on Monday, the highest level since the burst of the dot-com bubble in 2000.
Since last year's trough of 26.33 points, the index has soared 242% as of Monday, outperforming the benchmark FBM KLCI, which rebounded 32% from the low in March last year.
The fuel that has been powering the share price rally, at home and abroad, is the accelerated shift towards digitalisation. The work-from-home trend, as a result of the Covid-19 pandemic, has given the extra boost to the demand for telecommunication gadgets.
"There is also a shortage in supply of semiconductor chips. There is a severe shortage worldwide," said Areca Capital chief executive officer Danny Wong.
Rakuten Trade's head of equity sales Vincent Lau added that semiconductor players have posted a recovery in earnings as well.
Exorbitant valuation?
With share prices having risen in such a meteoric fashion, some of the tech stocks have reached historical price-earnings ratio (PER) of over 100 times — something that has not happened since the dot-com boom.
For examples, UWC has a PER of 135.05 times, and Unisem holds a PER of 125.54 times. The lowest PER among the semiconductor companies is MPI, with a PER of 43.88 times.
For the tech bulls, they explained that the market always runs ahead of fundamentals. PER based on historical earnings is considered irrelevant when the industry enters into an exceptionally strong growth phase. The stock prices are trying to factor in the future earnings growth, which generally is expected to be strong.
Some quarters noted that the strong demand for semiconductor chips was known since last year as more people needed to upgrade their gadgets as a result of virtual meetings due to the Covid-19 pandemic. On top of that, the smartphone makers are racing to launch their 5G phones.
However, few would have anticipated a severe shortage of semiconductor chips to the extent that production lines in certain industries, for instance automotive, have to be shut down.
Furthermore, the barriers to entry will make the shortage even more acute. It takes time to build new capacity.
Areca Capital's Wong viewed that for high growth sectors such as the tech industry, a company's PER cannot be used in isolation when it comes to valuation. He commented that another quantitative measure is its growth rates i.e. earnings growth rates, volume growth rates, customer growth rates, for instances.
Other factors that investors heed are the supply and demand dynamics in a particular industry, as well as the willingness to embrace innovation and adoption of new technologies.
Rakuten Trade opined that technology counters globally have been experiencing higher share prices and that investors have accepted the more lofty valuations on the basis of stronger earnings growth ahead, which is expected to remain strong industry-wide as 5G comes on board, as well as the greater usage of semiconductor chips in more consumer products and the auto sector.
"It is also worth noting that many investment funds are heavily weighted towards the tech sector," he said.