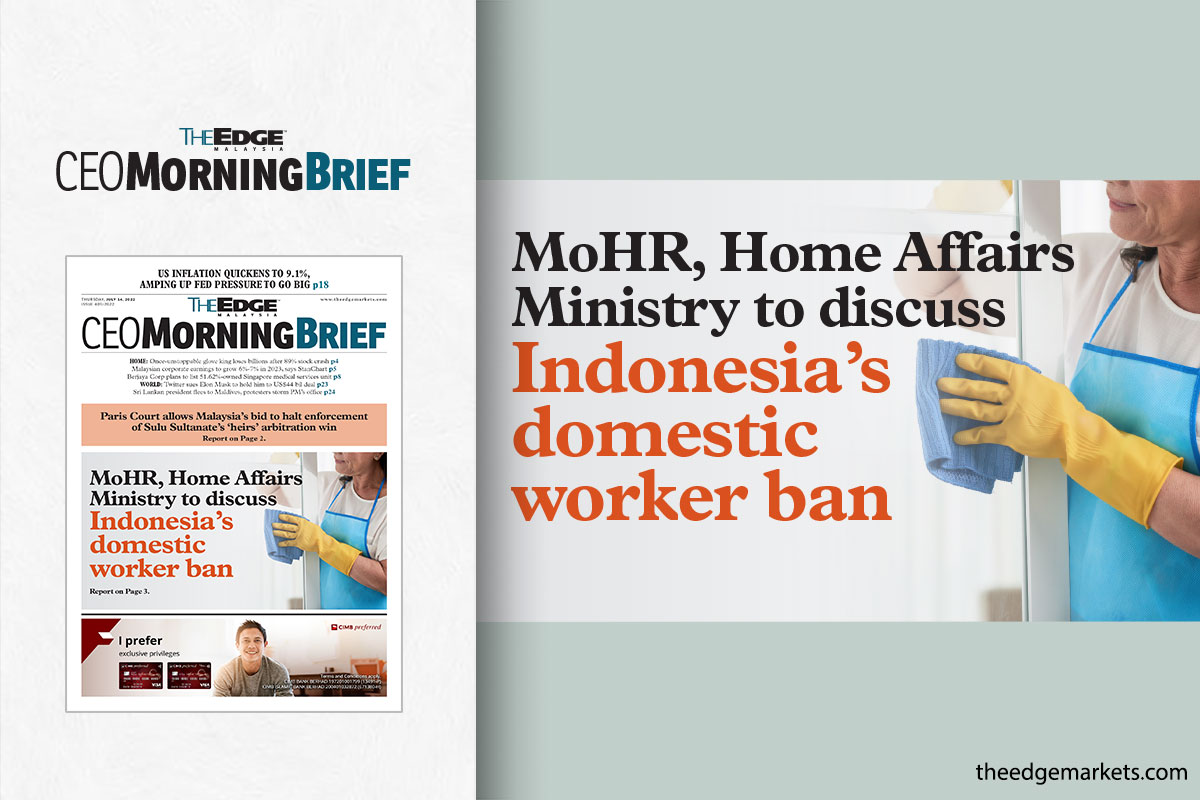 KUALA LUMPUR (July 13): Malaysia's Ministry of Human Resources (MoHR) said it will have a discussion with the Ministry of Home Affairs to address the temporary ban imposed by the Indonesian government on sending its domestic workers here.
In a brief statement, MoHR said the discussion "aims to handle issues related to [the] intake of Indonesian foreign workers into the country immediately". 
The statement was issued after the Indonesian Ambassador to Malaysia, Hermono, had reportedly told local press earlier on Wednesday (July 13) that Indonesia has reinstated a temporary freeze on its workers entering Malaysia.
The freeze was said to be effective immediately, as he claims that Malaysia's Immigration Department had breached terms stated in the domestic worker memorandum of understanding (MoU) signed by both countries in April.
Nonetheless, job orders that have been approved can proceed, The Star reported, citing Hermono. 
The envoy also told local news portal Malaysiakini that all new applications submitted from Wednesday onwards will be put on hold, along with 15,000 to 20,000 applications that have already been received.
"Malaysia is a key player in the global supply chain, and companies hiring undocumented migrant workers stand to lose their contracts with their buyers or have their goods seized at ports of entry, like in the US. We will file complaints against any company found to be hiring undocumented workers," he was quoted as saying.
According to Malaysiakini's report, the breach arises from the Immigration Department's continued use of its Maid Online System (MOS) in the recruitment of Indonesian domestic workers. 
The MOS recruitment system is seen by local activists and immigration experts as a tool that facilitates trafficking and forced labour, as it does not require employers or recruitment agencies to be accountable for the welfare and safety of workers, it said.
"We have solid evidence that the Immigration Department, under the Home Affairs Ministry, continued to use the MOS to facilitate the recruitment of Indonesian domestic workers into Malaysia," added Hermono.
He said Malaysia was supposed to use the One Channel System under the MoU to protect the welfare of domestic workers.
"The MOS bypassed the One Channel System that was introduced in the MoU, especially to protect the welfare of domestic workers, as we will have full knowledge of the workers' whereabouts, who their employers were and that their contracts safeguarded their rights.
"It engaged only with government-registered agents from both countries and linked the recruitment process between both countries so everyone involved is accountable," he said.
Hermono also said Indonesia was disappointed that the MoU was broken within such a short period, since it was inked in April. 
"President Jokowi (Joko Widodo) was clear in his desire that the MoU did not remain only beautiful on paper but its terms are fully implemented by both parties. We are disappointed that the MoU has not been honoured," he added.
Read also:
Indonesia imposes temporary freeze on sending migrant workers to Malaysia