This article first appeared in The Edge Financial Daily, on September 4, 2018.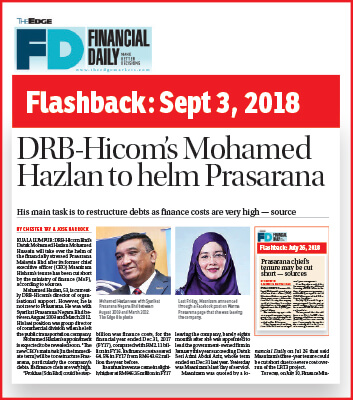 KUALA LUMPUR: DRB-Hicom Bhd's Datuk Mohamed Hazlan Mohamed Hussain will take over the helm of financially stressed Prasarana Malaysia Bhd as its president and chief executive officer (CEO), said Finance Minister Lim Guan Eng. Guan Eng's announcement, issued in a statement yesterday, confirmed a report by The Edge Financial Daily yesterday that Mohamed Hazlan will take over as CEO from Masnizam Hisham, whose contracted tenure was cut short by the ministry of finance (MoF).
Guan Eng said Mohamed Hazlan will play a major role in the restructuring of Prasarana, together with the MoF. He will also be responsible for setting Prasarana's new direction to upgrade its public transportation operations, Guan Eng added.
According to the statement, Mohamed Hazlan, who holds a bachelor's degree in public engineering from the Imperial College of Science and Technology in London, has a track record in public transportation, oil and gas, postal services and highway operations.
Among the posts he had held were group director of several divisions of DRB-Hicom, chief operations executive of Rapid KL, chief operations officer of Pos Malaysia Bhd's strategic unit and general manager of Plus Expressways' operation division.
"I would like to record my appreciation and say thank you to Puan Masnizam Hisham for her service since she was appointed president and CEO from Jan 18, 2018 to Sept 2, 2018," Guan Eng said, confirming Masnizam's departure. For 2017, Prasarana posted a net loss of RM2.47 billion on a revenue of RM846 million, Guan Eng added.