This article first appeared in The Edge Financial Daily, on November 27, 2019.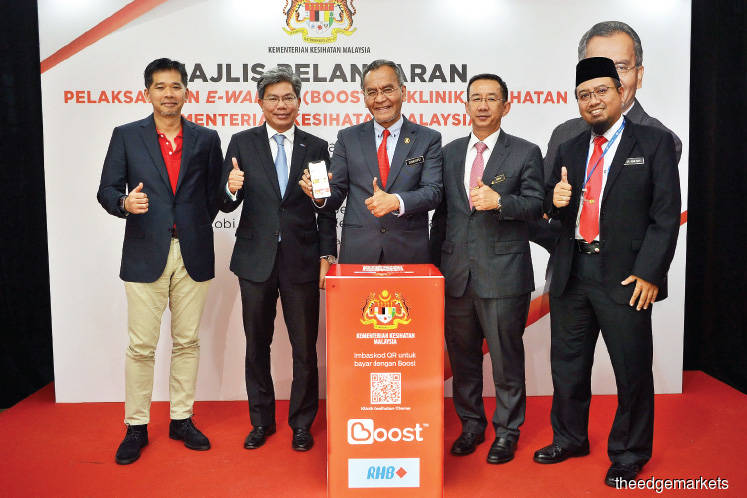 (From left) Axiata Digital Ecode chief executive officer Mohd Khairil Abdullah, Khairussaleh, Dzulkefly, Health Ministry secretary-general Datuk Seri Dr Chen Chaw Min and Federal Territory of Kuala Lumpur State Health Department deputy director (public health) Dr Amin Sah Ahmad at the launch of the Boost e-wallet at Klinik Kesihatan Cheras in Kuala Lumpur yesterday. Khairussaleh says the e-wallet facility is especially important to empower consumers as well as government agencies.
KUALA LUMPUR: The ministry of health (MoH) is collaborating with RHB Islamic Bank Bhd and Axiata Digital Ecode Sdn Bhd to facilitate cashless payments at government clinics through the use of Axiata's e-wallet, Boost.
RHB, in a press statement, said it is the main banker under this partnership to manage the collection and payment accounts, starting with four pilot locations, namely: Klinik Kesihatan Cheras, Klinik Kesihatan Kuala Lumpur, Klinik Kesihatan Putrajaya Presint 18, and Klinik Kesihatan Seremban.
This follows RHB's collaboration with the MoH in 2018, when the commercial bank first facilitated cashless transactions at government clinics using bank cards at 56 government clinics in Kuala Lumpur and Selangor.
Health Minister Datuk Seri Dr Dzulkefly Ahmad, who officiated at the launch of the collaboration yesterday, said the use of the e-wallet adds value to the MoH and counter services at government clinics.
"The MoH hopes that this e-wallet payment facility will enhance the efficiency of service delivery of health clinics as well as provide customer-friendly facilities," the minister said. RHB Banking Group managing director Datuk Khairussaleh Ramli said the e-wallet facility is especially important to empower consumers, as well as government agencies, in providing convenient and safe payment facilities.
"This partnership also allows RHB to meaningfully contribute towards a wider digitalised banking ecosystem where members of the public can experience the convenience of cashless transactions — literally at their fingertips," Khairussaleh added.