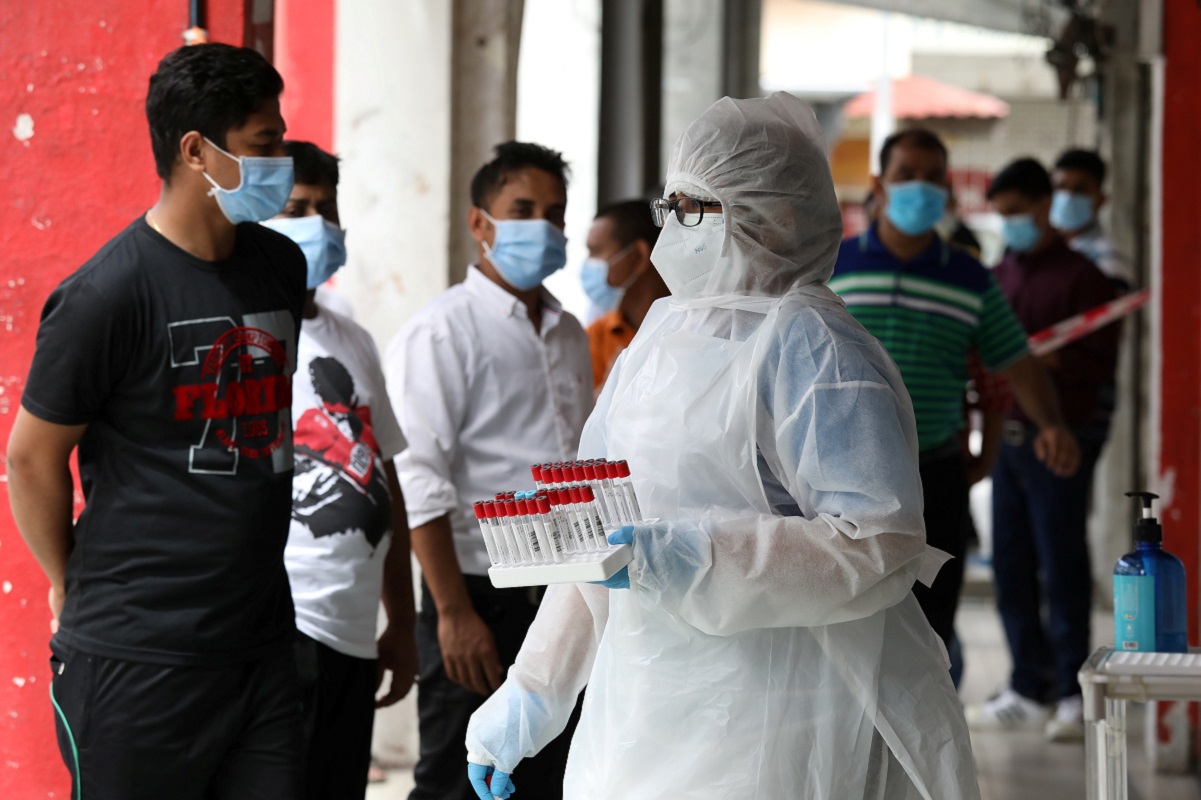 KUALA LUMPUR (Nov 3): Malaysia today posted its most deadly day of the Covid-19 pandemic to-date with 12 new fatalities, raising the total number of deaths to 263.  
Meanwhile, new cases in the 24 hours as of noon totalled 1,054, compared with 834 yesterday, bringing the total number of cases to 34,393. Sabah accounted for 678 or 64.3% of today's cases, followed by Selangor with 125 cases. 
Health Director-General Tan Sri Dr Noor Hisham Abdullah said all the 12 new fatalities were reported in Sabah and they comprise six men and six women.  
"Eight of them had health complications such as diabetes, high blood pressure, heart disease, asthma, tuberculous meningitis, hydrocephalus, stroke, psoriaris and dyslipidemia," he said in his daily media briefing. 
He noted that in October alone, Sabah recorded a total of 118 deaths, representing 44.9% of total Covid-19 deaths nationwide.
Dr Noor Hisham said seven of the new Covid-19 cases consisted of people who had returned from Sabah, raising to 478 the total number of cases involving returnees from the worst-hit state since Sept 20. 
There were 14 new imported cases involving three Malaysians and 11 foreigners who had returned from South Korea (four cases), Japan (two), the Philippines (two), Uzbekistan (one), China (one), Hong Kong (one), Nepal (one), the UK (one) and the Maldives (one). 
Dr Noor Hisham also announced 310 new cases involving prison-related clusters and temporary detention centres. Of this, the Rumah Merah cluster accounted for 229 cases or 73.9% of the cases. 
Meanwhile, the number of active cases stands at 10,135, with 94 patients being treated in the intensive care unit including 32 who require respiratory assistance. 
Two new Covid-19 clusters were reported today, comprising the Cergas cluster in Seremban with 12 cases, and the Permatang cluster which spread in Kulim, Kedah, as well as the Seberang Perai Tengah, Seberang Perai Utara and Timur Laut districts in Penang with eight cases.
Dr Noor Hisham said the Batu cluster in Perak has officially ended, as no new cases were reported for 28 days. A total of 1,174 people from this cluster had been screened, and seven had tested positive for Covid-19. 
Meanwhile, 875 Covid-19 patients were discharged today, raising total recoveries to 23,995 or 69.8% of total cases to date. 
Klang Valley records 150 cases, 64% of them from Sabah 
Dr Noor Hisham said Sabah remains at the top of the cumulative cases list with 16,873 cases, followed by Selangor (5,179 cases), Kuala Lumpur (3,092), Kedah (2,140) and Negeri Sembilan (1,702). 
Of today's cases in Sabah, 290 were from existing Covid-19 clusters, while 221 were detected during screening of close contacts of Covid-19 positive patients and 166 from other Covid-19 screenings. The remaining cases were detected from screening of Severe Acute Respiratory Infections (SARI) patients. 
In the Klang Valley, besides the 125 new cases in Selangor, there were 22 new cases in Kuala Lumpur and three in Putrajaya.  
Elsewhere, Labuan reported 81 new cases, Negeri Sembilan 71 cases, Penang 35 cases, Sarawak (21), Kedah (12), Perak (3), Terengganu (1), Melaka (1) and Johor (1).