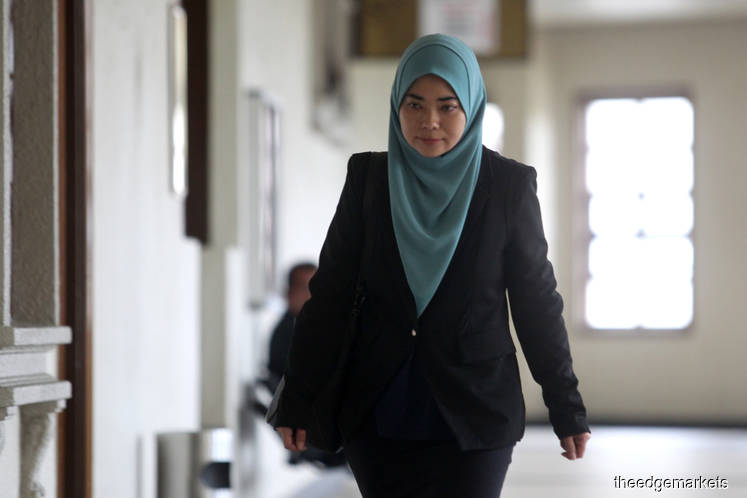 KUALA LUMPUR (June 20): A Ministry of Finance (MoF) official told the High Court during former premier Datuk Seri Najib Razak's SRC International Sdn Bhd trial today that she prepared the memorandum for the Cabinet meeting on Aug 15, 2011 under duress, as she was told the company belonged to the then prime minister.
During her cross-examination and re-examination, the 41st prosecution witness Afidah Azwa Abdul Aziz said she was told by her superior — the ministry's secretary Maliami Hamad — to prepare the Cabinet memorandum for SRC on the same day as a meeting with the former 1Malaysia Development Bhd subsidiary took place, so that it could be tabled to the Cabinet two days later on Aug 17.
The Cabinet memorandum concerned a government guarantee for SRC to secure the RM2 billion first loan from the Retirement Fund (Incorporated) (KWAP), which was eventually given on Aug 26, 2011.
"I asked my superior (Maliami) why it had to be prepared hurriedly and he replied that this is 'arahan dari pihak atasan' (directive from the top).
"I expressed being uncomfortable preparing the memo but it fell on deaf ears. I had previously complained to Maliami on other previous occasion but no action had been taken," she said in reply to questions from lead defence counsel Tan Sri Muhammad Shafee Abdullah.
When re-examined by Deputy Public Prosecutor Datuk Suhaimi Ibrahim, the witness emphasised that unlike normal practices where companies seeking the guarantee would write their own memorandum, she had to prepare the document on SRC's behalf for the cabinet meeting.
Suhaimi: When was the memorandum to be completed?
Afidah: It was completed the same day (Aug 15, 2011).
Suhaimi: How long did it take you?
Afidah: Within a few hours.
Suhaimi: Where [were] Nik Faisal Ariff Kamil and Zahid Taib?
Afidah: They were in front of me (in MoF office). I had to show what I typed on a big screen while they gave directions on what to be included in the memo.
Suhaimi: Do you know that when you prepare the memorandum for the Cabinet it is important that you verify the facts given?
Afidah: Yes, I agree, but in this case, I was not given the time to do so.
Suhaimi: Did you make a complaint to Maliami?
Afidah: Yes, he says it is a directive from the top.
Suhaimi: Did you receive any further direction?
Afidah: (I was told by Maliami) this (SRC) is PM's company (ini adalah syarikat PM).
Objections to witness statement
This led to objections being raised by Najib's other main counsel, Datuk Yusof Zainal Abiden, who said Afidah's evidence should not be admitted as it could be considered hearsay.
Furthermore, Yusof, who was formerly solicitor-general II at the Attorney General Chambers, said there was no way for the court to verify her statement as it did not arise during cross-examination.
"Her statement that this is the PM's company, there is no way to verify and she maybe cannot be subject to cross-examination on this. I propose that this statement (This is the PM's company) is suspended from being admitted as evidence until it can be verified further as this question should have been put to her boss (Maliami)," the senior lawyer said.
"For her to tell the company belongs to the PM, the accuracy cannot be tested [via] a cross-examination. Hence, the defence proposes to suspend the admissibility (Afidah's testimony) first," he added.
Appointed prosecutor Datuk V Sithambaram said the question during re-examination arose from Afidah's cross-examination and that the witness is entitled to answer it when asked during re-examination.
"With much respect, the defence cannot object (such testimony) when the evidence does not fall in their favour. I do not see her statement as hearsay as we would be calling Maliami. The evidence should be admitted," he said.
Yusof and Sithambaram had further exchanges on the legality of Afidah's statement, and this ended when Justice Mohd Nazlan Mohd Ghazali delivered the court ruling that the question by the DPP in re-examination arose following an answer given by the witness during cross-examination.
"Her answer is purely on what she had been told by her superior. Furthermore, Maliami would also be called. As such, the court allows the statement (by Afidah) to be admitted," said the judge in his ruling.
Prior to this cross-examination by Shafee, Afidah said that while she had questions regarding the facts given by Nik Faisal and Zahid for their inclusion in the memorandum to the cabinet meeting, Zahid would reply: "we would only answer to the PM."
Afidah also told the court when asked by Shafee that she had to prepare the memorandum under duress from Maliami.
The witness also said that in the past she had prepared memoranda on five different occasions about companies seeking government guarantee.
The papers were prepared by the company in question and there would be meeting with the MoF where questions would be asked for verification before the memorandum for the cabinet is made.
Najib was the prime minister since April 2009 to May 9, 2018 and he was also the Finance Minister. It had been adduced further through former SRC chairman Tan Sri Ismee Ismail that Najib was appointed as the company's advisor emeritus and that the board had to follow his instructions.
The former premier is on trial for seven charges in relation to criminal breach of trust, abuse of power and money laundering involving RM42 million SRC funds. Now, the court is hearing former Cabinet secretary Tan Sri Mazidah Abdul Majid, who is being cross-examined.