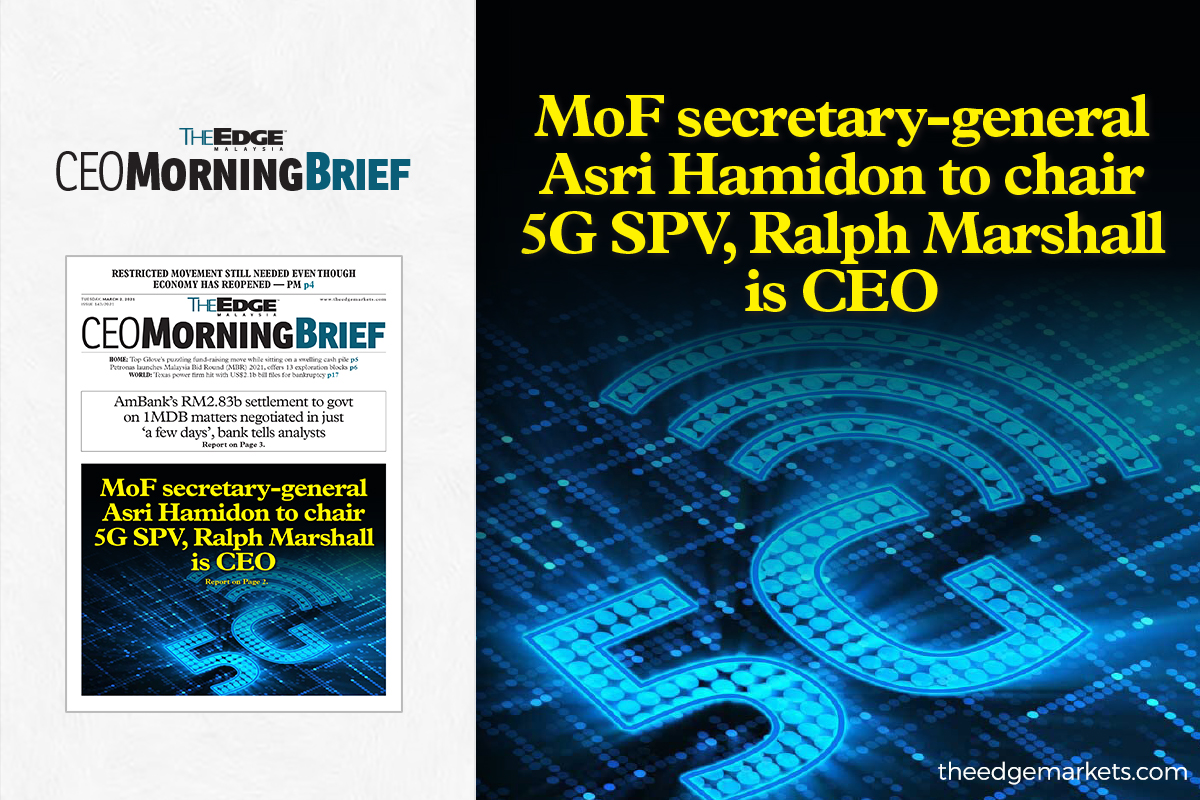 KUALA LUMPUR (March 1): Ministry of Finance (MoF) Secretary-General Datuk Asri Hamidon has been selected to chair the government's special purpose vehicle (SPV) that will oversee the rollout of the 5G network in the country, Digital Nasional Bhd (DNB).
Augustus Ralph Marshall, who oversaw the rollout of Maxis Bhd and Astro Malaysia Holdings Bhd's networks, will be the SPV's chief executive officer (CEO), the MoF said in a statement today.
The SPV's board will have three other members: Malaysia Administrative Modernisation and Management Planning Unit (MAMPU) director-general Datuk Seri Dr Yusof Ismail, Datuk Mohamed Sharil Tarmizi and Datuk Muthana Abdullah.
"The combination of these professional appointees with specialisation in sectors such as public finance, telco regulatory, telecommunications, information technology and legal, provides the right mix of skills and experience to build, own and manage Malaysia's 5G network for nationwide commercial rollout. Members of DNB's senior management team will be announced in due course," said MoF.
The SPV, through which the government has said it will be investing RM15 billion over 10 years to roll-out the 5G network nationwide, will offer 5G services via a wholesale model that is regulated to ensure better transparency and implementation, it said. The SPV was first announced by Prime Minister Tan Sri Muhyiddin Yassin on Feb 18 when he unveiled Malaysia's digital blueprint, MyDigital.
"It will be managed based on the appropriate governance framework, an open tender process for the 5G infrastructure development, and global best practices to ensure proper controls. All telecommunications service providers will have open, fair and equal access in obtaining wholesale 5G network services for the development of retail services based on 5G technology," the statement read. 
Finance Minister Tengku Datuk Seri Utama Zafrul Aziz said it is imperative for Malaysia's 5G network to be deployed quickly, systematically and professionally, to accelerate its growth initiatives through MyDigital, which aims to ensure socio-economic progress and inclusivity for all Malaysians.
"Playing catch-up is not an option as the world increasingly embraces technology such as artificial intelligence, autonomous vehicles, robotics, the Internet of Things, cloud computing and digital twin to create fresh opportunities for future growth. Congratulations to the appointees, who collectively offer the right mix of talent and experience to ensure equitable access to 5G capabilities for the rakyat and businesses.
"The government looks forward to working closely with the private sector players in the domestic telco industry, to help Malaysia realise its 5G aspirations. While DNB focuses on 5G infrastructure investments, the private sector players can focus on developing better products and services, without being saddled by heavy and duplicative capital expenditure. This is a win-win situation for all parties, including the telco players, businesses and consumers, as we focus our efforts on being 5G-ready by end-2021," said Tengku Zafrul. 
The MoF stressed that 5G technology is a strategic digital asset that requires adequate resources for the appropriate infrastructure and distribution framework to be established. 
"The investment in 5G roll out is a game-changing and fundamental infrastructure to accelerate innovation and build a robust, enabling digital ecosystem. As such, public ownership with a professionally-run management team is the right formula to ensure not just sufficient development expenditure, but also to reduce the current digital gap, and to realise the aspirations of the government's Shared Prosperity Vision 2030," it added.