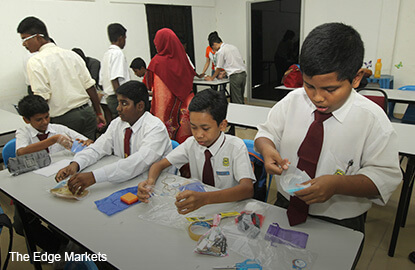 KUALA LUMPUR (Nov 3): Malaysia has about 75% of her working population with only Sijil Pelajaran Malaysia (SPM) qualification and below, according to Dr V Siva Balasingam, head of econometrics at the fiscal and economics division of the Ministry of Finance (MoF). This was despite the government allocating about a fifth of its Budget to education.
Recall that the government has consistently allocated a substantial portion of the Budget to education in the past few years: RM52.7 billion in 2013, RM55.6 billion in 2014, RM56.63 billion in 2015 and RM54.74 billion in 2016. The recently announced budget 2017 will see about RM52.4 billion allocated for education.
Siva was speaking at "Post Budget 2017 Dialogue: Inside Budget 2017", organized by the Asian Strategy & Leadership Institute (ASLI), centre for public policy studies (CPPS), Strategic Issues Forum (SIF) and Corporate Malaysia Roundtable (CMR) here today.
"Most importantly, we must realize that this is an issue and don't look backward. We have to look forward. How do we address this issue? And that's why the government is coming strongly with TVET (Technical, Vocational Education and Training)," Siva said.
He added that TVET provides an alternative for those who only have SPM certification to acquire certain skills that could help them earn higher income.
Chief operations officer of ASLI, Ng Yeen Seen, the moderator of the dialogue also shared that data from the Employees Provident Fund (EPF) showed that almost 60% of contributors earn an average income of RM2,400 per month.
Siva responded by sharing the economic relationship between wages, productivity and prices.
"If wages were to increase faster than productivity, prices will increase. In Malaysia, we observe that in general, wages have increased more than productivity...the government has pushed for productivity gain but it's not something that can be improved overnight. It takes years," he added.
He also said that TVET is an attempt to improve the productivity of the 75% people with SPM qualification and lower.
Other issues were also raised during the dialogue session especially in relation to the rising costs of living.
Firdaos Rosli, a fellow with the Institute of Strategic and International Studies, shared that the consumer price index (CPI) has failed to capture the real cost of living for urbanites as it did not take into account the increase in rail fares, toll as well as the maintenance fees of households living in condominiums, which make up a large portion of urbanites' expenses.
He also addressed the issue of Bantuan Rakyat 1Malaysia (BR1M), lauding its immediate impact to uplift the burden of the bottom income group but stressed the need for the government to look at a longer-term solution.  
Another panellist, Pauline Lum, executive director of PwC shared that the lifestyle tax relief of up to RM2,500 per year has wider coverage including printed newspaper, smartphones, gym membership, internet subscription and others compared with the current one. In comparison, the current tax relief includes purchase of books, journals, magazines and publication of up to RM1,000 per year, purchase of sports equipment for sport activities of up to RM300 every year and the purchase of computer of up to RM3,000 every three years.
During the dialogue, Siva and other panellists agreed that everyone gets a bit of the pie from the announced Budget. Firdaos however said that he does not think it is an election Budget and that there will be one more Budget before the next general election.