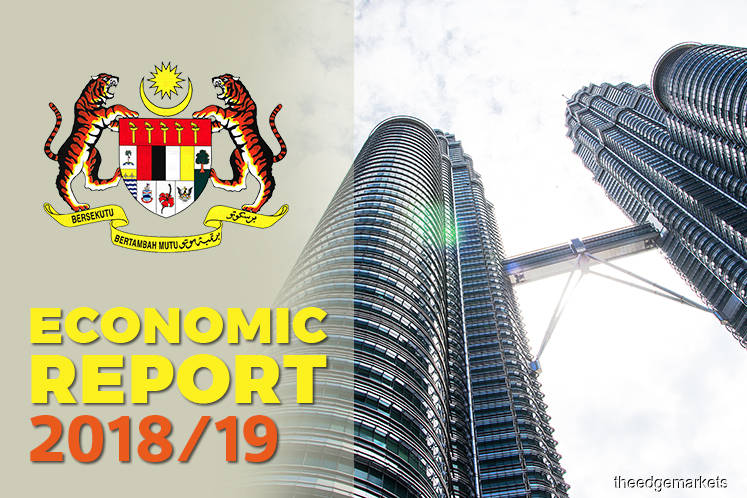 KUALA LUMPUR (Nov 2): Malaysian domestic demand, which is predicted to support the country's real gross domestic product (GDP) growth, is expected to remain resilient at 4.8% in 2019, according to the Ministry of Finance's (MoF) Economic Report 2018/19, titled Fiscal Outlook 2019 report.
This is lower than the estimated domestic demand growth of 5% for 2018.
In the report, MoF said domestic demand growth will be steered by sustained private sector expenditure at 6.5% in 2018, and 6.4% in 2019, constituting about 72% of GDP.
MoF estimated that real GDP for the country will grow 4.9% in 2019.
On the other hand, public sector expenditure is anticipated to further decline to 0.9% in 2019 after recording a marginal growth of 0.1% in 2018, mainly due to lower investment by public corporations.
MoF highlighted that private consumption will remain the major growth determinant, and is expected to expand by 7.2% in 2018. Similarly in 2019, private consumption is forecast to continue to expand, albeit at a lower rate of 6.8%, on account of higher household earnings arising from better employment outlook, implementation of higher minimum wage rate, steady commodity prices, and accommodative financing condition.
Meanwhile, private investment is expected to post a higher growth of 5%, compared to the estimated 4.5% in 2018, attributed to capital spending in technology-intensive manufacturing and services sectors.
"As Malaysia moves towards digital technologies and the IR4.0 (Industry 4.0), investment will focus in catalytic industries. These include Internet of Things (IoT), software, advanced electronics, smart machinery, automation and robotics, automated guided vehicle, aerospace and medical devices," MoF said.
In 2018, public consumption is anticipated to expand marginally by 1%. This, MoF said, is in line with the continuous efforts by the government to rationalise and optimise expenditure.
However, in 2019, MoF said public consumption is expected to expand 1.8% on account of higher spending on emoluments as well as supplies and services.
Most notably, public investment is expected to decline at significant rate of 5.4% in 2019, mainly weighed down by public corporations' lower capital spending. Nevertheless, MoF assured that there will be sustained federal government's capital formation to continue to support overall growth of public investment.