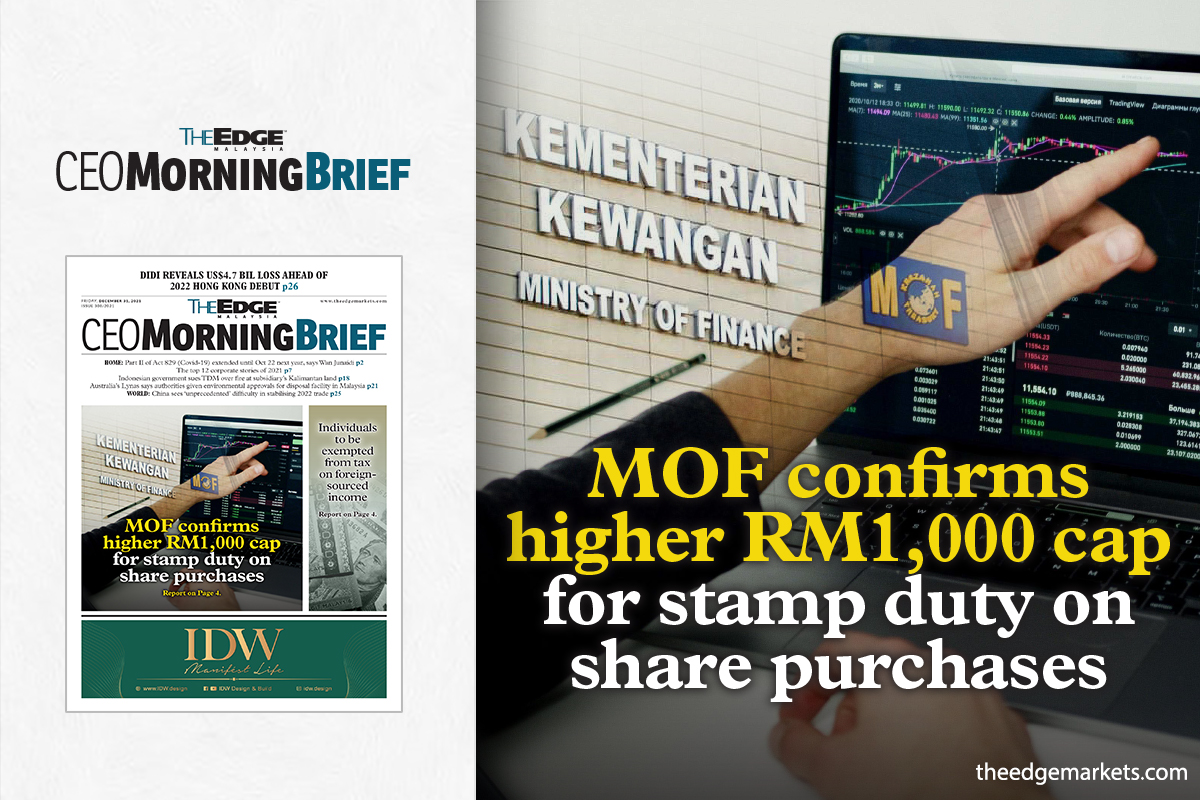 KUALA LUMPUR (Dec 30): The Ministry of Finance (MOF) announced on Thursday (Dec 30) that the stamp duty cap for the trading of shares will be reinstated at RM1,000, with a rate of 0.15%, confirming a report by theedgemarkets.com.
In a statement, it said that the decision was arrived at after taking into consideration the views of various parties, including those in the stockbroking industry, to ensure that the local stock market remains vibrant and dynamic.
It said stamp duty amounts exceeding RM1,000 will be remitted, and that this remittance will apply to all contract notes from Jan 1, 2022 until Dec 31, 2026 for transactions of stocks listed on Bursa Malaysia approved under sub-section 8(2) of the Capital Markets and Services Act.
"The government will always ensure that the tax treatment of taxpayers is based on fair and equitable principles, and remains committed to complying with international best practices," said the ministry.
In a statement, Bursa Malaysia thanked the MOF for its agility in responding to market operating conditions.
"This moderated approach to the changes on stamp duty exemplifies the government's attentiveness to industry feedback, and in managing the delicate balance between tax collection and nurturing growth in our capital market," said the stock exchange operator's chief executive officer Datuk Muhamad Umar Swift.
Previously, the government had proposed for a hike in the stamp duty rate to 0.15% versus the 0.1% currently in force, and for the abolition of the RM200 cap on the duty.
Many quarters, however, have expressed concerns over the plan to remove the cap, as this would result in exorbitant fees being paid when transactions are made, which may have a dampening effect on the bourse.
Bursa Malaysia had earlier said an estimated 10% of the trade value on the local bourse might be affected by the increase in stamp duty rate to 0.15% from 0.1%.
In November, the bourse said the higher trading cost would make it more difficult for intraday traders to implement their trading strategies, adding that these traders accounted for 10% of the traded value on the local bourse.
Others have said the move would deter high-volume traders and speculators, and that while the stamp duty was a good way to increase government revenue, the 0.05-percentage-point hike was deemed too drastic.
Earlier this month, the Association of Stockbroking Companies Malaysia told The Edge that it had met with the regulators to express the industry's concerns over the matter, proposing for the stamp duty rate to be retained at 0.1%, with a slightly higher cap above the current RM200, instead of a complete abolishment.
Read also:
Govt to reinstate stamp duty cap for share transactions at RM1,000 per contract note, maintain higher rate of 0.15% — source 
MOF: Individuals to be exempted from tax on foreign-sourced income