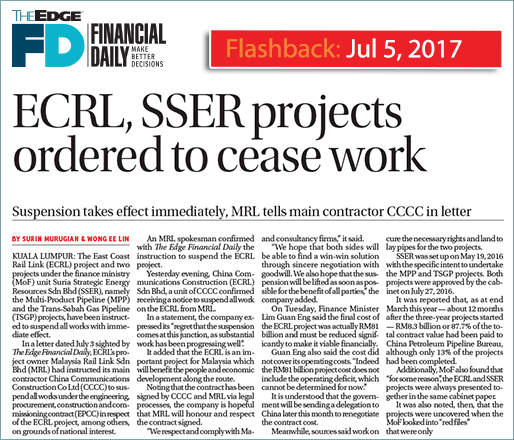 KUALA LUMPUR (July 5): The Ministry of Finance confirmed today that a work suspension notice has been issued to all contracts related to the East Coast Rail Link (ECRL) and the two pipeline projects under Suria Strategic Energy Resources Sdn Bhd (SSER).
In a statement, Finance Minister Lim Guan Eng said the suspension notice was issued on July 3 via the Ministry of Finance (MoF) Inc, on the instruction of Prime Minister Tun Dr Mahathir Mohamad, who made the call after seeking advice from the Attorney-General's Chambers.
This confirms a report by The Edge Financial Daily earlier today that MoF Inc's wholly-owned subsidiaries SSER and Malaysia Rail Link Sdn Bhd (MRL) had suspended works in all three projects.
In the report, which quoted the contents of a letter sighted, MRL had instructed its main contractor China Communications Construction Co Ltd (CCCC) to suspend the engineering, procurement, construction and commissioning contract for the ECRL project, among others, on grounds of national interest.
SSER is mandated to undertake the Multi-Product Pipeline (MPP) and Trans-Sabah Gas Pipeline (TSGP) projects, whereas MRL is the project owner of ECRL.
In the statement, Lim said the suspension notice will be in effect until further notice.
"The decisions are solely directed towards the related contractors relating to the provisions mentioned in the agreements, and not at any particular country," Lim said.
Lim also reiterated that the total construction cost for the MPP and TSGP projects are RM9.4 billion, and that the projects were awarded by SSER to China Petroleum Pipeline Bureau on Nov 1, 2016.
"SSER has paid RM8.3 billion or 88% of the project's construction value of RM9.4 billion, even though progressive work completion (that has not been audited) is only at 13%. These SSER contracts worth RM9.4 billion have not taken into account cost related to land acquisition, two expert consultancy agreements, and a maintenance agreement; comprising a total additional cost of RM1.7 billion," he added.
The ECRL project is a rail line that stretches from Port Klang to Pengkalan Kubor, Kelantan.
"Both projects (Phase 1 — Gombak to Wakaf Bharu and Phase 2 — Gombak to Port Klang) were approved by the cabinet in 2016 and 2017, respectively, in which CCCC was appointed as the main contractor.
"The actual total cost for the ECRL project is expected to reach RM81 billion, which includes land acquisition cost and loan interest during the project construction," he added.