This article first appeared in The Edge Financial Daily, on January 4, 2019.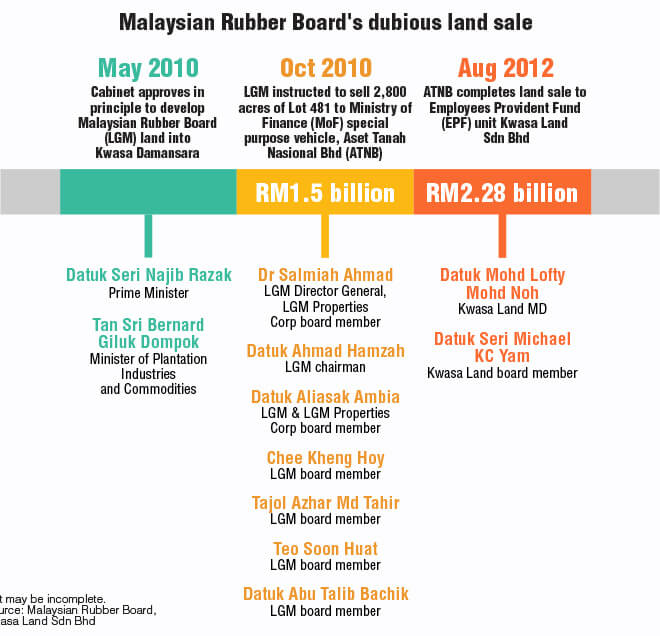 KUALA LUMPUR: Another questionable land transaction conducted by the previous federal government was reported yesterday, one that allowed the finance ministry (MoF) to cash in at least RM780 million just by being a middleman.
Primary Industries Minister Teresa Kok revealed that in October 2010, Aset Tanah Nasional Bhd (ATNB), a special purpose vehicle (SPV) of MoF, acquired a land from the Malaysian Rubber Board (MRB) for RM1.5 billion — allegedly below market value — and sold it to the Employees Provident Fund (EPF) for RM2.28 billion the following year.
The issue came to light following an internal audit of MRB's assets and contracts under Kok's instruction when she was appointed to her ministerial position soon after the May 9 general election last year.
"The previous government had given cabinet approval and instructed the sale of about 2,800 acres (1,133ha) of MRB's land in Sungai Buloh known as Lot 481 to ATNB through a direct sale," Kok told a press conference.
"MRB has therefore been shortchanged and there was a difference of RM780 million. MRB therefore contents that it is lawfully entitled to the difference [in prices]," she added.
The land in question makes up a majority of the bigger 3,285-acre Lot 481, which is located between Kota Damansara and Sungai Buloh.
It was meant for the development of a mega township known as Kwasa Damasara, a project spearheaded by former prime minister Datuk Seri Najib Razak in 2010 with Kwasa Land Sdn Bhd, a wholly-owned unit of EPF, as the master developer.
Kwasa Land was formed to be the master developer of the 15-year project, which would comprise affordable homes alongside other residential and commercial units housing a total of 150,000 people.
MRB chairman Sankara Nair said the transaction begs the question as to why the land was sold to ATNB first, when MRB could have skipped ATNB as the middleman and sell the land to EPF or Kwasa Land via the same direct sale mechanism.
"Basically MRB was ordered to sell — no question to be asked," said Sankara. "There was a lack of information. We were arbitrarily told: 'Here's RM1.5 billion, your land is sold'. And that's it, and they walked away with it."
Sankara, who was appointed as MRB chairman on July 11 last year, also said that the board had forwarded the matter to Auditor-General Tan Sri Madinah Mohamad on Nov 28 for further deliberation.
"We are not allowed to get the access to the data on ATNB. Only the auditor-general can do that. So we decided to go to her, get the information out, and then we will be able to report it to either the police or the MACC (Malaysian Anti-Corruption Commission).
"The audit report should be out in about a month," he said, adding that an internal audit by MRB itself is also still ongoing.
Sankara said MRB will probably file a legal suit to recover the excess fund not earned by the body. It may also file for malfeasance in public office against public officials involved pending the findings in the National Audit Department's report, he added.
Meanwhile, one project on-site dubbed Taman Warisan Baka Getah Malaysia — a national heritage site — will be continued, added Sankara.
Also located at Lot 481 is the Rubber Research Institute of Malaysia (RRIM) facilities, including RRIM Research Station and the Malaysian Hevea Academy.
Separately in 2013, MRB resolved to develop five facilities on the remaining 585 acres of Lot 481 at an initial cost of RM1.1 billion, comprising a lab, an office tower, a museum, a sports facility and a Sedec (Social and Economic Development Centre) Complex.
"Based on existing records, instead of appointing a project management consultant (PMC) in line with the board's resolution, surreptitiously, a project delivery partner (PDP) instead was appointed, apparently without proper board approval," said Kok.
Sankara confirmed that the PDP for the RM1.1 billion development is KLIA Consortium, which is formed by KLIA Associates Sdn Bhd and KLIA Consultancy Services Sdn Bhd. One work package contractor identified is Mudajaya Group Bhd, previous news reports showed.
The project was, however, mutually terminated by the next board of MRB as well as the KLIA Consortium by March 2018, after RM70 million or 6.3% of the total project sum had been paid and 5% of the project works had been completed.
"The [current] board, then, accordingly, lodged a report with MACC on Nov 27, 2018 in respect of the above — in breach of established MRB procedures which has resulted in about RM70 million in losses to MRB," said Sankara.
"Apart from this, the board shall also proceed with disciplinary action against certain officers in MRB for wrongdoings," he added.
Later, Najib issued a statement on the matter — but did not explain the reason MRB had sold the land to MoF at below market price.
Instead, he claimed the EPF contributors benefitted from the transaction. He argued that at RM2.28 billion, the 2,800-acre land sale from ATNB to Kwasa Land, equates to RM18.70 per sq ft.
"[It is] a price that [analysts] at the time opined was reasonable and in accordance to market price," he said in his official Facebook account.
Noting that both MRB and ATNB are government agencies, Najib said Kok had accused his administration of forcing the government to sell government land to the government and thereafter giving EPF the chance to reap billions in profit for its depositors.
"So the BN government must have been despicable to take care of its cronies, the EPF contributors," he said sarcastically.