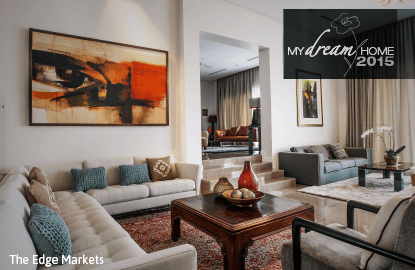 This article first appeared in haven,digitaledge Weekly, on Issue #75 October + November 2015.
A dream home
Urban living has seen the notion of home progress to one that goes beyond a purely physical need. Today, it has psychological and emotional connotations that embrace security, privacy, togetherness and peace. 
Like blank canvases, a home takes on the personality of its occupants who transform it into a haven that meets their various needs. Social areas and private corners have to be defined, everyday interaction with the décor has to be thought through and functionality has to meet aesthetics to create a pleasing yet practical sanctuary. Thus, the collaboration between architect and homeowner relies on mutual understanding and trust — the end result, after all, is a living, evolving space that will bear witness and cater for the journeys of those who reside within its walls.
In this edition of haven/The Edge My Dream Home, we showcase a sumptuous spread of ideas, materials, textures, colours and spaces. As you flip through the pages chronicling the stories of detached/semi-detached, terraced, condominium and green homes, we hope you, too, will draw inspiration and pleasure from these manifestations of a dream home.
A former childhood home reinvigorated with a raised roof and refreshed interior
SOME 20 years after he left the house he grew up in, fate and circumstance brought Muhammad Mustapha Hussain back under its roof, but this time with wife, Azfida Aznan, and their two young daughters and son in tow. The house is not the same one that Mustapha had lived in as a lad, for he had engaged architect Ng Khuen Keat to do extensive renovations to the house. Even so, the essence of the house remains, albeit now refreshed, modernised and more streamlined.
"It's a transformation, but at the same time, there are so many areas that remind me of my childhood," says Mustapha. "I moved out almost 20 years ago, so when I came back here, it was like a homecoming … I didn't want to drastically alter everything. I kept the same flow and layout, for instance. The new areas are an improvement over the old design."
The house sits on a slope in Ukay Heights, overlooking the city. Previously, it comprised a largely single-storey, rectangular main wing that encompassed the porch, living, dining and kitchen areas attached to a double-storey block where the bedrooms were. There was a pool at the back as well as a large, open area.
"What I did was give it a bit more volume, made it more seamless and integrated a cleaner roof line," Ng explains.
To achieve this, he added another floor to the main wing of the house, enveloping it in a new frame, so to speak, and elevated the roof over the porch as well. The additional floor is a large, open-air loft ideal for recreation or entertaining. Sporting an exposed metal beam roof and glass-panelled banisters, this upper floor can be conveniently accessed from the porch via a caged-up spiral staircase without having to go through the house. A bar composed of raw cement and wood is tucked in a corner, across from which the home cinema is located. This room has a retro feel, dominated by a palette of brown and black, with spots of colour in the furnishings. Framed posters of vintage movies and bygone stars adorn the wall adding a cinematic touch.
The additional floor effectively raises the profile of the house and gives it new prominence. It also allowed for the raising of the porch area, which slopes down from the main road. Ng reveals that the descent used to be steeper but is now more approachable. A door at the porch leads to the dry kitchen, but the one visitors get ushered through is the formal entrance, which is a split level down from the porch.
With grey pillars and sections of bare brick walls, the façade displays a bit of an industrial theme, but this theme is not carried through to the inside. "When we were talking about how to do the house, Keat's first iteration was something ultra-modern, but I told him I've got a young family and I needed something that was a little bit more organic, something where the children can run around and not worry about breaking stuff, make a mess and still feel comfortable in every single room," says Mustapha.
The interior, characterised by clearly defined, compartmentalised spaces and tall windows to enjoy the view, has a relaxed-luxe sensibility. It was outfitted by both husband and wife, who took it upon themselves to do so after a dissatisfactory experience with the interior designer they initially hired. The neutral palette of beige floors and white walls is the perfect foil for Mustapha's contemporary art collection by local and international artists, and an eclectic selection of plush carpets and furniture, both antique and new.
Their guiding objective? "Every section should be somewhere to have a nap," says Mustapha. "It should be comfortable."
The main living room is a split level below the foyer, the only part that is so, with a door to the right that leads to the outdoor blue-mosaic pool and deck, and the sprawling multipurpose, open area. A second living area is situated a split level above the main one, and beyond that is the dining room that Mustapha says is still a work in progress. Talking points here are the ornately carved antique glass and wood cabinets that once belonged to Mustapha's parents.
The dry kitchen cum breakfast area can be accessed through doors at the living and dining areas. A flight of stairs here leads to the wet kitchen and maids' quarters.
To the right of the foyer is Mustapha's study — also a work in progress, he says — which sits across from the stairs to the children's wing with their individual bedrooms, and communal play and study areas. Mustapha says there used to be a grand spiral staircase that took up a lot of space, but it has now been trimmed down and modernised, allowing for plenty of storage space to be integrated into the layout. One of the storerooms has racks for bicycles and a door that leads straight to the outside for ease of manoeuvring without having to go through the house.
Beyond this is the guest bedroom on one side, and on the other, the master suite attached with a lounge, his and hers walk-in wardrobes, and bathroom — the master bedroom remains where it was originally. Says Mustapha, "It's unusual to have the master bedroom on the ground floor. I could have done it where I move the children downstairs and us upstairs, but I thought, 'No, let's just stay down.'"
Both husband and wife name this as their favourite hangout. "The space where everyone, including the children, spends the most time in is actually our bedroom," says Mustapha. "They are kicking balls in there and what not. It's their biggest playroom. When friends come over, for some reason, the area they always seem to gravitate to is the second living room."
From conceptualisation to completion, the process took 2½ years. Mustapha, who was very involved throughout, says, "I really enjoyed the process. The past 15 years, we've moved around a lot to different places. It's nice to come back to this place."