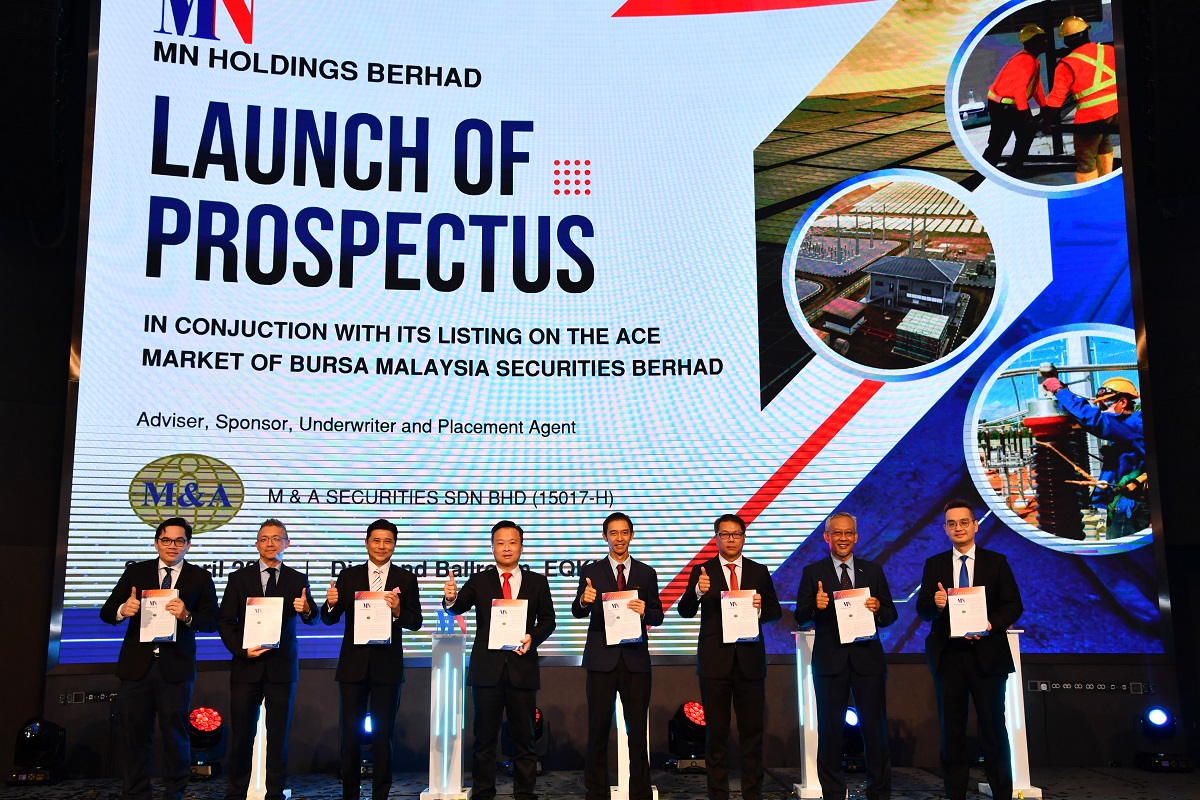 KUALA LUMPUR (April 8): Underground utilities and substation engineering specialist MN Holdings Bhd (MNHB) expects to raise RM17.2 million under its listing on Bursa Malaysia's ACE Market, which is tentatively slated for April 28.
At an initial public offering (IPO) price of 21 sen, MNHB will have a market capitalisation of RM85.8 million upon listing.
In a statement, the company said it plans to use RM5.84 million raised from the IPO to purchase various machinery and equipment over the next two years, and this will allow the group to scale up its resources and project capabilities in undertaking projects that require different scale and complexities.
A further RM4.33 million of the proceeds will be used for general working capital to support working capital requirements for new and existing projects. 
The remainder of the proceeds will be used for the repayment of bank borrowings amounting to RM4 million and RM3 million for estimated listing expenses. 
MNHB managing director Loy Siong Hay said the company had an order book of approximately RM172.2 million as at March 9. This comprised RM135.4 million from the underground utilities engineering services and solutions segment and RM36.8 million from the substation engineering services and solutions segment. 
"This order book will be recognised progressively over the next one to four financial years based on the expected progress of each project," Loy said. 
As at March 9, MNHB had completed 375 contracts, with a cumulative value of RM261 million, in the underground utilities and substation engineering services and solutions segments. 
The company is the exclusive partner of Rentak Segar Sdn Bhd and Impiana Mahir Sdn Bhd for underground utilities engineering services and solutions projects. Rentak Segar and Impiana Mahir are Tenaga Nasional Bhd (TNB)-approved main contractors.
Under the listing exercise, MNHB is issuing 81.75 million new shares in the group, representing approximately 20% of the enlarged share capital at an issue price of 21 sen per share.
Of the 81.75 million new shares, 20.44 million will be made available to the Malaysian public via balloting, followed by 8.18 million new shares for its eligible directors and employees under pink form allocations. 
Another 51.09 million new shares are reserved for private placement to bumiputera investors approved by the Ministry of International Trade and Industry. The remaining 2.04 million new shares will be placed out to selected investors. 
As part of the listing exercise, the existing shareholders of the company will also make an offer for sale of 40.88 million shares to selected investors by way of private placement.
Based on the enlarged share capital of 408.75 million shares, MNHB is expected to have a market capitalisation of RM85.84 million.
M&A Securities Sdn Bhd is the adviser, sponsor, underwriter and placement agent for the IPO exercise.