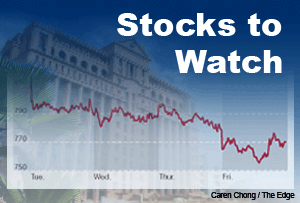 KUALA LUMPUR (Oct 10): Based on the news flow and corporate announcements today, the stocks that may be in focus on Monday (Oct 13) could include the following: MMC Corp, OSK Property, PJ Development, Cepatwawasan and Ni Hsin Resources.
Meanwhile, following the announcement of National Budget 2015, pipe makers and water treatment plant contractors, infrastructure and construction counters, as well as hotel operators and aviation counters, could also see some trading actions.
An MMC Corporation Bhd consortium with Sumitomo Corporation of Japan has won the contract to build the Langat centralised sewage treatment plant and sewage pipes, worth RM1.51 billion.
In a filing with Bursa Malaysia today, MMC said it has received a letter of award from the Ministry of Energy, Green Technology and Water for the said project.
"The project is expected to contribute positively towards the earnings and net assets of MMC Group, commencing from the financial year ending Dec 31, 2015," said MMC.
MMC closed 1 sen lower at RM2.37, giving it a market capitalisation of RM7.22 billion.
Property firms OSK Property Holdings Bhd and PJ Development Holdings Bhd will continue to steal the limelight, as the two have confirmed the merger talks.
"We wish to confirm that the company is presently negotiating for a possible merger and consolidation exercise involving PJ Development (PJD). However; the structure has not been finalised and no definitive agreement has been executed as at to-date," OSK Property told the stock exchange.
Separately, PJD also made the same announcement on Bursa Malaysia.
Veteran stockbroker Tan Sri Ong Leong Huat, who is the common major shareholder of PJD and OSK Property, had on Thursday (Oct 9) reportedly said that the consolidation of the two will create the country's first-tier property group with stronger financial muscle, higher efficiency, as well as attracting top talent.
OSK Property's share price rose 10 sen or 4.3% to RM2.45, with a market capitalisation of RM591.1 million. PJD shares closed 1 sen higher at RM1.80 yesterday, bringing its market capitalisation to RM813.1 million.
Meanwhile, oil palm planter Cepatwawasan Group Bhd plans to undertake a reverse takeover (RTO) of Timah Resources Ltd, which is listed on the National Stock Exchange of Australia (NSX).
Cepatwawasan will inject its biogas power generation outfit, Mistral Engineering Sdn Bhd, into Timah Resources for AU$8.55 million (RM24.8 million).
In return, Cepatwawasan will receive 85.5 million shares of Timah Resources at AU$0.10 apiece. It will also subscribe for 10 million shares of the latter for AU$2 million (RM5.8 million) in cash.
The proposed RTO will result in Mistral Engineering being listed in Australia through Timah Resources.
Shares of Cepatwawasan closed 1.5 sen lower at 92.5 sen, giving it a market capitalisation of RM285.8 million.
Cookware manufacturer Ni Hsin Resources Bhd saw some interesting changes in its board room today, amid market talk of its possible venture into the oil and gas sector.
According to a Bursa filing, Rizvi Abdul Halim has been appointed as independent and non-executive director of Ni Hsin, while Ida Suzaini Abdullah has been appointed as executive director.
Worth noting is that both Rizvi and Ida have background and experience in the oil and gas industry.
Rizvi is a director in Ideal Jacobs (Malaysia) Corporation Bhd, which is in the midst of a proposed RTO by oil and gas companies Cekap Technical Services Sdn Bhd and MECIP Global Engineers Sdn Bhd.
Ida was previously an advisor to Persada Nuri Sdn Bhd — an oil and gas services and consultancy firm, from 2006 to 2008.
Ni Hsin Resources closed down 3.5 sen or 7.61% to 42.5 sen today, giving it a market capitalisation of RM100.47 million.
On the announcement of Budget 2015, water treatment plant contractors including Salcon Bhd, MMC, and Ahmad Zaki Resources Bhd (AZRB) could be in focus, as the government had said that the construction of the RM3 billion Langat 2 Water Treatment Plant will be expedited to address water supply shortage in the Klang Valley.
Pipe makers such as Engtex Group Bhd, Jaks Resources Bhd, YLI Holdings Bhd and Hiap Teck Ventures Bhd could benefit from the government's allocation of RM112 million to detect and repair leaking pipes.
Meanwhile, infrastructure and construction counters could see trading interest, as the government has announced the implementation of several mega infrastructure projects.
Most notable is construction of the 56-km second MRT Line from Selayang to Putrajaya at an estimated cost of RM23 billion, as well as the LRT 3 Project which will link Bandar Utama to Shah Alam and Klang, at an estimated cost of RM9 billion.
In addition, the construction of Sungai Besi — Ulu Klang Expressway (SUKE) at RM5.3 billion, West Coast Expressway at RM5 billion, Damansara—Shah Alam Highway (DASH) at RM4.2 billion, and Eastern Klang Valley Expressway (EKVE) at RM1.6 billion, will also kick in.
Hotel operators and aviation stocks could see trading action, as the government has allocated RM316 million to attract 29.4 million foreign tourist arrivals with expected income of RM89 billion, in conjunction with Malaysia — Year of Festivals 2015.