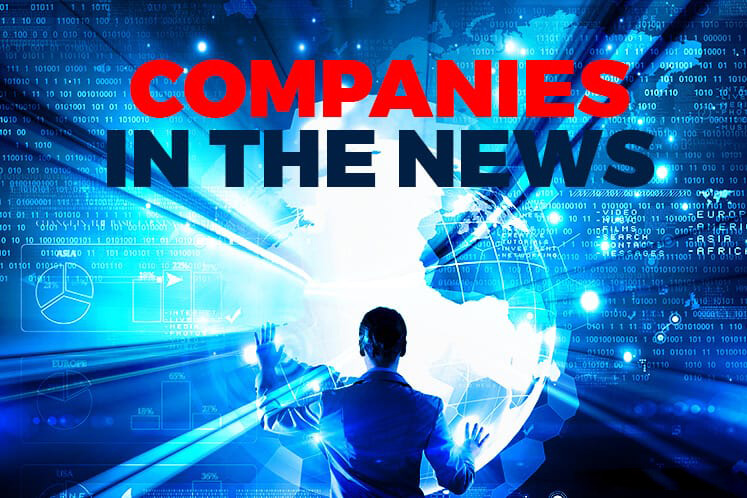 MMC Corp, Far East Holdings, Harn Len, Public Bank, Maybank, Bursa Malaysia, Kimlun, WZ Satu, F&N, CB Industrial, Affin Bank, PMB Tech, Axis REIT, PetChem, AirAsia Group, MAHB, Seacera, Lotte Chemical and Sime Darby Property
KUALA LUMPUR (April 29): Based on corporate announcements and news flow today, stocks in focus on Tuesday (April 30) may include MMC Corp Bhd, Far East Holdings Bhd, Harn Len Corp Bhd, Public Bank Bhd, Malayan Banking Bhd, Bursa Malaysia Bhd, Kimlun Corp Bhd, WZ Satu Bhd, Fraser & Neave Holdings Bhd, CB Industrial Product Holdings Bhd, Affin Bank Bhd, PMB Technology Bhd, Axis Real Estate Investment Trust, Petronas Chemicals Group Bhd, AirAsia Group Bhd, Malaysia Airports Holdings Bhd, Seacera Group Bhd, Lotte Chemical Titan Holding Bhd and Sime Darby Property Bhd.
MMC Corp Bhd announced today that the Borneo Highway PDP Sdn Bhd (BHP) had on April 22 received a notification from the Government to terminate the project delivery partner (PDP) agreement for the Sabah portion of the Pan Borneo Highway.
BHP is 40%-owned by a joint venture between UEM Group and MMC Corp — the UEM MMC Joint Venture Sdn Bhd — which gives MMC an effective 20% stake in BHP. The remainder 60% in BHP is owned by Sabah-based Warisan Tarang Construction Sdn Bhd, which The Edge Malaysia weekly previously reported was perceived to be connected to Sabah Umno and former Chief Minister Tan Sri Musa Aman.
MMC said the termination is on the grounds of national interest, and will take effect five months from April 22.
Far East Holdings Bhd is proposing to acquire 2,134 hectares of oil palm plantation land in Rompin, Pahang, and a palm oil mill from Harn Len Corp Bhd for RM182.99 million cash.
Far East said it will fund the acquisition through internally-generated funds.
The group said the palm oil mill has a capacity of 40 tonnes of fresh fruit bunches per hour.
Far East said the proposed acquisition is in line with its expansion plan and will broaden the group's income base through increased plantation acreage at a "reasonable" cost and at a strategic location.
Public Bank Bhd posted a marginal 0.34% increase in first-quarter net profit to RM1.41 billion from RM1.405 billion a year ago, mainly due to lower loan impairment allowance of RM71.7 million and higher investment income of RM38.1 million.
Earnings per share was down slightly to 36.32 sen for 1QFY19 compared with 36.39 sen for 1QFY18. Quarterly revenue, however, rose 4.1% to RM5.57 billion from RM5.35 billion in 1QFY18.
Gross loans grew 4.4% to RM320.4 billion as at March 31, 2019 compared with RM306.8 billion as at March 31, 2018, mainly driven by growth in property financing and corporate lending.
Total deposits from customers rose 5.2% year-on-year to RM343 billion as at March 31, 2019.
Malayan Banking Bhd's Indonesia unit PT Bank Maybank Indonesia Tbk saw net profit fall 10% to 414.9 billion rupiah (RM120.74 million) for the first quarter ended March 31, 2019 (1QFY19), from 463.1 billion rupiah a year earlier, due to a higher loan loss provision during the quarter.
The bank said the increase in loan loss provision was due to its conservative stance in setting aside provision for business loans, which continues to be impacted by the challenging economy.
Meanwhile, the bank's operating profit in the quarter rose 6.2% to 966.5 billion rupiah from 909.7 billion rupiah recorded in the year-ago's first quarter, supported by a 7.7% growth in net interest income (NII), as loan growth in the first three months of 2019 reached 11%.
Bursa Malaysia Bhd's net profit for the first quarter ended March 31, 2019 fell 26.5% to RM46.86 million from RM63.78 million a year earlier, due mainly to a drop in operating revenue.
Bursa said revenue for the quarter fell 16% to RM126.53 million from RM150.71 million previously. Earnings per share slipped to 5.8 sen versus 7.9 sen a year earlier.
Bursa said while 1Q2019 was a weak quarter for the exchange, this was consistent with the prevailing domestic and global developments which included concerns of slower economic growth, weaker corporate earnings and palm oil prices.
Kimlun Corp Bhd has bagged an RM204.4 million contract to build two blocks of apartments in Selangor.
Kimlun said its wholly-owned Kimlun Sdn Bhd secured the job from Rexpoint Resources Sdn Bhd. The construction work is expected to be completed by end-January 2022.
WZ Satu Bhd's unit was awarded with a RM101.84 million subcontract job for the construction of bridges at Section 4 from Renggam to Kulai, for the electrified double-track project from Gemas to Johor Bahru.
The group said its wholly-owned subsidiary WZS BinaRaya Sdn Bhd has accepted the letter of award from SIPP-YTL JV, and that the contract period starts today, to be completed on or before Jan 21, 2020.
The group said WZS BinaRaya's scope of works covers substructures to superstructures, which includes casting pier, cross head, precast beam, deck slab and associated works.
Fraser & Neave Holdings Bhd's (F&N) second-quarter net profit rose 12.8% year-on-year driven by strong performance from its food & beverages (F&B) Thailand whose operating profit rose 55.6%,  underpinned by higher sales, favourable input costs and one-off income amounting to RM3.7 million during the quarter.
The group's net profit rose to RM104.43 million in the quarter ended March 31, 2019 from RM92.57 million a year ago.
F&N's quarterly revenue grew 6.9% to RM1.03 billion from RM959.58 million previously.
The group declared an interim dividend of 27 sen per share, payable on June 13.
For the cumulative six months, the group's net profit jumped 14% to RM227.29 million from RM199.4 million a year ago while revenue increased 3.8% to RM2.04 billion from RM1.96 billion in 1HFY18.
CB Industrial Product Holdings Bhd (CBIP) has bagged an RM48.58 million job to build a continuous sterilisation palm oil mill with a processing capacity of 45 tonnes of fresh fruit bunches per hour.
Its wholly-owned PalmitEco Engineering Sdn Bhd, together with its 95%-owned PT CB Polaindo, entered into three contracts with Indonesian plantation company PT Nabire Baru on April 24, to undertake the job.
Affin Bank Bhd sees its net interest margin (NIM) coming under pressure this year but said it will be focusing on higher yielding assets and growing its current account and savings account (Casa) to buffer any impact.
Affin Bank group chief executive officer Kamarul Ariffin Mohd Jamil said that it sees a minor NIM compression of five to 10 basis points (bps), but hopes that a 5% to 10% growth in its Casa could buffer the impact.
Kamarul shared that the group is targeting a 3% to 4% loan growth this year — driven mainly by its consumer and SME segments — which he said is "conservative" given the overall market sentiment.
PMB Technology Bhd has proposed to raise up to RM151.44 million through two private placements for the expansion of the group's metallic silicon manufacturing plant and working capital.
PMB Tech said the first placement could raise up to RM48.65 million, of which RM48.46 million is meant to fund the group's working capital, while the remaining RM190,000 will be used for expenses related to the placement exercise.
The second placement is estimated to raise up to RM102.79 million, of which RM42.31 million is meant for expansion of the group's manufacturing plant, RM60 million for purchase of equipment, and RM480,000 for expenses related to the second placement. It entails an issuance of up to 32.32 million new shares, representing 20% of the group's issued shares as at April 25.
Axis Real Estate Investment Trust (REIT) net property income increased 24% for the first quarter ended March 31, 2019 (1QFY19) to RM48.9 million from RM39.4 million a year earlier, mainly due to the commencement of two leases and the rental contribution of four newly-acquired properties.
The two leases that commenced were Axis Aerotech Centre @ Subang, which started last Dec 16; and Axis Mega DC, which started on June 1.
Realised property income rose 19% to RM53.56 million in 1QFY19 from RM44.95 million a year ago as revenue climbed to RM53.77 million from RM45.09 million.
Axis REIT declared an interim income distribution of 2.35 sen per unit, payable on May 31.
Its total net asset value stood at RM1.66 billion or RM1.3419 per unit as at March 31.
The Pengerang Integrated Complex (PIC)'s petrochemical plants remain on track to kick off operations by the fourth quarter of this year despite the recent fire incident, said Petronas Chemicals Group Bhd (PetChem) chairman Datuk Md Arif Mahmood.
Md Arif said the fire only affected the Atmospheric Residue Desulphurisation (ARDS) unit, which is used to produce low-sulphur fuel oil and hydrotreated feedstocks.
Its PIC petrochemical plants were not affected by the fire. PetChem had previously announced that a fire at PIC Johor did not have financial or operational impact to its business.
The petrochemical plants, which produce polymers, glycol, isononanol, are at 97.7% completion as of March this year.
AirAsia Group Bhd's cargo and logistics platform RedCargo Logistics has inked an interline agreement with Oman Air.
RedCargo said the new agreement will provide its customers with access to belly space on Oman Air's cargo and freight network including to Africa, the UK and Europe.
Malaysia Airports Holdings Bhd (MAHB) has inked a three-year Memorandum of Understanding (MoU) with national applied research and development (R&D) agency MIMOS Bhd for the adoption of advanced technologies to enhance the maintenance of Malaysian airports.
Seacera Group Bhd clarified today that its single-largest shareholder Datuk Tan Wei Lian had never approached the board of the tile manufacturer to propose any business plan, which includes the sale of the group's smaller assets and payment of a 10 sen special dividend.
Lotte Chemical Titan Holding Bhd's net profit for the first quarter ended March 31, 2019 slumped 77.1% to RM55.83 million from RM244.2 million a year earlier, on the back of margin squeeze from fall in product selling prices.
The group said revenue for the quarter dipped 2% to RM2.17 billion from RM2.21 billion previously, due to decrease in average product selling price. Earnings per share for the quarter dropped to 2.46 sen versus 10.74 sen a year earlier.
Sime Darby Property Bhd has seen strong demand for homes at the latest instalment of its Elmina Valley development, with the first phase of the instalment sold out.
Sime Darby Property said the first phase of the Elmina Valley Five (EV5) instalment saw almost all of the 168 homes on offer sold on the launch day on March 23.
The second phase launched last Saturday saw 83% or 171 units of the 205 homes on offer taken up within two days — with the balance 37 units consisting of corner and intermediate units.