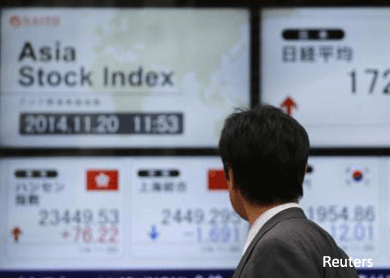 BANGKOK/MANILA (Nov 25): Southeast Asian stock markets were mixed on Wednesday, with Singapore lower after the government softened its growth outlook for the year, while the Philippines hit a near two-week high after upbeat imports data.
The key Straits Times Index fell 0.9%, erasing gains made in the previous session, when it closed at a more than one-week high. Shares of Genting Singapore, among recent gainers, dropped almost 3%.
Singapore's economy grew much faster than initially estimated in the third quarter due to a solid service sector, data showed on Wednesday, but the government softened its growth outlook for the year, amid sluggish global demand.
The Philippine Composite Index rose 0.7% to a near two-week high, after data showed imports rose for a fourth straight month in September, reflecting strong domestic activity and bolstering the outlook for exports, according to local dealers.
Strength in global oil prices lifted a number of regional energy shares. Shares of Philippine Energy Development Corp and Malaysia's Bumi Armada were among top gainers on the MSCI index of Southeast Asia.
 
In Bangkok, gains in top oil and gas firm PTT helped the key SET index trim some early losses.
"Overseas geopolitical concerns may lead Thai stocks to the downside today, but soaring oil prices should however give energy counters a lift and in turn, lend some support to the broad market," said broker Phillip Securities in a report.
In Jakarta, the broader index advanced 0.5%, with foreign-led buying boosting shares of Bank Rakyat Indonesia and Telkom Indonesia.
"Higher oil prices which would support other commodity prices and in turn, allow for higher farmers' incomes have resulted in positive sentiment for the market," said Harry Su, head of research at broker Bahana Securities in Jakarta.
Vietnam was down 0.1%, after hitting the lowest since Oct 12 earlier in the day.
       
SOUTHEAST ASIAN STOCK MARKETS
Change at 0512 GMT
Market
Current
Prev Close
Pct Move
Singapore
2896.72
2923.49
-0.92
Kuala Lumpur
1680.50
1677.03
+0.21
Bangkok
1383.10
1384.92
-0.13
Jakarta
4569.91
4545.37
+0.54
Manila
7038.66
6992.60
+0.66
Ho Chi Minh
593.23
593.83
-0.10