This article first appeared in The Edge Malaysia Weekly, on December 7, 2020 - December 13, 2020.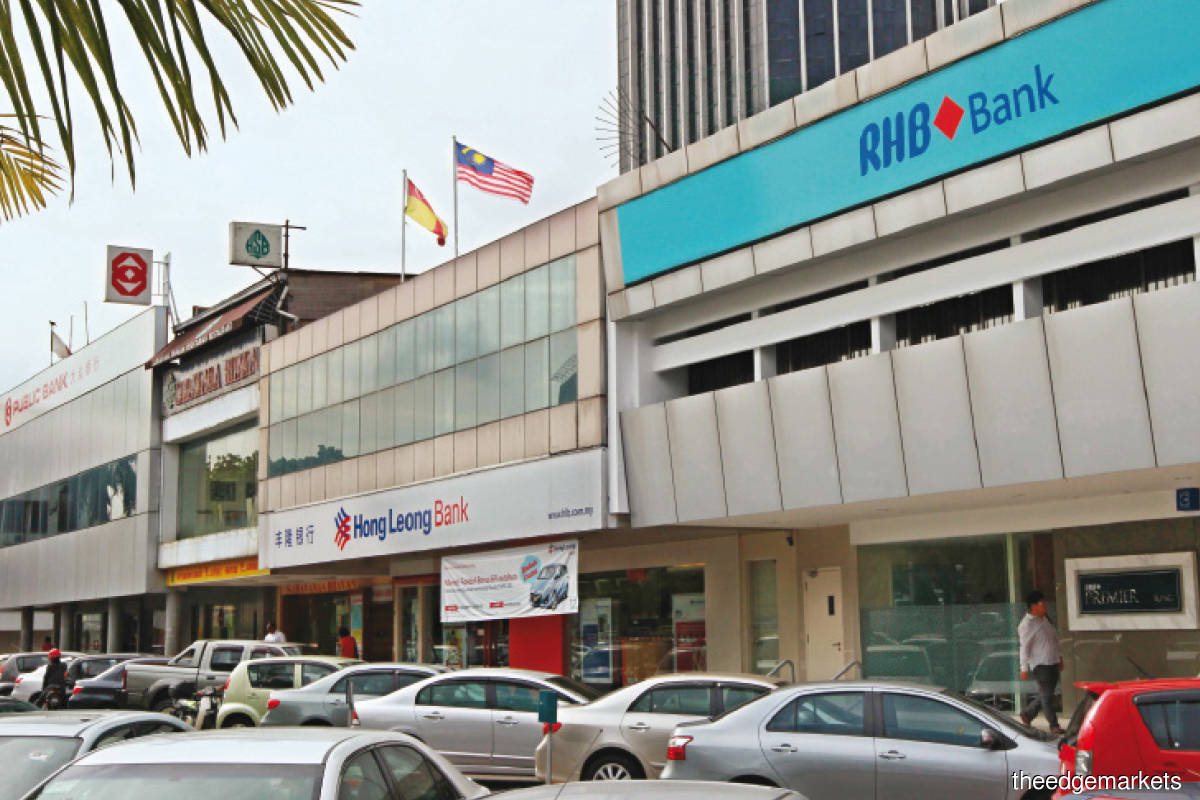 THE July-September quarter earnings of the 10 public-listed banking groups were a mixed bag. But there was a common factor: heavy loan loss provisions — particularly pre-emptive provisions — that are expected to remain at elevated levels over the next few quarters.
"The third quarter of 2020 was a provisions affair," remarks AllianceDBS Research. "Net credit costs were still high at 89 basis points in 3Q2020, with more than half for dampened macro indicators and overlays, and more to come in 4Q2020."
Of the 10 banks, four — Malayan Banking Bhd (Maybank), Public Bank Bhd, RHB Bank Bhd and Alliance Bank Malaysia Bhd — turned in better-than-expected earnings relative to analysts' consensus estimates. This was mainly on the back of higher-than-expected investment gains, cost controls and, for some, a quicker pace of recovery in net interest margin (NIM).
Three — CIMB Group Holdings Bhd, AMMB Holdings Bhd and Affin Bank Bhd — performed below expectations because of larger-than-expected provisions.
Hong Leong Bank Bhd and BIMB Holdings Bhd performed within expectations, while Malaysia Building Society Bhd (MBSB) made a comeback to profitability after two consecutive quarters of losses.
Maybank and BIMB were the only two banks that announced dividends — their first so far this year — at 13.5 sen and 12.6 sen, respectively. Maybank's surprise dividend, which translated into a payout ratio of 30.7%, will be made under a dividend reinvestment plan. BIMB's was lower than the 16 sen it declared in the same quarter a year ago.
The absence of a dividend stood out starkly at Alliance Bank and AMMB — this was their second quarter of the financial year ending March 31, 2021 — as they had declared dividends in the same quarter a year ago. Banks tend to announce interim dividends in their second and final quarters.
Given lingering uncertainties on the impact of the ongoing Covid-19 pandemic, analysts believe most bank will be prudent and defer dividends to the final quarter.
On the whole, bank earnings came out of a second quarter trough given the absence of sizeable modification losses (ML) arising from the six-month blanket loan repayment moratorium that ended in September, and stronger economic activity as the government-imposed Movement Control Order (MCO) entered a recovery phase from June 10. (A Conditional MCO was later re-imposed on Oct 14 in several states and the Klang Valley because of a resurgence in Covid-19 cases.)
In 3Q, the only banks that incurred additional net ML, albeit on a much smaller scale, were CIMB (RM11.87 million versus RM212.27 million in 2Q) and MBSB (RM7.5 million versus RM512.6 million in 2Q).
Nevertheless, five banks — CIMB, AMMB, Alliance Bank, Affin Bank and BIMB — saw earnings drop on a quarter-on-quarter basis.
Not surprisingly, all 10 banks saw an improvement in their gross impaired loan (GIL) ratio — an indicator of asset quality — compared with three months earlier, given that the blanket loan repayment moratorium was still in place. In fact, Bank Negara Malaysia data shows that the banking system's GIL ratio stood at a record low of 1.3% in September. However, this crept up to 1.43% in October after the moratorium ended and banks started seeing an uptick in impaired loans.
It should be noted that banks continue to offer accommodative moratoriums for B40 borrowers and small and medium enterprises, as well as targeted financial assistance schemes, at least until June next year.
Provisions to keep rising
According to RAM Ratings, based on the latest available data, about 11% of the eight local banks' domestic loan portfolios — ranging from 8% to 15% for individual banks — are under targeted repayment assistance or subject to restructuring and rescheduling. This number may creep up as more borrowers request for financial relief in the coming months.
"The underlying asset quality will only become clearer after the relief measures have expired," its co-head of financial institution rating, Wong Yin Ching, said in a report last Friday.
In a worst-case scenario, RAM projects that the GIL ratio may peak at 3% to 3.5% in 2021 or 2022.
"While the industry's GIL ratio is still low, banks have stepped up proactive provisioning. About half of their impairment charges in 3Q2020 were pre-emptive actions, either through management overlay or macroeconomic adjustments. We expect provisions to remain elevated in the coming quarters as banks gradually build up their impairment allowances to be prudent," Wong said.
Notably, four banks — AMMB, CIMB, RHB Bank and Public Bank — have raised their credit cost guidance for the year, following the release of their latest results.
CIMB was seen by analysts as the worst performer in 3Q — for the third consecutive quarter — due to kitchen sinking, with significantly heavier provisions against loans and bonds. Its net profit fell 29.8% q-o-q to RM194.44 million as expected credit losses on loans/financing came in at RM1.52 billion compared with RM1.47 billion in 2Q2020.
"As a result, its 9M2020 core net profit dropped 67% y-o-y, contributing much to the aggregate 17% y-o-y decline in 9M2020 cumulative core net profit for the banks under our coverage," says Maybank Investment Bank Research in a sector report last Thursday.
CIMB had already put through RM430 million and RM500 million in provisions for two separate oil trading accounts in 1H2020. "Management overlays and Covid-19 related (airlines and leisure sectors) provisions have totalled RM1.2 billion thus far in 9M2020. The third quarter saw additional provisions being made against legacy accounts — in Singapore, [it] provided RM200 million against several FPSO accounts while in Indonesia, there were provisions amounting to RM250 million against steel accounts," Maybank IB notes.
Notably, AMMB too made larger pre-emptive provisions for its second quarter ended Sept 30. Net profit fell 35% q-o-q to RM237.32 million as provisions surged to RM361.04 million from RM42.75 million.
Affin Bank's net profit fell 27.7% q-o-q to RM48.72 million as provisions more than doubled to RM112.31 million from RM53.83 million.
Maybank's 9MFY2020 net profit, at RM4.94 billion (-14% y-o-y), was above expectations, at 83% of an analyst consensus forecast for the full year. One of the reasons for the outperformance, apart from better operating income, was that its allowances for impairment losses on financing was lower than expected, at RM804.36 million in 3Q2020 compared with RM1.74 billion in 2Q2020.
At the core net profit level, only two banks — Hong Leong Bank and Public Bank — sustained a positive y-o-y growth momentum in the third quarter.
Hong Leong Bank's core net profit grew 6% to RM729 million, underpinned by 11% growth in top line and flat overheads. Its associate, Bank of Chengdu, contributed 19% to the group's bottom line.
Public Bank's grew 2% to RM1.39 billion, aided by stronger-than-expected loan growth of 4.8% on an annualised basis, a recovery in NIM due to stronger CASA (current account and savings account) deposits as well as higher fee and investment income growth.
A casual survey of several research houses shows Public Bank, RHB Bank and Hong Leong Bank to be among the top buys in the sector. Shares of these banks surged last week following their better-than-expected earnings.
"We are not overly concerned about the uptick in banks' GIL ratio in October and potentially high loan loss provisions in 4Q2020, as in our view, these would not derail the recovery in banks' net profit growth in 2021 which would serve as a potential re-rating catalyst and underpins our 'overweight' call on the sector," says CGS-CIMB Research, whose top picks are Public Bank, Hong Leong Bank, RHB Bank and AMMB.
Most research houses, however, continue to keep a "neutral" call on the sector. The Bursa Malaysia Finance Index had shed 5.9% during the year to 14,547.87 as at Dec 3, compared with the stock exchange's benchmark index FBM KLCI, which gained 2.5% over the same period to 1,628.26.