This article first appeared in The Edge Financial Daily, on June 26, 2019.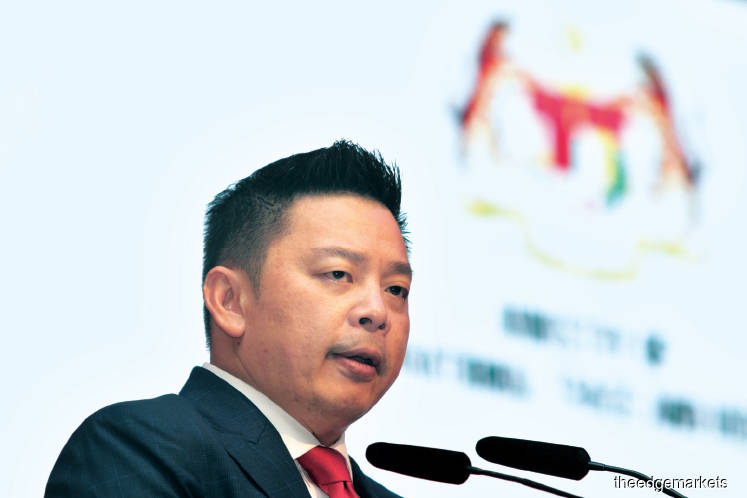 KUALA LUMPUR: The manufacturing and services sectors are projected to grow slower at 4.8% and 5.7% respectively in 2019, compared with 5% and 6.8% in 2018, said the ministry of international trade and industry (Miti).
Its Minister Datuk Darell Leiking said although Malaysia is feeling the heat from escalating US-China trade tensions, exports and orders had remained consistent.
"We are not the only one feeling the heat, of course — a lot of nations are. Malaysia is also a manufacturing nation, so obviously its exports have some issues.
"Many decide to make less orders or contracts simply because they are unsure of the current situation concerning the US and China, as well as where the trade diversion is happening today.
"But at the same time, we have overcome many challenges, and while [growth] figures may not be as high as last year's, the consistency of exports and orders is still there," he said, adding that the manufacturing sector's growth will be underpinned by a shift towards high value-added, diverse and complex products.
On foreign direct investment, Leiking said his ministry holds a positive outlook after reporting an encouraging first quarter, but cautioned possible new challenges amid trade and geopolitical tensions.
"While Malaysia is very optimistic about the incoming figures, we take note that there will be challenges. Nevertheless, we will work hard to [deal with] the conflicts that are already there as well as the challenges ahead of us."
Leiking was speaking at a press conference held in conjunction with yesterday's launch of the Miti Report 2018 and the Productivity Report 2018/2019. Also present was Malaysia Productivity Corp (MPC) chairman Tian Chua.
Labour productivity growth of 2.2% recorded in 2018
According to the MPC report, Malaysia registered an overall labour productivity growth of 2.2% to RM91,971 in 2018.
The services sector recorded the highest performance with a growth in labour productivity of 3.5%, equivalent to RM86,921, followed by construction at 3.4% (RM43,882), manufacturing at 2.4% (RM121,841), and mining and quarrying at 2.1% (RM1.49 million). The agriculture sector contracted 0.2% to RM53,943.
Malaysia's private investment in the manufacturing, services and primary sectors stood at RM201.7 billion in 2018, a 0.55% increase from RM200.6 billion in 2017.
Total foreign investment more than doubled to RM58 billion last year, from RM21.5 billion in 2017, accounting for 66.4% of approved investments.
On the projected slowdown of the two sectors, MIDF head of research Mohd Redza Abdul Rahman acknowledged geopolitical events such as the trade tensions had cast a shadow on demand for Malaysia's manufactured products. However, he believes its impact on the nation's overall economic growth can be mitigated.
"The wide networks of the manufacturing supply chain in search of cost-effective manufacturing costs and efficient distribution networks have been widely affected, and with Malaysia at the centre of this supply chain, we are directly affected, especially in export growth.
"A prolonged trade war should be a major concern, but with Malaysia expected to gain from the trade diversion, [and] with the government's huge focus on rejuvenating and rejigging our economy, hopefully we will see some positive outcomes that would mitigate concerns over the slower growth in manufacturing activities," he added.
This includes raising the contribution of small and medium enterprises, especially their export contribution; improving efficiency through the Industrial Revolution 4.0; and increasing higher value-added activities which could bring a higher multiplier impact to Malaysia's economic growth, Mohd Redza said.