Leiking said the talks between Asean countries will be held in Singapore next month. Photos by Sam Fong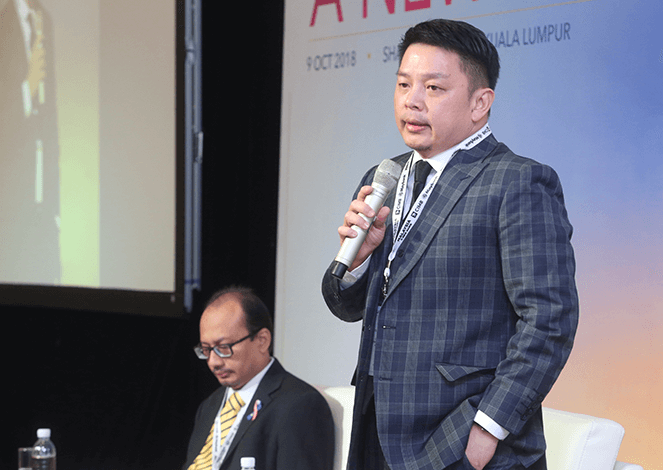 (From left): Maybank Investment Bank chief economist Suhaimi Illias and International Trade and Industry Minister Datuk Ignatius Darell Leiking
KUALA LUMPUR (Oct 9): International Trade and Industry Minister Datuk Darell Leiking hopes that the Asean member countries can reach a free trade deal by the end of this year.
Speaking to reporters on the sidelines at the "Malaysia: A New Dawn" investors' conference here today, Leiking said the talks among Asean countries will be held in Singapore next month. Prime Minister Tun Dr Mahathir Mohamed is scheduled to attend at the event.
Leiking said there are trades going on which nobody realised.
"Definitely there are shrinking in numbers effects [trade] but it's a global thing.
"Everybody is running here and there to present the situation," he said.
On South East Asia being the most vulnerable in terms of shirking effect, Leiking hopes that by mid-next year Asean members can come out with something.
"There are things that are going to be sorted out and there are things to be worked out.
"Even though we are still Asean, we are still imperfect. There are issues on barriers, how we will travel with each other or how we deal each other," Leiking said.
On the agreement between the Asean countries, he said there is a possible tax in the nearest time.
"Besides the prime minister of Malaysia who can get everyone together," he added, explaining that the other Asean ministers are excited and a lot of them want to hear Dr Mahathir's take.
On the next step, Leiking said there are ongoing negotiations in Jakarta and New Zealand, and that within two months he hopes to have reach "substantial" agreements among the members.
On the European Union (EU) FTA, the minister said he has yet to visit Europe but the EU and Asean are both keen to talk.
On another note, he said the Ministry of International Trade and Industry (MITI) chairs the e-commerce council for the digital economy.
"We support the current trend. We will be looking (at) it and there are even suggestions that we should introduce Blockchain. We'll go [into] the specifics when we announce," he said.