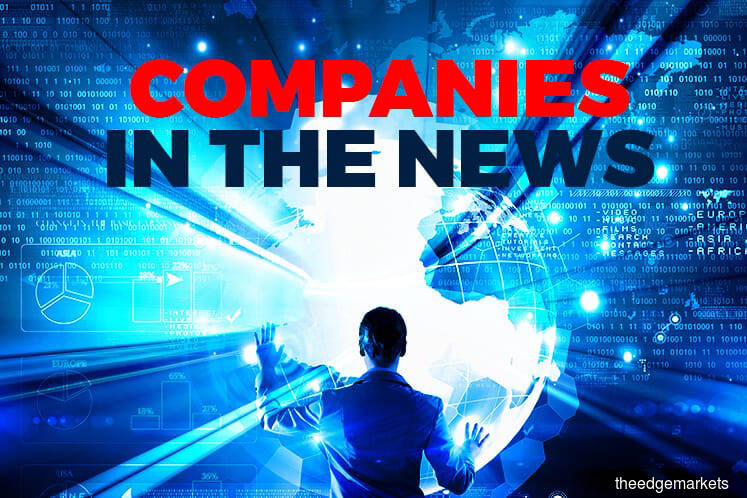 KUALA LUMPUR (Feb 13): Based on corporate announcements and news flow today, stocks in focus on Wednesday (Feb 14) may include: MISC Bhd, Three-A Resources Bhd, Seacera Group Bhd, Damansara Realty Bhd, Southern Steel Bhd, Goldis Bhd, Borneo Oil Bhd, Denko Industrial Corp Bhd, British American Tobacco (Malaysia) Bhd (BAT) and Pansar Bhd. 
MISC Bhd's fourth-quarter net profit tumbled 87.1% to RM68.2 million from RM529.8 million a year ago, dragged mainly by higher impairment loss of RM553.9 million in the current quarter under review. 
Operating profit for the three months ended Dec 31, 2017 (4QFY17) was 5.9% lower at RM627 million from RM666.5 million in 4QFY16, on lower contribution from its liquefied natural gas (LNG), as well as its petroleum segments' offset gains in offshore, heavy engineering and other operations. Earnings per share fell to 1.5 sen in 4QFY17, from 11.9 sen in 4QFY16. 
Quarterly revenue also slid 3.3% to RM2.43 billion, from RM2.52 billion in 4QFY16, no thanks to lower revenue across its operations, save for LNG.
The Securities Commission Malaysia has charged two individuals, including Three-A Resources Bhd chairman Datuk Mohd Nor Abdul Wahid, with insider trading in relation to 3A's joint venture with Singapore-listed Wilmar International Ltd in 2009.
Mohd Nor, 64, is accused of acquiring 500,000 3A shares through Azuzay Zamani's central depository system account, while in possession of non-public information relating to the joint venture.
Mohd Nor, who is also a director in the group, allegedly committed the offence on Oct 5, 2009 — the same day 3A announced to Bursa Malaysia that Wilmar will acquire a 17% stake in the company via a RM46.2 million private placement at 75 sen per share.
Seacera Group Bhd is buying a 70% controlling stake in builder Teras Sari Resources Sdn Bhd, which is undertaking a RM338.14 million project to upgrade the public road from Bandar Pekan to Kampung Sungai Miang in Pekan, Pahang.
Seacera said its wholly-owned subsidiary Seacera Builders Sdn Bhd has entered into a heads of agreement with LT Century Development Sdn Bhd and LTC Holdings Sdn Bhd for the proposed acquisition of 7.74 million shares or a 70% stake in Teras Sari Resources at a price to be determined later.
Damansara Realty Bhd — which just returned to the black in its financial year ended Dec 31, 2017 (FY17) — expects to sustain its earnings growth momentum in FY18, and targets a topline growth of up to 15% year-on-year.
For FY17, the group reported a net profit of RM17.8 million versus a net loss of RM27.8 million a year earlier, while revenue rose 36% to RM249.4 million from RM183.2 million.
Damansara Realty group chief executive officer Brian Iskandar Zulkarim said the group is eyeing several contracts under its integrated facilities management division this year.
He said there are two large contracts that could potentially contribute more than RM10 million per month in revenue each, and several smaller contracts, but declined to reveal further.
Southern Steel Bhd's net profit for its second quarter ended Dec 31, 2017 (2QFY18) almost doubled to RM69.96 million from RM36.55 million a year ago, as the group's sales and margins were higher in the quarter under review.
Its quarterly revenue grew 30.74% y-o-y to RM956.44 million, from RM731.57 million.
For the six-month period (1HFY18), Southern Steel's net profit more than doubled to RM123.38 million, from RM55.86 million in 1HFY17.
Revenue, on the other hand, grew 40.91% to RM1.86 billion in 1HFY18, from RM1.32 billion in previous corresponding period.
Goldis Bhd — which is in the midst of a takeover of IGB Corp Bhd — revealed its fourth quarter net profit has tripled year-on-year, thanks to better performance from its retail property investments, and a disposal gain.
Goldis said net profit for the fourth quarter ended Dec 31, 2017 (4QFY17) jumped to RM59.88 million, from RM16.29 million in the corresponding quarter last year.
The group said its property investment in the retail sector — namely IGB REIT, the owner of Midvalley Megamall and The Gardens Mall — did better, while it netted a one-off gain of RM27.3 million from the sale of land by a subsidiary, which was recognised in its property development segment during the quarter.
Quarterly revenue, meanwhile, was up 16% y-o-y to RM362.67 million from RM312.19 million, mainly due to the recognition of revenue of RM61.9 million from the land sale, which mitigated lower contribution from Goldis' hotel segment.
Borneo Oil Bhd is acquiring a parcel of quarry land in Lahad Datu, Sabah for RM47 million cash, amid its ongoing expansion into limestone mining and related activities.
The sublease is fixed for 30 years with an automatic renewal for a further 30 years, with no further consideration. It will pay for the acquisition via internally-generated funds.
Particularly, the quarry will allow for extraction of marble blocks for export purposes, Borneo Oil said in a statement. The balance of resources will be used for limestone aggregates and related products, the company added.
Denko Industrial Corp Bhd has appointed major shareholder Datuk Fong Chiu Wan as group chief executive officer of the company, effective today.
The appointment follows the acquisition of Integrated Manufacturing Solutions Sdn Bhd by Denko in November last year. Fong is IMS' co-owner and director. Fong owns a 24.11% stake in Denko, after acquiring 53.5 million shares on Feb 2.
British American Tobacco (Malaysia) Bhd (BAT) announced a 74% year-on-year drop in its fourth quarter net profit to RM78.20 million from RM299.12 million, on the absence of land sale related income, and as operating expenses ballooned due to the provision of impairment for prepaid excise duties.
The year-ago quarter had booked a land sale related income of RM159.46 million. Quarterly revenue, meanwhile, fell 17% y-o-y to RM700.16 million — its lowest in at least 40 quarters — from RM840.61 million.
BAT said it made the provision for impairment of prepaid excise duties of RM21 million during the quarter, which pushed its operating expenses to RM118.2 million, from RM83.33 million a year ago. It said the sum is pending refund from the Royal Malaysian Customs, but it decided to be prudent by recording the provision as Customs has yet to decide on the refund.
Sarawak-based Pansar Bhd has been appointed by construction equipment manufacturer JCB as its official dealer in Sabah and Sarawak.
JCB said Pansar will provide their customers in plantations, construction, infrastructure and mining, with access to a broad choice of JCB's products, as well as delivering maintenance services and comprehensive spare part availability to local businesses.