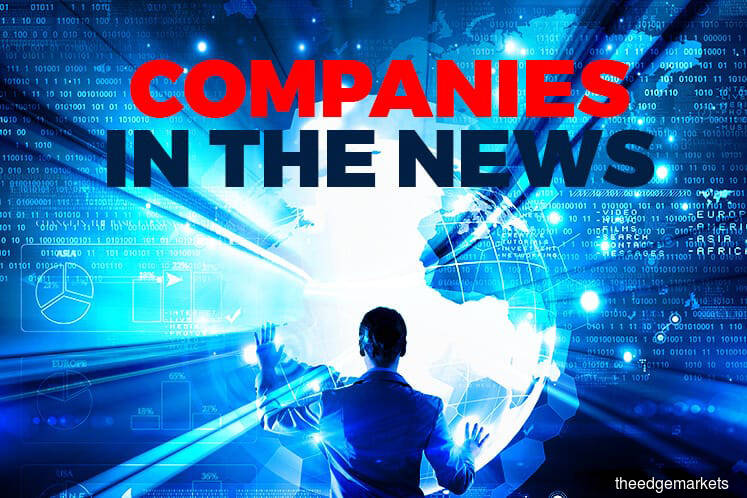 KUALA LUMPUR (July 6): Based on corporate announcements and news flow today, stocks that may draw some attention on Monday (July 9) could be MISC, Red Sena, Top Glove, KUB Malaysia, Ta Ann, Protasco and Versatile Creative.
MISC Bhd has secured a 16-year charter contract with an estimated contract value of US$441 million (RM1.78 billion), commencing latest by Sept 1 this year.
In a filing with Bursa Malaysia, MISC said it has signed a long-term charter contract with Hess Exploration and Production Malaysia BV (HESS) for the lease of a floating, storage and offloading facility (FSO) known as FSO Mekar Bergading on a bareboat basis.
MISC said the contract is pursuant to a sale and charter agreement in respect of the FSO with HESS, which resulted in MISC acquiring ownership of the FSO from HESS.
HESS, a Netherlands company, is a global independent energy company engaged in the exploration and production of crude oil and natural gas.
Food and beverage (F&B) special purpose acquisition company Red Sena Bhd announced today that it will not be able to secure a qualifying acquisition (QA) by its Dec 10, 2018 deadline, after all.
In a bourse filing, Red Sena said the announcement was made after taking into consideration "the processes and approvals required to complete the QA" as well as its remaining time frame of five months until the deadline.
The group said this was mainly due to concerns with deal certainty and unrealistic valuation.
Failure to complete the QA within the permitted time frame would entail Red Sena being dissolved, wound up and liquidated under the Companies Act 2016 within 60 days after the deadline.
The world's largest glove manufacturer Top Glove Corp Bhd and its wholly-owned unit Top Care Sdn Bhd have initiated a writ action against two directors of Aspion Sdn Bhd for a sum of no less than RM714.86 million.
In a statement today, Top Glove and Top Care also initiated two separate originating summons against Aspion's former parent company Adventa Capital Pte Ltd to restrain the latter from disposing of its assets in Malaysia and Singapore by the same amount.
In the writ action, Top Glove alleged Aspion directors Low Chin Guan and Wong Chin Toh were in a conspiracy to defraud the company by tricking it into acquiring Aspion from Adventa Capital for RM1.37 billion earlier this year.
Meanwhile, the two originating summons against Adventa Capital entailed an ex-parte Mareva injunction awarded separately by the Kuala Lumpur High Court and Singapore High Court on July 2 for the restrain order.
The restrain order, said Top Glove, is effective until any award obtained by Top Glove and Top Care in the arbitration is fully satisfied or until further order.
Restoran Kualiti Sdn Bhd, a wholly-owned subsidiary of KUB Malaysia Bhd, entered into a sale and purchase agreement today with Inter Mark Resources Sdn Bhd (IMRSB) for the disposal of its entire 100% interest in A&W (Malaysia) Sdn Bhd for RM34 million.
In a Bursa filing, KUB said the proposed disposal is expected to record a one-off estimated net gain of about RM18.9 million, including the reimbursement of intercompany balances of RM4 million.
KUB said the RM34 million comprises RM30 million for A&W's entire equity interest and RM4 million for reimbursement of intercompany balances.
IMRSB is a private limited company whose principal shareholder, Ang Choon Yan, is the founder of a number of F&B businesses. He is the substantial shareholder of Revenue Valley Sdn Bhd, which has ties with Ekuinas, and operates Tony Roma's and The Manhattan Fish Market.
Ta Ann Holdings Bhd has received its first ever sustainable forest management certification for its Malaysian operations, for its forest plantation in Sarawak.
According to the company's press release, Ta Ann announced that its Kapit Forest Management Unit (FMU), managed by its wholly-owned subsidiary Tanjong Manis Holdings Sdn Bhd, has been awarded a three-year Certificate for Forest Management (Natural Forest) under the Malaysian Timber Certification Scheme on June 11, 2018.
The certificate, awarded by SIRM QAS International Sdn Bhd, was received after the FMU underwent two stages of audit, a series of stakeholder consultations and peer review since April 2017, Ta Ann said.
HCM Engineering Sdn Bhd, a wholly-owned unit of Protasco Bhd, is instructed to pay its sub-contractor a total of RM2.96 million for a payment claim requested in February.
In a filing with Bursa, Protasco said it has received an adjudication decision for the claim, following a dispute with Kuasatek (M) Sdn Bhd over the mechanical and electrical (M&E) work packages under a project previously awarded to HCM Engineering.
To recap, Kuasatek was the M&E works sub-contractor for the construction of a four-storey office building with basement car parking at Bukit Jalil, Kuala Lumpur. The office building is for the Asian Football Confederation, the governing body of Asian football.
Kuasatek had on Feb 20 filed a notice of adjudication — pursuant to Section 8 of Construction Industry Payment Adjudication Act 2012 — against HCM Engineering for a sum of RM3.27 million.
Plastic packaging manufacturer Versatile Creative Bhd said today its recent discovery of unauthorised payments by the company to third parties and the subsequent investigation it is conducting on the matter are not expected to impact its operations.
Its statement filed on Bursa Malaysia was in response to a query from the regulator about its July 3 announcement on the unauthorised payments.
Versatile Creative said the investigation and forensics audit, which commenced on July 3, 2018, is expected to be completed within three weeks from the commencement date.